October 9, 2020 4.19 pm
This story is over 14 months old
Oh my goat! Look who joins these pupils on their school walk
Jammie and Dodger are a hit with kids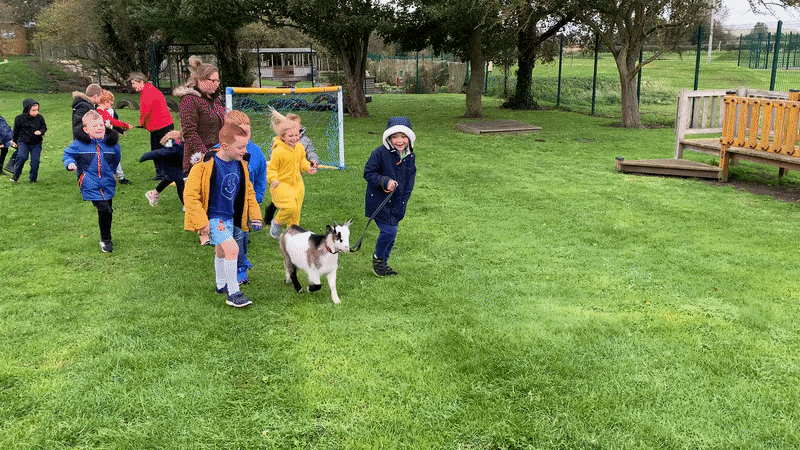 Children at a school in Coningsby have been walking and playing with other kids of a different kind — cute pygmy goats.
Coningsby St. Michael's CofE Primary School, which is part of the Lincoln Anglican Academy Trust, developed an outside area that had been waste ground to create a Mystical Garden around three years ago.
It includes vegetable beds, a cave, fire pit, outdoor classroom, forest area, dry riverbed, chicken coop, and most recently the addition of a goat enclosure, which Jammie and Dodger moved into in June. The goats' names were decided after an online poll with staff and pupils.
The goats spend most of their time in the garden, but also regularly come out on their leads to take part in a daily mile walk with the children.
This walk designed to provide an additional opportunity for activity and fitness for the children, but the goats can be quite distracted by the hedge which runs along the side of the playground.
All pupils access the garden at least once a week and the area is used to support all areas of the curriculum. This was developed through their involvement in the International School's project.
This enabled seven teachers to visit schools in Sweden and two are now completing their Forest School training so St Michael's can become an official Forest School.
Mrs Hutchinson, who is the Head of School, said: "We have an amazing team of staff, led by Mrs Eve Gates, who take responsibility for Jammie and Dodger. They come into school in the evenings, weekends and school holidays to feed and water them and make sure they are well cared for.
"During this time, when the Mystical Garden is empty, Jammie and Dodger are allowed to run free and the love using all the space in the Mystical Garden.
"We believe outdoor learning is extremely positive for pupil well-being, pupil engagement and for offering a rich, broad and diverse educational experience and Jammie and Dodger have certainly added to our outdoor learning enjoyment in recent weeks."