April 22, 2021 10.46 am
This story is over 8 months old
Charity van torched in spate of Gainsborough arson attacks
A heartbreaking incident for the charity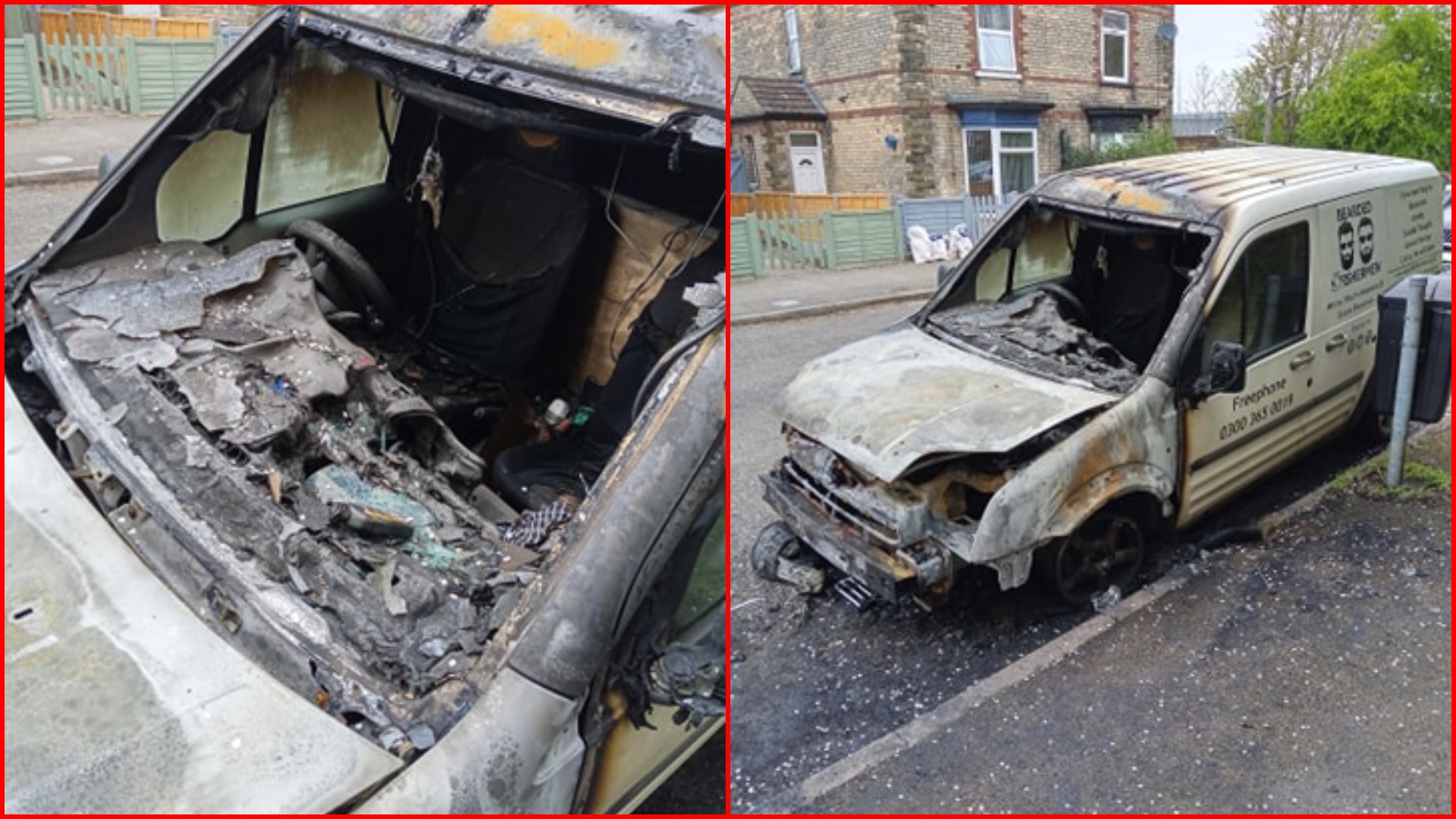 A van used by a mental health charity in Gainsborough was destroyed this week and was among various reports of suspected arson in the town and nearby areas.
Bearded Fisherman was set up by Michael Leyland and Rick Roberts in 2019 to provide mental health and suicide prevention awareness and support. The charity has grown and now has around 30 staff.
Mick told The Lincolnite that at around 9.20pm on Tuesday, April 20 one of their vans was seen going up in flames and Lincolnshire Police and Lincolnshire Fire & Rescue were called.
The passenger side tire had blown out, the radiator and engine were destroyed, the main windscreen was completely shattered and the dashboard had completely melted.
The van, which is one of two they use for their charity work and going out to clients, has been written off and they are waiting to hear back from insurance. This will restrict the work they can do in the meantime.
Around three to four days before the incident, the van and Michael's own white car were vandalised with spray paint.
This is one of various recent suspected arson attacks in Gainsborough and nearby areas of the county.
Police are now investigating after nine articulated trailers containing plastic pellets caught fire in Hemswell Cliff in the early hours of Wednesday, April 21. It remains under investigation and no arrests have been made yet.
Two cars were also allegedly torched on Trinity Street in Gainsborough this week.
Police are now investigating an incident of suspected arson after nine articulated trailers containing plastic pellets caught fire in a village near Gainsborough in the early hours of Wednesday morning.
Mick, one of the co-founders of Bearded Fishermen, said: "It does hinder us. If we get a client that wants a face-to-face it will be difficult to help them or if we need to go out to a crisis.
"I live on Sandsfield Lane and there have been numerous car sprayings and someone tried to set a car on fire around a week and a half ago.
"It was peaceful and quiet here before, but this just seems a couple of steps further and it does worry me. If I was to use the other van, do I really want to park it outside my house if it gets targeted?"
Isobel Parr, who is a call centre operative at the charity, set up a GoFundMe page which has so far raised £380 and Michel praised her saying he was "very happy she took this on". Make a donation here.
Michael said when the coronavirus pandemic hit, the also started doing shopping deliveries and helping people out in the community.
They have become even busier and created a call centre for the charity last summer, which has helped to reach more people, as well as West Lindsey District Council and agencies referring people onto them.
Mick added: "We can help and guide people and refer them to other services. It is important to talk to people, if you can talk to someone, sometimes just having that chat can be a relief off someone's shoulder."