April 28, 2021 11.14 am
This story is over 15 months old
"Only new votes will be counted": Reassurance after Boston ballot mistakes
People are being asked to place their votes again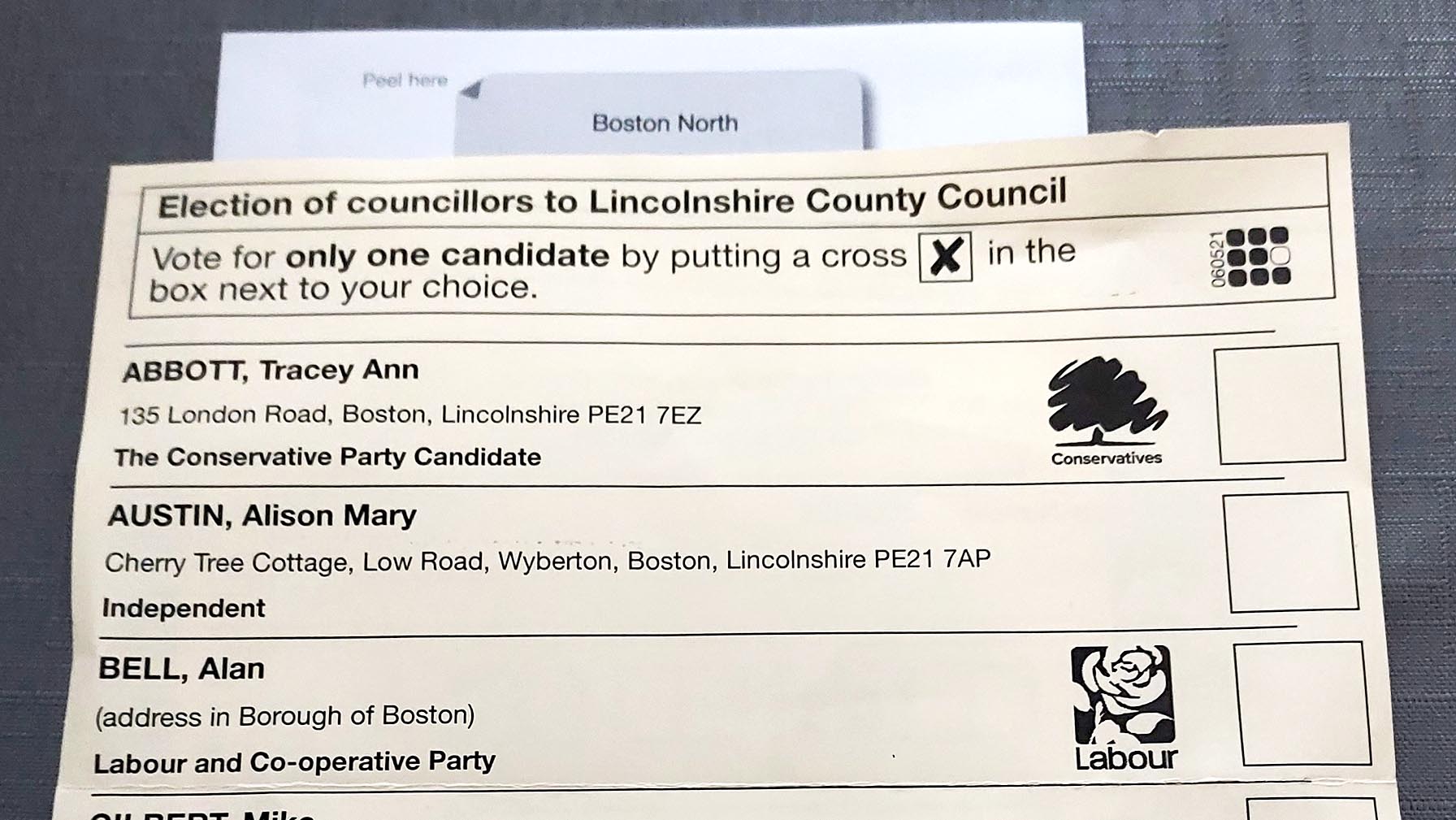 Boston Borough Council has confirmed that only new postal ballots will be counted after a mistake forced the authority to reissue papers in Boston North and South.
Officers confirmed on Monday that around 120 postal votes were sent to residents in the two divisions which included the names of the wrong candidates, raising questions about what would happen to ballots that had already been returned to the authority.
A spokesperson on Tuesday, however, said: "I can confirm that only new ballots returned will be counted."
The issue saw Boston West candidates appear on the two division ballots, instead of the correct names, which should have been:
Cook, Benjamin (Labour)
Dani, Anton (Conservative)
Hastie, Neill (Independent)
Nicholson, Matthew (Unlisted)
Stevenson, Jason (Liberal Democrat)
Thornalley, Jason (For the People not the Party)
Following the revelations, Independent councillor Neill Hastie said there had been a "massive cock-up" and that it had been "highly damaging".
A spokesperson said an investigation was taking place into the issue, but that bosses were "confident the information provided to the printers was correct".
They confirmed the correct ballot packs were being re-issued "as a matter of urgency" and that residents should receive them within the week.
They said this would give the electorate "plenty of time for votes to be cast in advance of the election".
Polls close at 10pm on Thursday, May 6, and postal votes can be returned up until this time, including being dropped into polling stations on the day if needed.
Below is a list of candidates for each ward in full. Councillors defending their position are highlighted in bold. The full list for the county elections is here.
Follow all our Local & PCC Elections 2021 coverage
Boston Borough Wards
Boston Coastal
Broughton, Dale (Independent)
Monkman, Carole (Labour)
Skinner, Paul (Conservative)
Boston North
Cook, Benjamin (Labour)
Dani, Anton (Conservative)
Hastie, Neill (Independent)
Nicholson, Matthew (Unlisted)
Stevenson, Jason (Liberal Democrat)
Thornalley, Jason (For the People not the Party)
Boston Rural
Brookes, Michael (Conservative)
Gilbert, Tristan (For the People, not the Party)
Howard, Tony (Labour)
Boston South
Abbott, Tracey (Conservative)
Austin, Alison (Independent)
Bell, Alan (Labour and Co-operative)
Gilbert, Mike (For the People, not the Party)
Ransome, Sue (Independent)
Watson, Peter (Independent)
Boston West
Ashleigh-Morris, Paula (Conservative)
Goodale, Paul (Labour)
Keywood-Wainwright, Tiggs (Unlisted)
Lee, Gavin (For the People, not the Party)
Pryke, Ralph (Liberal Democrats)
Woodliffe, Stephen (Independent)
Skirbeck
Barton, Jackie (Labour and Co-operative)
Cardwell, Christopher (Unlisted)
Cook, Harley (Unlisted)
Dorrian, Anne (Independent)
Griggs, Martin (Conservative)
Moore, Chris (For the People, not the Party)
Pinto, Licia (Unlisted)