June 10, 2021 4.49 pm
This story is over 29 months old
Vet pulls long blade of grass from dog's nostril
A lucky escape for Monty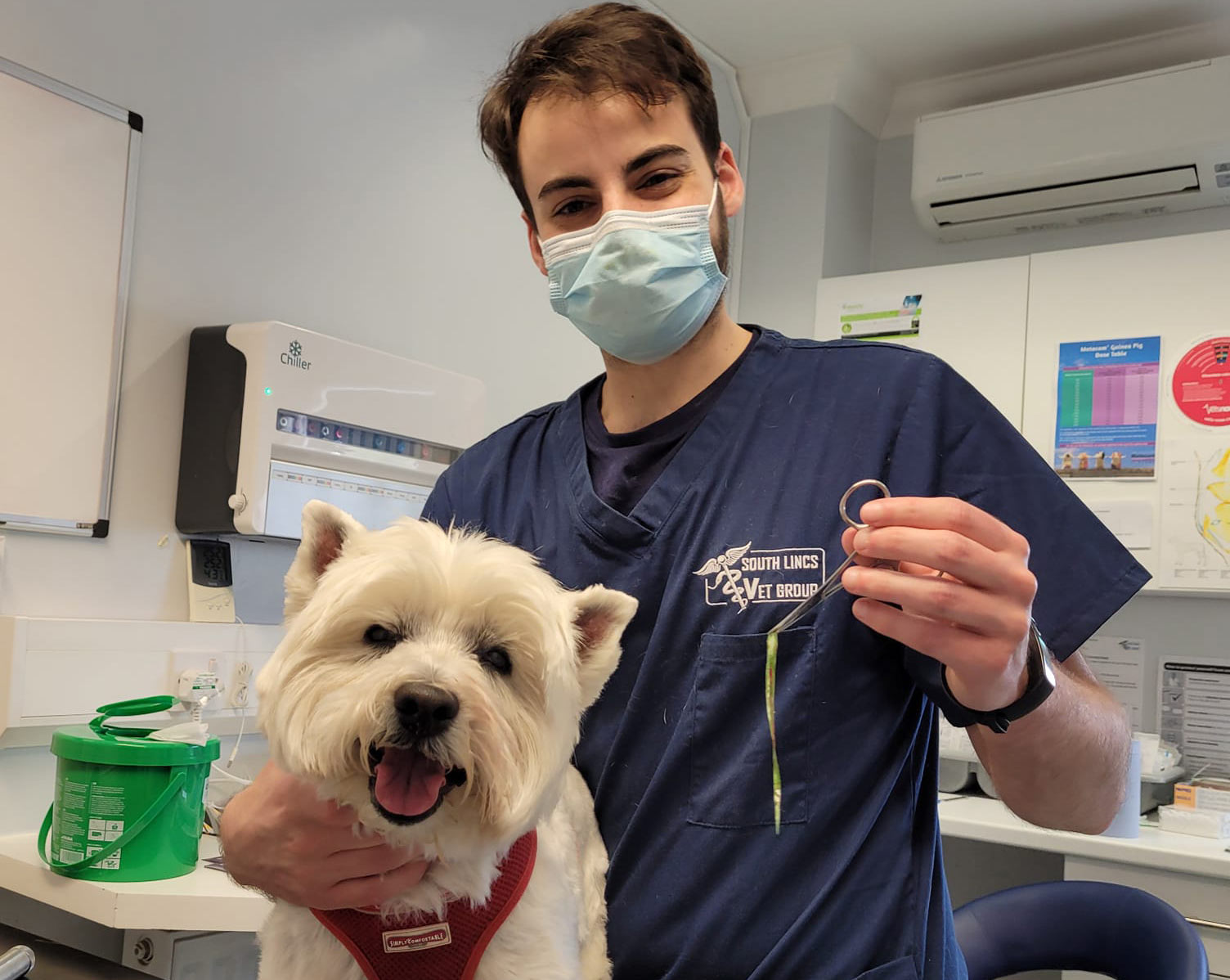 A dog had a lucky escape after a vet pulled a long glade of grass from his nostril at a Lincolnshire clinic.
Glennis Graham and her husband Alan from Staffordshire had stopped off in Gosberton with their Highland Terrier called Monty to see their son Jamie on Saturday, June 5 while on their way to a holiday in Norfolk.
During a stop, Monty stretched his legs and was sniffing in the grass, but he soon began coughing and sneezing.
His nose started bleeding and his owners were extremely worried about him so took him to Sutterton Veterinary Hospital, which is run by South Lincs Vet Group Ltd.
The vet said there was obvious blood around his nose and, after being assessed by Joao, a small piece of grass was seen in the dog's nostril.
Using forceps Joao gently pulled the visible piece of grass and what followed was a "surprisingly long blade of grass".
South Lincs Vet Group Ltd said: "No wonder Monty had been uncomfortable. Monty felt much better straight away and continued on to Norfolk for his holiday.
"Monty was extremely lucky his owners found a vets so quickly. It is shocking how far grass seeds and blades of grass can migrate, which then can be extremely difficult to locate and remove.
"Please ensure you check your pets' bodies including their paws, ears, eyes and nose when coming in from grassy areas, and call your vet ASAP if you think your pet may have a grass seed. The sooner your pet comes to us, the more chance of resolving the issue earlier."
South Lincs Vet Group is comprised of Sutterton Veterinary Hospital, Holbeach Vet Clinic, Pinchbeck Vet Clinic and Heckington Vet Clinic.