October 5, 2021 10.12 am
This story is over 9 months old
Lincolnshire woman invents device to help her and others with Parkinson's disease
Sandra has been living with the disease for over 18 years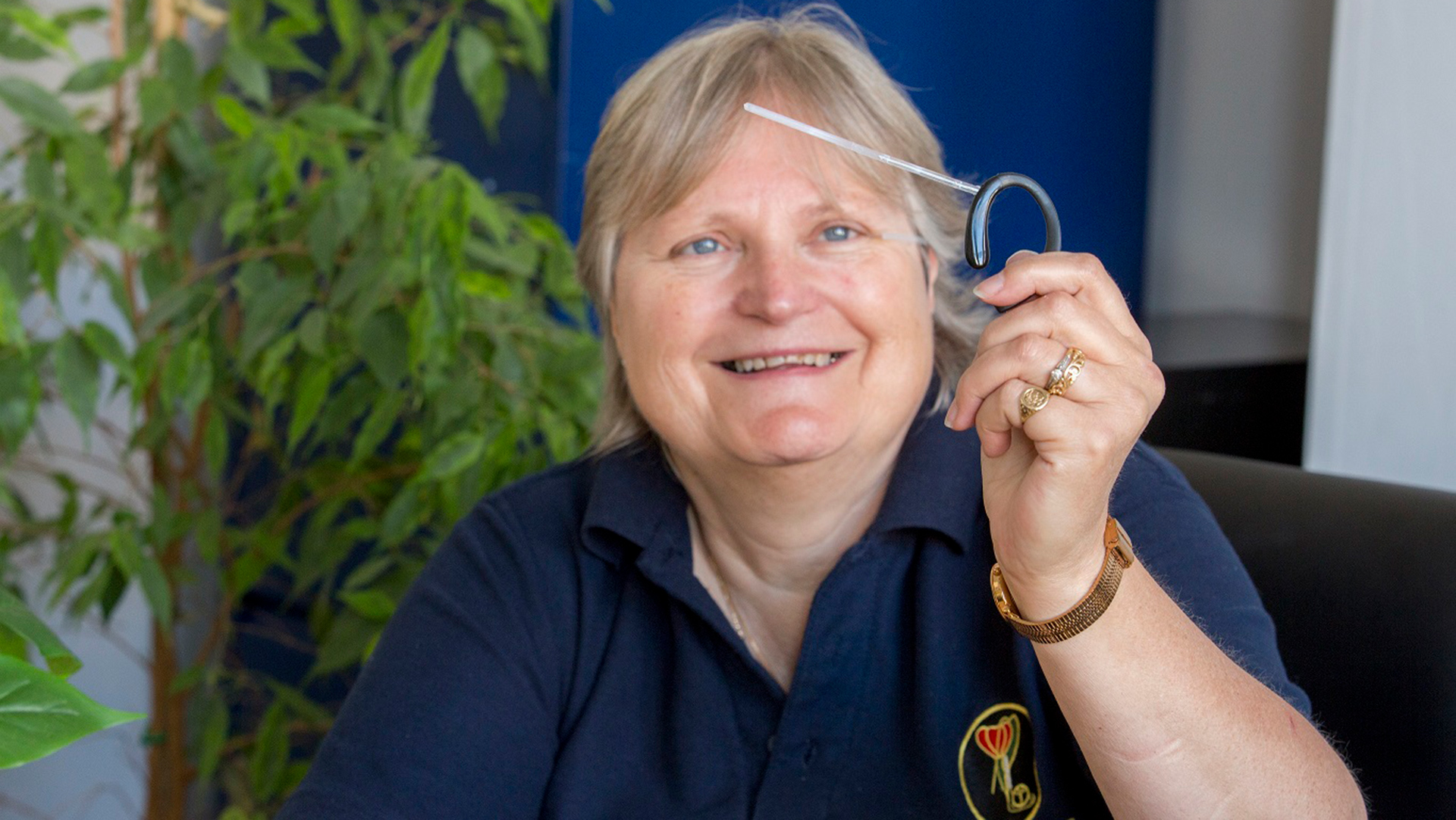 A Lincolnshire woman has invented a device that could help people control symptoms of Parkinson's disease, after living with the condition herself for 18 years.
Sandra Mcdonough, 58, from Spalding, was diagnosed with Parkinson's on the eve of her 40th birthday, and it has caused her body to gradually deteriorate over the years.
She has had to stop driving, and was resigned to using a wheelchair, but just as it looked as though all hope was lost, she came up with a glimmer of hope in the form of a concept device.
Sandra invented something called Eye Guide MC in 2015, which is a discreet device that hooks over the ear. It is calibrated to sit in the perfectly in the person's peripheral vision and can send a new message to the brain.
These messages to the brain overwrite signals which affect balance, speech and movement, as well as the tremors people with Parkinson's suffer with.
The device can also improve the mood of the person wearing it and allow them to feel more confident, providing a visual sensory stimulus to help with walking.
The device is not a miracle cure for the condition, but instead a way to improve quality of life for those who suffer, and Eye Guide MC has been given a medical device accreditation as well as a CE Mark, meaning it conforms with health standards and practices.
She said: "I had the idea for the Eye Guide MC when I was at my lowest. In 2015 my Parkinson's took a complete nose-dive and it was winning the takeover bid.
"No medication was making me feel any better and I was suffering with my mental health. Everything felt impossible.
"That's when I was introduced to someone who is now not only a lifelong friend, but also a key member of the Eye Guide MC team – Parkinson's Nurse Specialist Ann Saunders, who helped turn my life around.
"One day I was fiddling with a little knitting marker which my niece had given me and placed it on my glasses. I immediately noticed an effect on my Hemispatial neglect, a condition which meant I had no awareness of the world on the left side of my body.
"The idea came to me like a lightning bolt. It was beautifully simple and mind-blowingly clear. If I could alter messages to my brain by simply placing something in my peripheral vision, I could make a device that could help to control Parkinson's symptoms."
Two years of development and testing later, as well as securing funding grants from Parkinson's UK and the University of Lincoln's Productivity Programme, Eye Guide MC is ready to help thousands of people.
The business has expanded to the point of opening their first clinic in Long Sutton, which is run by a team of seven including a Parkinson's nurse specialist.
After starting to wear the device in 2018, Sandra said she noticed a "dramatic" change in her quality of life, as her symptoms were greatly reduced and she no longer required walking aids.
Sandra added: "I've not cured Parkinson's, but I've created a way to control it. When I take the Eye Guide MC off my tremors return with immediate effect – but that's ok, I can live with my condition now. This is me, the lady with Parkinson's who invented a way of regaining independence."
Parkinson's is the fastest growing neurological condition in the world. Around 145,000 people in the UK currently have the disease and as of yet there is still no cure.
To find out more about the incredible device and Sandra's company, visit the Eye Guide MC website.