December 3, 2021 4.48 pm
This story is over 23 months old
Lincolnshire Police officer called to court over A46 assault
He will appear in court a few days before Christmas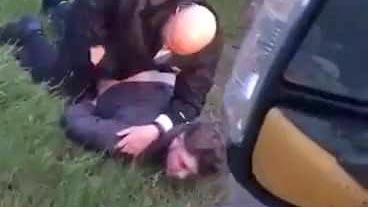 A Lincolnshire Police officer has been summoned to court in connection with the assault of a man at the roadside on the A46 between Lincoln and Newark.
Eight months after tree surgeon Shane Price accused the officer of assaulting him, Lincolnshire Police said Jonathan Mellor, 52, of Lincoln has been summoned to court for an offence of common assault on May 26, 2021.
This matches the same date of the incident that was caught on a phone camera by a vehicle passenger on the A46.
After the incident Mr Mellor was removed from normal duties while a review and investigation by the force's Professional Standards Department took place.
Below is the full uncensored recording The Lincolnite was sent shortly after the incident. We have not seen any footage from before or after the time of the recorded incident.
At the time Lincolnshire Police said they had arrested the man (Mr Price) on suspicion of possession of possessing a knife blade or sharply pointed article; and on suspicion of assaulting an emergency worker.
He was later released under investigation, and it is not yet clear if police have questioned him again since.
On Friday, December 3 police confirmed that Mr Mellor will appear at Nottingham Magistrates Court on Thursday, December 23, 2021. The summons is in connection with the incident on May 26.
Police said: "As court proceedings are now active and ongoing, we ask people not to speculate about the case or what the final outcome will be."
The incident was caught on camera
The video shows tree surgeon Shane after he said he saw a man driving in a black Ford allegedly obstructing the lane on the dual carriageway, whilst reportedly using his phone.
When the two of them pulled over and got out of the cars, he asked the officer why he'd taken a photo of him and his wife and about his driving.
The video shows him suddenly being punched in the face, having his foot stamped on despite telling the officer it had stitches in it from a chainsaw-related injury at work, before then being held on the ground.
Shane repeated several times he cannot breathe while the officer had him pinned down to the ground. The officer then released him and said hello to the camera.
In the days that followed the original incident, Lincolnshire Police said: "At around 9.20pm on Wednesday, May 26, a man in his 20s was arrested just off the A46, near Aubourn.
"He was arrested on suspicion of possessing a knife blade or sharply pointed article; and on suspicion of assaulting an emergency worker. He has been released under investigation.
"Following this incident, an officer has been removed from normal duties while a review and investigation takes place by our Professional Standards Department. We will not be commenting further while this investigation takes place."
Read our previous coverage here: