Lincolnshire Showground celebrates one year as Mass Vaccination Centre against COVID-19
Almost a quarter of a million doses in a year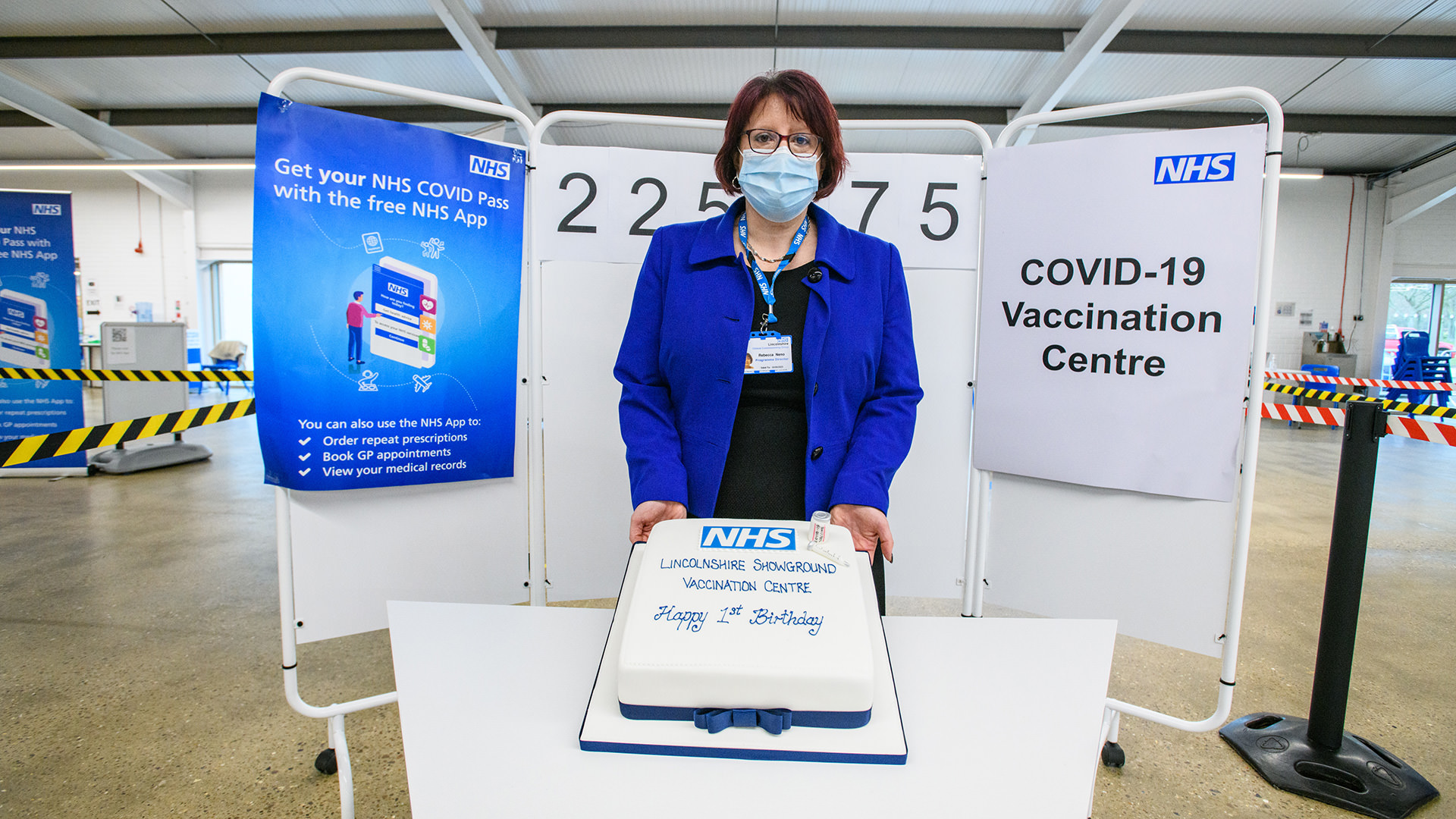 It was a happy birthday for the Lincolnshire Showground Mass Vaccination Centre on Wednesday, marking a year to the day that it first opened for jabs against coronavirus.
On February 2, 2021, Lincolnshire Showground officially opened as one of England's Mass Vaccination Centres, as the country prepared to begin the COVID-19 vaccine rollout.
A year later, and showground staff have administered 225,175 first, second or booster doses of the vaccine, something which Rebecca Neno, director of COVID and influenza programmes at NHS Lincolnshire CCG, described as "incredible".
To mark the occasion, a birthday cake was made and brought in to the Lincolnshire Showground, accompanied with the total figure of jabs given out at the site since it opened.
Speaking to The Lincolnite, Rebecca Neno said: "It's been a phenomenal achievement across the system, from volunteers to NHS staff to the people of Lincolnshire. We are where we are with the lifting of restrictions because of the vaccine rollout.
"We have consistently been one of the safest counties due to our vaccination rate across all cohorts and age groups, but it hasn't been without a fair share of sleepless nights.
"I'm very persistent and aim high, we always understood the consequences of not being successful with this, so the collective effort we've all put in has been incredible."
As of January 30, 84.4% of eligible people aged 18 or over in Lincolnshire have been given their booster jab, working out at around 470,000 doses.
Rebecca Neno said there has been a "steady flow" of people post-Christmas following the booster push, and the staff are preparing to launch vaccination for 5 to 11-year-olds who are high risk, from next week.
There are around 3,000 children in Lincolnshire who are eligible in the latest NHS cohort, and all have been identified for invite to get their jabs once parents have been contacted.
Ms Neno continued: "The work we've put in is testament to the community spirit in our rural county. Ever since we opened the vaccination site we have been inundated with volunteer requests in various roles, including delivering medication, checking people in and answering any questions they may have.
"We must still be vigilant, which is why centres are remaining as they are, because we must respond if needed."
The Lincolnite also spoke to two of the volunteers at the Lincolnshire Showground. Sharon Woodcraft and Susan Graham signed up in December and have thoroughly enjoyed the experience so far.
There are, on average, around 30 volunteers who work at the Lincolnshire Showground's vaccination centre every day, with more or less depending on the demand at the time.
They said: "Everyone is so welcoming and friendly, they are all very caring people. We had both our jabs here and thought it was so well oiled and the togetherness everyone had made me want to be a part of it.
"The most difficult thing is turning people away if they have symptoms of the virus etc, but we have to make sure they stay safe. We also have to reassure a lot of people who suffer with needle phobia, as well as answering questions and passing information on to the staff.
"We just felt that if we can play a part in something like this then that's our job done, it's fantastic."