April 19, 2022 9.18 pm
This story is over 19 months old
Captured Brit "interviewed" by Nottingham YouTuber known for pro-Russia conspiracies
Just days after appearing on Russian state TV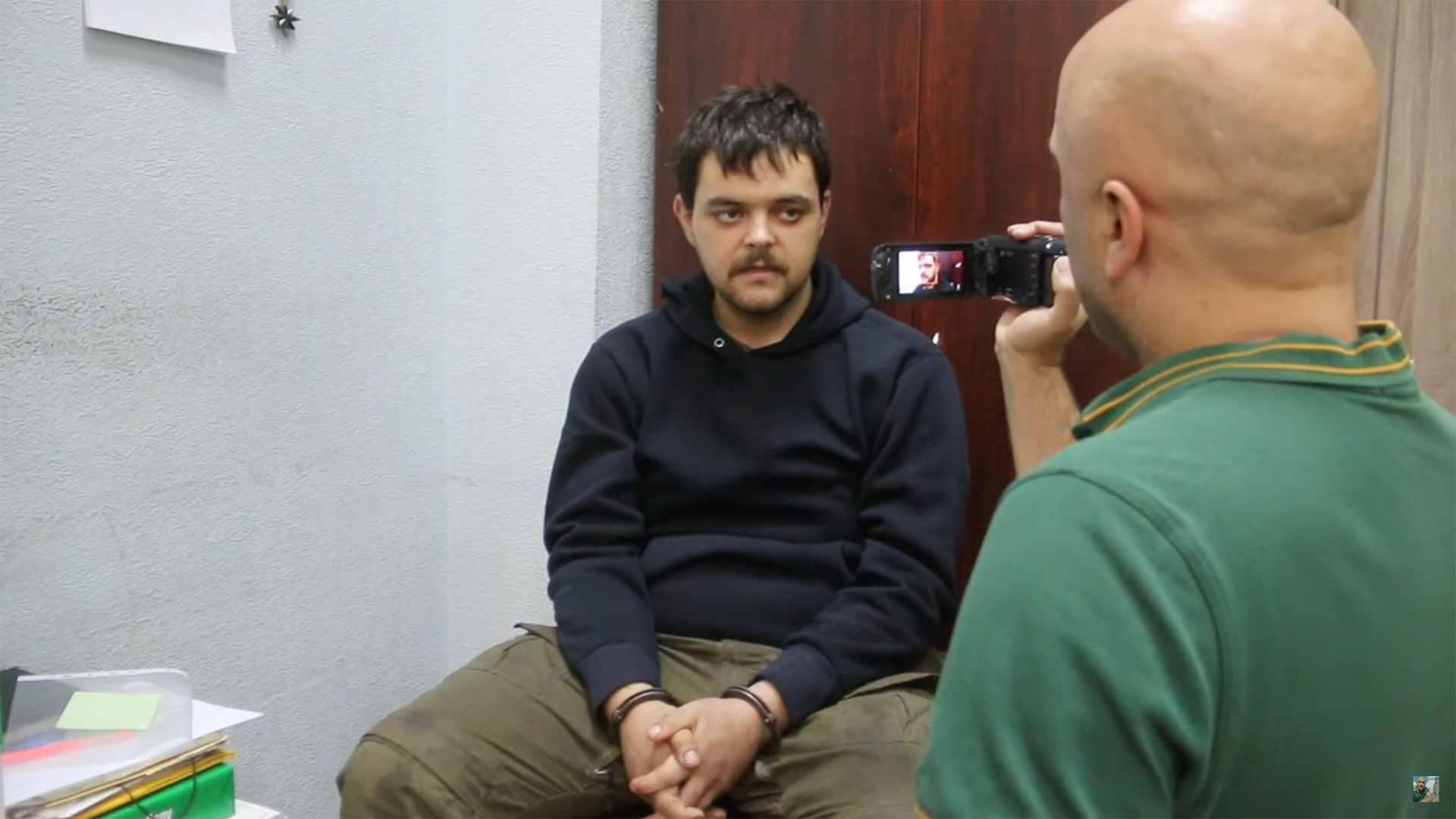 A British YouTuber who was banned from Ukraine for spreading pro-Russian Kremlin conspiracy theories has uploaded a near hour-long interview with Aiden Aslin, the Newark man captured by Russian soldiers.
Footage emerged on Russian state TV last week showing two British men, 48-year-old Shaun Pinner and 28-year-old Aiden Aslin, from Newark, held in captivity after surrendering as part of the Ukrainian resistance effort in the port city of Mariupol.
The men were serving as Ukrainian marines and had been since 2018, and they spoke separately on the Rossiya 24 channel, though it is unclear as to whether they were under duress during filming.
They both issued a plea to the UK government to be freed as part of a prisoner exchange with pro-Russian politician Viktor Medvedchuk – reportedly being held in Ukraine.
Now, a 44 minute interview has been uploaded to YouTube which sees Aslin answer questions on camera while handcuffed and in captivity, explaining his situation and attempting to suggest that Aiden Aslin has not been coerced into saying what he says.
The interview was conducted by Graham Phillips, a freelance filmmaker from Nottingham who has previously been banned from Ukraine in 2014, after he was accused of posting pro-Russia propaganda in light of his reporting of the fighting in Donbas.
His reporting earned him a medal from a branch of the FSB, which is Russia's security agency, and he was a former correspondent on Russia Today, prompting suggestions that he has close ties with Russian intelligence.
His YouTube content has come under fire in recent years, as he is accused of making false claims about Ukraine being run by neo-Nazis, as well as calling a Russian massacre in Bucha, which saw an estimated 500 civilians killed, a hoax.
The Lincolnite has watched the full 44 minute video uploaded to Graham Phillips' YouTube channel, and here are some ion the key things we took from it.
We have not been able to confirm whether or not Aslin was forced to say the things he said.
---
"I am a mercenary"
The interview begins with general housekeeping from Phillips, who states that due to Aiden being a "mercenary" and not a prisoner of war, the terms of the Geneva Convention "don't necessarily apply" to him. He did, however, add that protocols were being adhered to because "we're all good, nice, polite people here."
Aiden stated that he agreed and asked for the interview, while sat in handcuffs, before again later confirming that he asked Graham to interview him because "he's a Nottingham lad like me and I've seen his work before".
Phillips makes reference to a law in the Donetsk People's Republic, that punishment for mercenaries is the death penalty, to which Aiden says he "cannot think of a good logical reason" as to why his life should be spared, other than to push on with the prisoner exchange with Medvedchuk.
---
Treatment in captivity
Aiden says his treatment in detention since being captured has been "better than I was expecting" and that he really feared for his life when he first surrendered.
He said that commanders ignored his suggestions to surrender, before eventually it became impossible to fight back, and he said he chose the option of surrendering because "I'm not an idiot".
He added: "My treatment has been good, I haven't been beaten, I've been given water and food. I was scared to death when I was captured because I thought I would be shot, but it's quite the opposite."
---
Phillips: Ukraine soldiers are "animals, scumbags and barbarians"
Regular reference is made in the interview to the conspiracy-fuelled suggestions that Ukrainian soldiers are in fact neo-Nazis championing nationalism, with accusations that the mainstream media are shifting the narrative to suit an "agenda".
The interviewer says Aslin must "accept responsibility for the decisions you have made", stating that he should have done some research "on Google" about what the Battalion he represented stands for.
Phillips claims that Ukrainians are capturing Russian soldiers and "torturing, mutilating and slaughtering" them before asking Aslin about the conspiracy of Ukraine's military being neo-Nazis, to which he said it's "blatantly obvious" that they are.
---
Repetition
A major theme throughout the interview is the art of repetition from both parties. Aiden's story remains consistent in saying that Ukraine cannot be trusted and they are the ones who don't want peace, as well as saying he was "misled" by the media into believing that Ukraine are the "good guys".
The interviewer, on the other hand, makes it clear numerous times to Aiden how "lucky" he is to be alive, as well as continuously interrupting answers and insisting "I'm not putting words in your mouth" – a term used frequently in the interview.
Phillips also says he deals in "constitutional facts" throughout the video, before making unproven suggestions that Ukrainian soldiers have been shelling and "inflicting untold misery" on their own civilians in Donetsk for eight years. "We're talking about evil here", Phillips declares randomly.
---
Message back home
Aiden was given the opportunity to address his family and loved ones back home, as well as the Prime Minister of the UK Boris Johnson, and his message was clear.
He said: "Diane my wife I want you to know that I love you and I hope that the British government is able to push this prisoner exchange so I can return to you and we can build our life in Britain. My mother, brother, the rest of my family, I love you also and hope to see you all soon.
"Boris Johnson if you are watching this video, help end this war, and I don't mean militarily, we need peace. President Putin's proposals were reasonable, that Donbas be independent and Crimea be Russian."