February 11, 2023 11.00 am
This story is over 9 months old
A flying trip home to Lincoln: Actress Eliza Butterworth talks about her new Sky series
She found fame in The Last Kingdom and now has a new show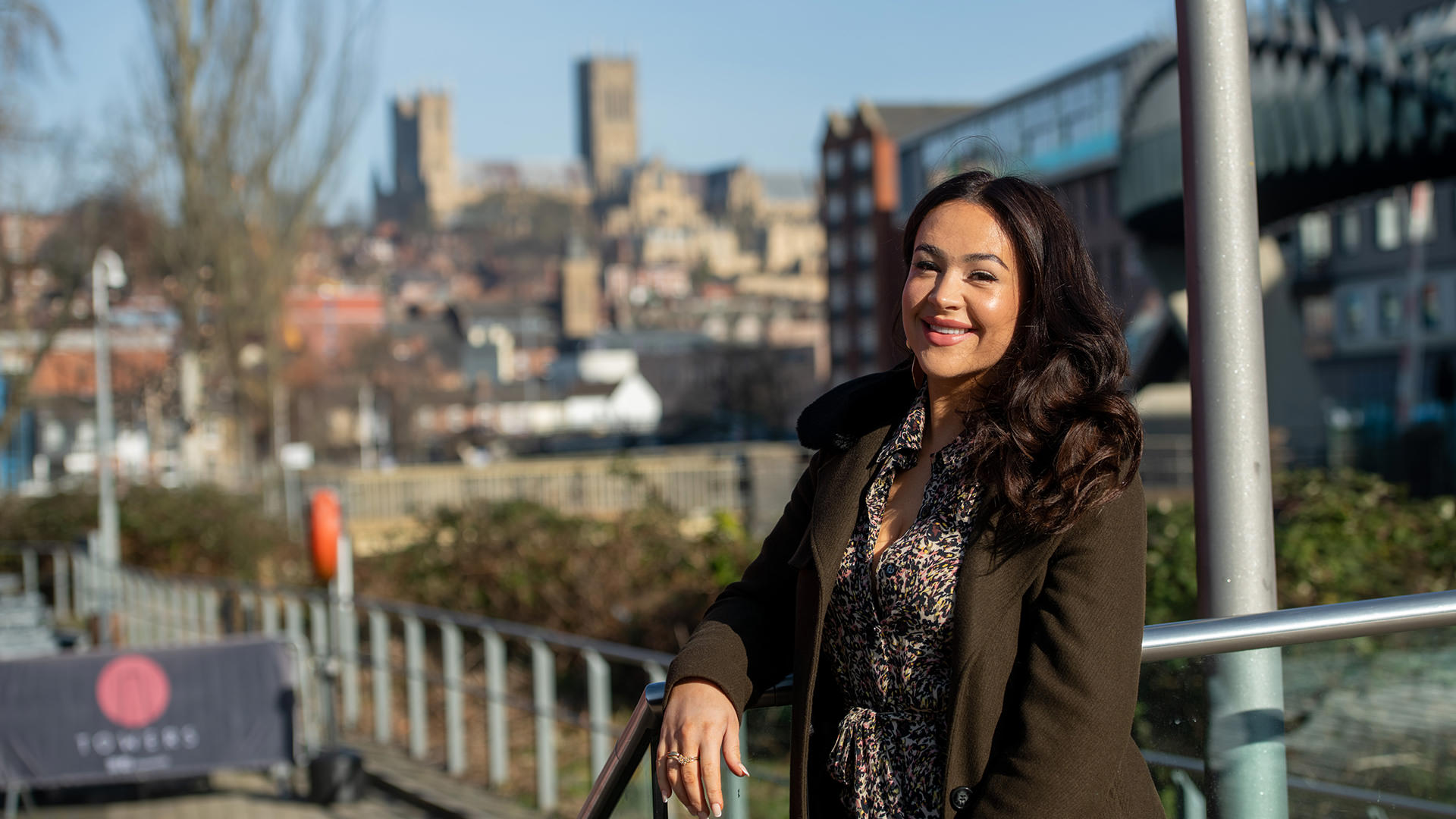 Lincoln actress Eliza Butterworth, who rose to fame in Netflix's The Last Kingdom, is looking forward to her latest show hitting the screens next month.
The 29-year-old, who will be starring in A Town Called Malice on Sky Max, spoke exclusively to The Lincolnite about her career, what she loves about Lincoln, and how local talent can be successful in a very competitive industry.
A Town Called Malice will be available on Sky Max from March 16, 2023 and Eliza plays the role of Carly Lord.
The series follows the notorious South London crime family the Lords, and chaos follows them wherever they go.
They all end up in the Costa del Sol and go on "these insane adventures". Eliza said: "It's just such a wonderful and brilliant show where the character dynamics are so strong and the family relationships break down before your eyes.
"It's set amongst the most cinematic backdrop of the Costa del Sol and it was created by a sensational writer and producer called Nick Love, who has done all kinds of wonderful films and television shows, and this is his baby – he's just incredible."
Eliza added: "I think the audience will really enjoy watching. It's so fantastic, it's so character-led. The show is full of heart, but it's gritty and dynamic, and set to the backdrop of the most phenomenal 80s music which is everybody's favourite kind of music.
"We have the most sensational hair and make-up and costume that completely transported all of the actors to the time."
Filming started in London in December 2021 before moving onto Tenerife in January until June 2022.
Eliza is already keeping her "fingers crossed that we might be getting a second season".
She has loved working with her fellow cast members, including Jason Flemyng, Martha Plimpton, Tahirah Sharif, Jack Rowan, Daniel Sharman and Lex Shrapnel.
Eliza is probably best known for playing the role of Queen Aelswith of Wessex in The Last Kingdom.
After the "incredible experience" of filming the fifth and final season of The Last Kingdom, Eliza said "we were utterly gutted when the whole saga ended and it was one of the most incredible experiences of my life, and probably the highlight of my career."
Eliza is still in touch with her Last Kingdom family, and last year she featured in conventions for the show in America and, Paris in France.
She said: "It was honestly so crazy to say goodbye to that whole thing and we were so lucky that it was received so well by our wonderful fans.
"It was such a special show to work on for all those years, it was such a huge journey. I started when I was 21 and finished when I was 28, it was a massive part of my life.
"I learned so much on that job in terms of screen acting, and just working with the most incredible team of actors and the creative crew, so that was very special."
Unfortunately, Eliza was unable to feature in The Last Kingdom film due to filming for A Town Called Malice, but she will never forget her memorable time on the show.
After finishing The Last Kingdom, Eliza made her West End debut in a show called The Windsors, which is the stage production of the "really hilarious" TV show and saw her work with the likes of the "absolutely phenomenal" Harry Enfield at the Princes of Wales Theatre in London.
She said: "I worked with so many magnificent actors and it was incredible to go from a hard-hitting full on, epic drama of The Last Kingdom to a stage production that was so hilarious and comical. It was a wonderful contrast.
"It was a brilliant challenge to take on because I hadn't done stage work in a very long time. It was wonderful to get back on the stage and now I really would love to do another theatrical production."
When talking about being on stage, and her love of Lincoln, Eliza was asked if she would consider featuring in a Christmas pantomime in the city.
She said she attends the panto at the New Theatre Royal Lincoln almost every single year, but missed the most recent production because tickets were sold out.
She said: "It would just be so fabulous. I might if they would have me, absolutely, that would be so much fun. It would be just gorgeous to work at the Theatre Royal doing anything there.
"When I was a young child I did the Theatre Royal summer courses. We did Saturday Night Fever when I was about 12-years-old and it was amazing.
"All of the theatres within Lincolnshire are fantastic. I even have friends who are from London and they're in a London production which then gets toured around counties such as Lincolnshire, and they absolutely love coming here to perform because it's such a special place.
"I just adore what Lincoln has to offer creatively, but also in terms of the kind of family, community environment, it's just so special."
Love of Lincoln and opportunities for aspiring actors
Eliza believes aspiring actors can still achieve great careers if they decide to stay in Lincoln, and that going to London is not the only route to stardom, as the "creative world has evolved" and auditions are now possible online.
She said: "I think now more than ever there's so much access to creativity no matter where you are.
"I also feel places like Lincoln are so up-and-coming and so full of opportunities. People in Lincoln have such a wonderful community attitude when it comes to living in this city and really care about each other and work on things wonderfully together.
"There are so many projects happening, brilliant locations to do theatre, especially like the New Theatre Royal, the LPAC. The university give out so much for its students and people who are up and coming in the creative industry.
"There's so many phenomenal, flourishing actors who are from Lincolnshire and it's so brilliant that they can come back to our fantastic county and still continue their creative endeavours."
She added: "London is obviously a fantastic place to be creative and there are so many fantastic opportunities there.
"I feel like now more than ever the creative world has evolved. People can access that even from such a fantastic place as Lincoln. I love coming back to Lincoln and getting to see all the brilliance that is is around the city in terms of the theatrical projects and things that are being filmed here.
"People are really cottoning on to how brilliant Lincoln is and how much it has to offer. It's such a special place where people are really connected to one another.
"There's such a community attitude about the whole city, which you feel every day walking through it. I think that's what really draws me back to the city all the time and it's wonderful to see it flourish."
So what advice would Eliza give to any young aspiring actors from Lincoln wanting to get into the industry?
"I would say just keep persevering and there's no right or wrong methods to becoming an actor. There's no singular way.
"There are so many avenues to take to become a successful actor and I feel that if you also make your own projects and invest in your own work, that could be a really wonderful starting point.
"Have a go at everything. Don't say no to anything… the learning never stops as an actor. There are always so many projects to research and always so many connections to be made.
"There's such a big pool of wonderful people who are ready to work with you. Don't be scared of trying new things all the time and letting yourself evolve in such a creative and fulfilling world."
In the future, Eliza admitted she would love to star in a musical and a film, as well as in a music video and to do an audio book.
Eliza's parents Edie and Ray still live in Skellingthorpe and she would love to move back to Lincoln one day, saying: "Lincoln is my entire identity… Lincoln is such a gorgeous hidden gem. "I always feel so connected to the city."
She added that she also feels "so proud" whenever she sees anyone from Lincolnshire on screen or on stage.
---
MyLocal Lincolnshire is the new home of The Lincolnite. Download the app now.