February 25, 2023 8.00 am
This story is over 9 months old
Toned and happy: How a Lincoln GP found his smile in a sea of darkness
He shed 34kg physically, and lifted the weight of the world mentally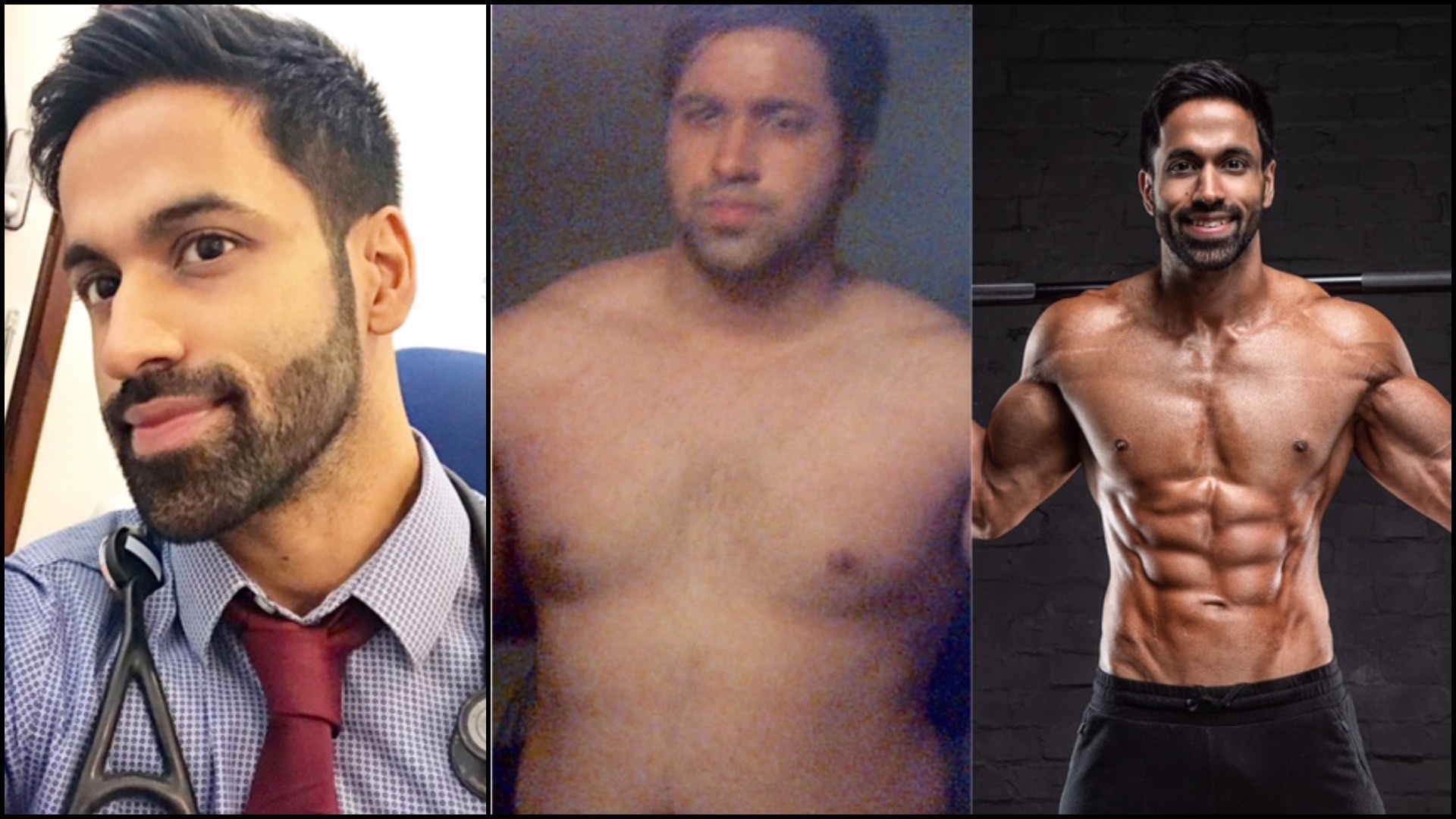 A Lincoln GP has shared his remarkable story of surviving the abyss of depression, and turning his life around – with a smile on his face.
Francis Dasilva, 38, moved  from London during the COVID-19 pandemic, and dreamed of becoming a doctor from the age of four.
He was well-rounded academically and would train to become a junior doctor post-university in his early 20s.
His life appeared to be following the path that society often leads us to desire – he had a good job with exciting career aspirations, a wife he loved dearly and a house he thought would be his forever home.
However, life often doesn't fall in line with the fairytale storyline. The pressure of being a junior doctor inside hospitals was something Francis was not prepared for, and it took its toll on him.
"I quit medicine completely after just a year of being a junior doctor," he told The Lincolnite. "It was all I had wanted to do since the age of four, and when I quit it felt like my entire life purpose had been lost."
Francis returned to the profession after nine months, but admits that he had not cured the issue that caused him to quit in the first place, instead plastering over it.
Mental health awareness has seen a sharp rise in recent years, as society embraces the imperfections of humanity and encourages us to talk about our worries, rather than bottling it up and keeping them to yourself.
Francis' mental health journey has been ongoing for most of his life, and he said it took him years to acknowledge the root cause was closer to home than he realised.
"My own self-sabotaging nature" – That is his answer to what the cause of his struggles was.
"It's very good to be reflective of yourself, but constant belittling with never end positively.
"If you said the things you say to yourself to other people, you would be considered a cruel person, yet because you say it to yourself it is okay all of a sudden?
"Self-worth is a major component of confidence and mental health, when you feel lost it feels like you are drowning, and putting this weight on your shoulders only causes you to sink."
This culminated in a breakdown of his marriage, which he still to this day says he cannot explain – but he cites it as the catalyst for a major life transformation.
Francis says of this time: "I struggled more and more with my confidence and it took its toll on my relationship.
"I think the shock factor of your life being flipped upside down prompted the change. I was underweight before medical school, and then one day I realised I was 105kg."
He needed a distraction, and that for him came in the form of exercise.
Francis religiously trained and says he felt "more unstoppable" than any point in his life, as he became hellbent on becoming the best version of himself.
In a two-year spell of training, Francis went from obese to bodybuilder standard, shedding 75lbs off his weight – but it was about much more than the physical aesthetics for him.
"Mental and physical health married together during my transformation, I was becoming stronger and fitter and that in turn made me more confident.
"Once I get an activity in mind I dedicate myself fully to it, in order to achieve the best version of myself.
"It's so important to set personal goals and not compare yourself to others."
Guided by his childhood admiration of Superman, Francis soon had the body image that he had always hoped for, and he used that low point to burn every negative thought in his mind. It was a total cultural reset.
He has competed in bodybuilding contests and represented his gym at tournaments, and after six years of being content on his own, Francis would soon witness the next stage of his life progression.
After sparking an online connection with someone from Lincoln on Instagram, Francis had an epiphany.
He said: "I spent six years being happy on my own, I built up my own armour because when you are alone, the only person who can hurt you is yourself.
"I worked on myself to the point of feeling safe to go out into the world again, and as soon as I started talking to my now girlfriend, everything felt easy, and above all else, safe."
He has now moved to Lincoln with his girlfriend and considers the city his happy place, it is the place he feels most "at ease".
Exercise was not his only form of cathartic release, though. Francis has always been a keen writer of poetry, but his career as a doctor initially put a halt to that.
However, as his confidence grew and openness to share his story developed, Francis decided to put his passion into practice.
"I always wanted to write a poetry book", Francis says. "My issue was that I never thought I was good enough.
"But I started documenting my fitness and mental health journey on Instagram and received messages to say I had been helping people by telling my story, so I figured I had nothing to lose."
He has now finished his first draft of Fairytales and Starlight, and is hoping to self-publish it in the coming months.
The book is full of gentle reminders of self-worth, poems touching on the importance of your mental health, and metaphorical stories comparing societal struggles to the ever-changing world of nature around us.
What the future holds is anybody's guess, but Francis is in no rush to find out, stating that "sometimes you don't need the answer" in the journey of life, instead opting for letting his story play out the way he chooses.
"Living happy in Lincoln is my priority. I am grateful for the peace and happiness this city has brought to my life, and now I feel my anxieties are easier to manage."
Francis feels that his story is one that can resonate with so many in the NHS, given the immense pressure the health service is under at present.
"I found hospital medicine work very overwhelming, and with what is going on in the NHS at the moment I think many feel the same.
"The system is struggling to cope, and it is the staff that are feeling the brunt of it.
"In healthcare it's like a rite of passage to 'survive' in the job, but that shouldn't be the case. We should not be burning people out on the off-chance that a few survive the difficulties."
And what would his advice be to anyone going through similar ordeals?
"Reach out to somebody, anybody. Cast your net far and wide, because we need support in our bid to stay afloat.
"It's also so important to find an outlet. Mine was exercise and poetry, yours could be anything. At the end of the day, the book of your life is about you and nobody else, don't let somebody dictate how you live your life."
---
MyLocal Lincolnshire is the new home of The Lincolnite. Download the app now.