March 9, 2023 3.00 pm
This story is over 8 months old
Celtic figure holding 'oversized phallus' sells for over £2k at auction
The rare artefact was found in Lincolnshire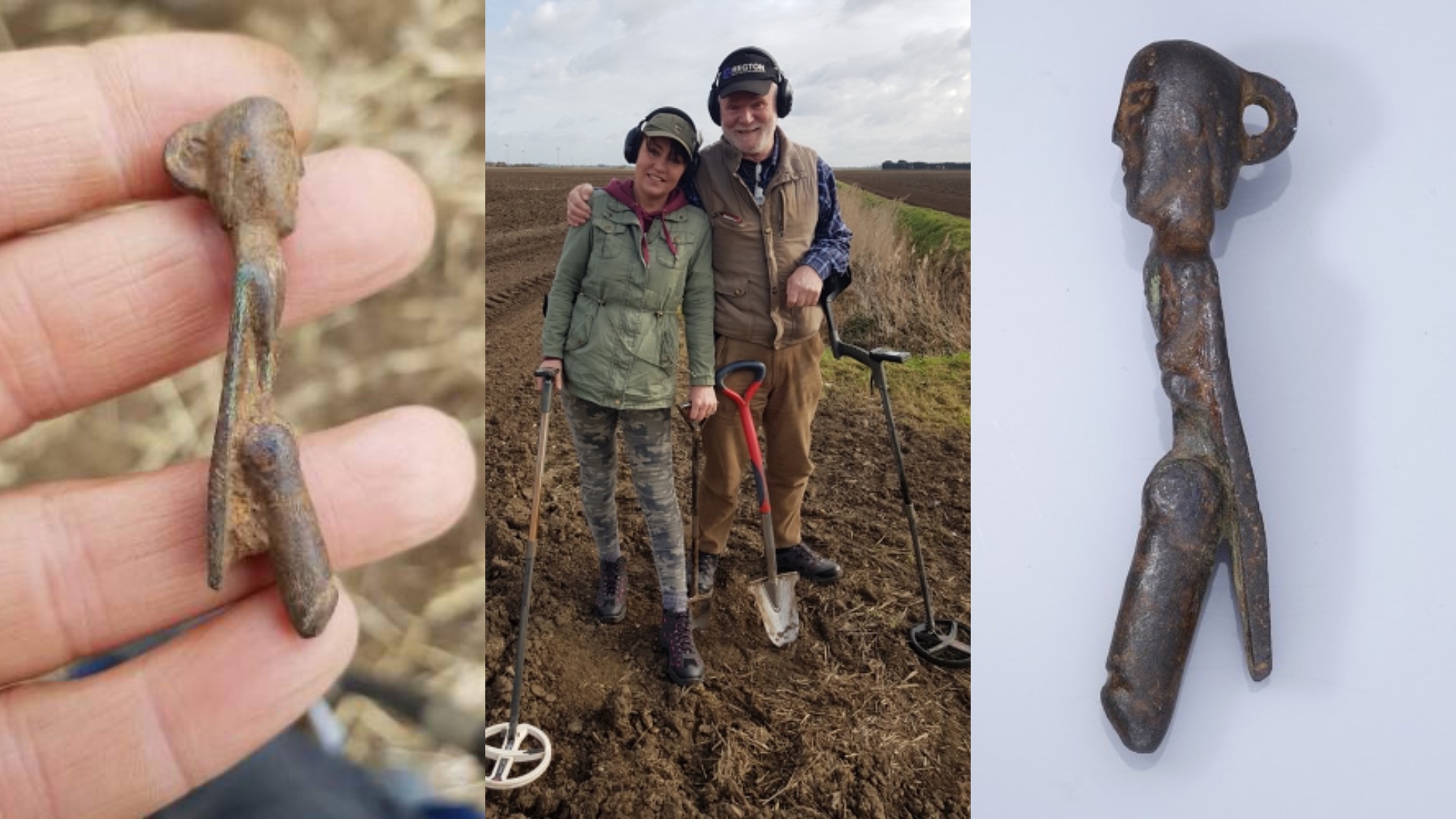 A bronze nude figure holding an "oversized phallus" has been bought for £2,200.
The fertility figure dates back to the Celtic period from the 1st century AD and was found at a detector rally in Haconby in Lincolnshire.
It was put up for auction by Noonans at a two-day sale of Ancient Coins and Antiques.
The figure, which measures 5.5cm high by 1.2cm, had been estimated to fetch £800-£1,200 but it sold for more to a UK buyer.
Retired processing consultant Paul Shepheard, 69, who lives in March in Cambridgeshire, has been detecting for 25 years and watched the auction from home.
After the auction, Paul said: "We are really pleased with the price that the figure made. We really enjoy metal detecting and go out at least three times a week – nothing would stop us doing that!
"However, finding items like ours is a rare event and it was great to see how it sold and the interest is received.
"We plan to use the proceeds from the sale to pay for a holiday to Kos for my wife and her mother."
Nigel Mills, Consultant (Coins and Artefacts) at Noonans, said: "Dating to the Celtic period from the 1st century AD, this is a representation of a fertility god, probably based on the Roman god Mercury as he is holding a purse in his left hand.
"This male figure with its hinged oversized phallus would have had symbolic powers of good luck and warding off evil spirits and may have served as a locking mechanism as a buckle to hold a belt and scabbard for a sword."
Paul made the discovery at the rally last year while he was searching a stubble field with his wife Joanne.
Jo had just found a Medieval penny and Paul was hoping his luck would change when he got a signal on his new XP Deus II.
Digging down 10 inches, he uncovered what he thought was a large steel split pin commonly used to retain wheels on farm carts, which Paul knew as he loved to restore farming equipment when he was younger.
On closer inspection he saw the outline of a face and it was, in fact, a bronze nude figure holding in his right hand an oversized phallus which is hinged for movement.
---
MyLocal Lincolnshire is the new home of The Lincolnite. Download the app now.