March 1, 2023 9.33 am
This story is over 8 months old
How the far right hijacked Skegness protest to stoke racial hate
'Hitler lookalike' Alek Yerbury attended the Skegness protest over the weekend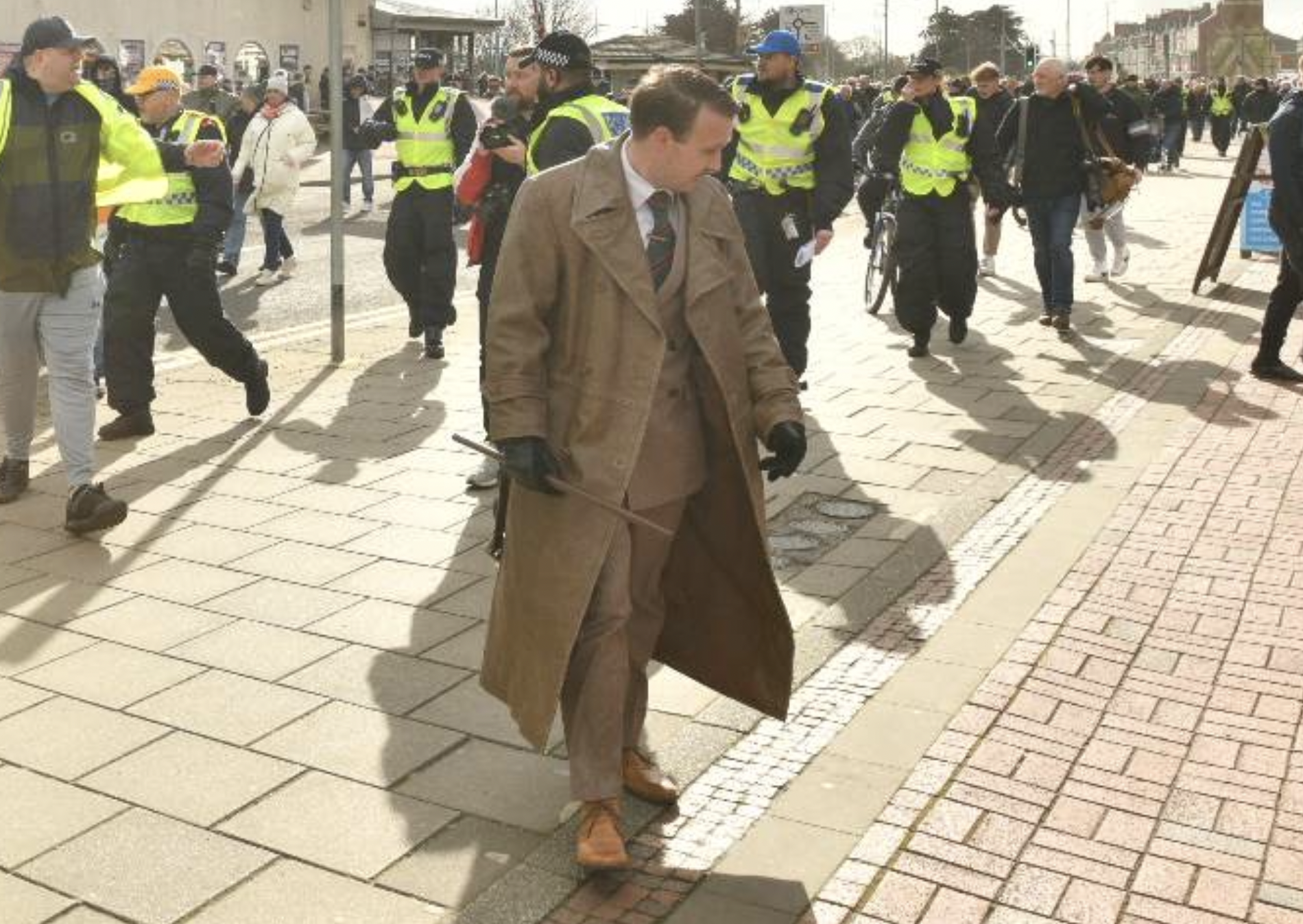 Many legitimate concerns about the use of hotels for asylum seekers exist in the Lincolnshire seaside resort of Skegness. But they served this weekend as the latest poisoned pawn for a dangerous, fascist group using the issue to stoke hatred, organisations warn.
Hundreds of protesters swarmed Skegness on Saturday, February 25, many from other parts of the UK, and carrying banners reading "no more refugees", "stop the invasion" and "we will not be replaced".
Among far-right attendees was 'Hitler lookalike', former British Army soldier and white supremisist Alek Yerbury – easily recognised by his sinister apparel – a trench coat, slicked hair and moustache.
Hotels in the Lincolnshire seaside resort have become the temporary homes to up to 500 asylum seekers and refugees in recent months, while their applications are processed.
The Home Office has faced criticism over the suitability of hotels for such housing.
Hundreds of local residents attended a meeting in the town in November, fearful of the effect on tourism businesses.
One said the town's cheap hotels meant it was being used as "dumping ground", adding that tourists had been cancelling bookings.
Recently, the dialogue surrounding concerns has been muddied with hate speech, racism, white supremist messaging and, thuggish violence in the case of a recent protest in Knowsley.
Far-right group Patriotic Alternative seized the opportunity to add Skegness to its national tour of propaganda.
A march arranged by angry locals was given support by the group, which stoked local tensions on social media with 'Enough is enough' posters in the lead up to the event.
Rather than target the government, it appeared to direct anger towards the asylum seekers themselves.
To announce the protest, PA published statements on its website insisting "our country is being slowly stolen from us" and citing fears of "the safety of school children", alongside an image of unknown and unidentified minorities.
Skegness MP Matt Warman also condemned far-right groups of "shamelessly" exploiting concerns over asylum seekers in hotels.
Lincolnshire Police said there hasn't been a rise in crime in Skegness, despite online fearmongering.
Patriotic Alternative was founded by Neo-Nazi Mark Collett in 2019. His ambition was to achieve a "racially pure white society".
Its followers rolled into the rally in the town like a Trojan horse, their aim to grow their rabble of followers and to spread fear of an 'immigrant takeover'.
Alek Yerbury has recently claimed to have resigned from Patriotic Alternative, but is a poster boy for the British Neo-Nazis.
His attendance is typical of the PA's tactics to stoke tensions and racial hatred, campaign groups have warned.
Following the protest, PA claimed "upwards of 400 people came to support us and hear speeches from locals including the neglected homeless" – though the number has been widely reported as between 200 and 300.
"There was no counter demonstration, the local community welcomed us and thanked us for standing with them against the government prioritising the housing of migrants over the needs of the community. "
David Lawrence, Senior Researcher at HOPE not hate, told The Lincolnite: "Patriotic Alternative played an organising role in Saturday's demonstrations. They are a fascist group that tries to keep up the appearance of being 'family-friendly', yet is rife with Holocaust deniers, Hitler fetishists and fringe conspiracy cranks.
"A key tactic they use, is latching onto local concerns in order to sow division and exacerbate tensions.
"Thankfully, the large majority of locals can see through their cynical attempts to stir up trouble in Skegness, evidenced by the fact that PA brought in activists from hundreds of miles away to inflate the numbers."
---
MyLocal Lincolnshire is the new home of The Lincolnite. Download the app now