March 13, 2023 3.00 pm
This story is over 8 months old
Junior doctors strikes begin as hundreds of hospital appointments cancelled
They are calling on the government to negotiate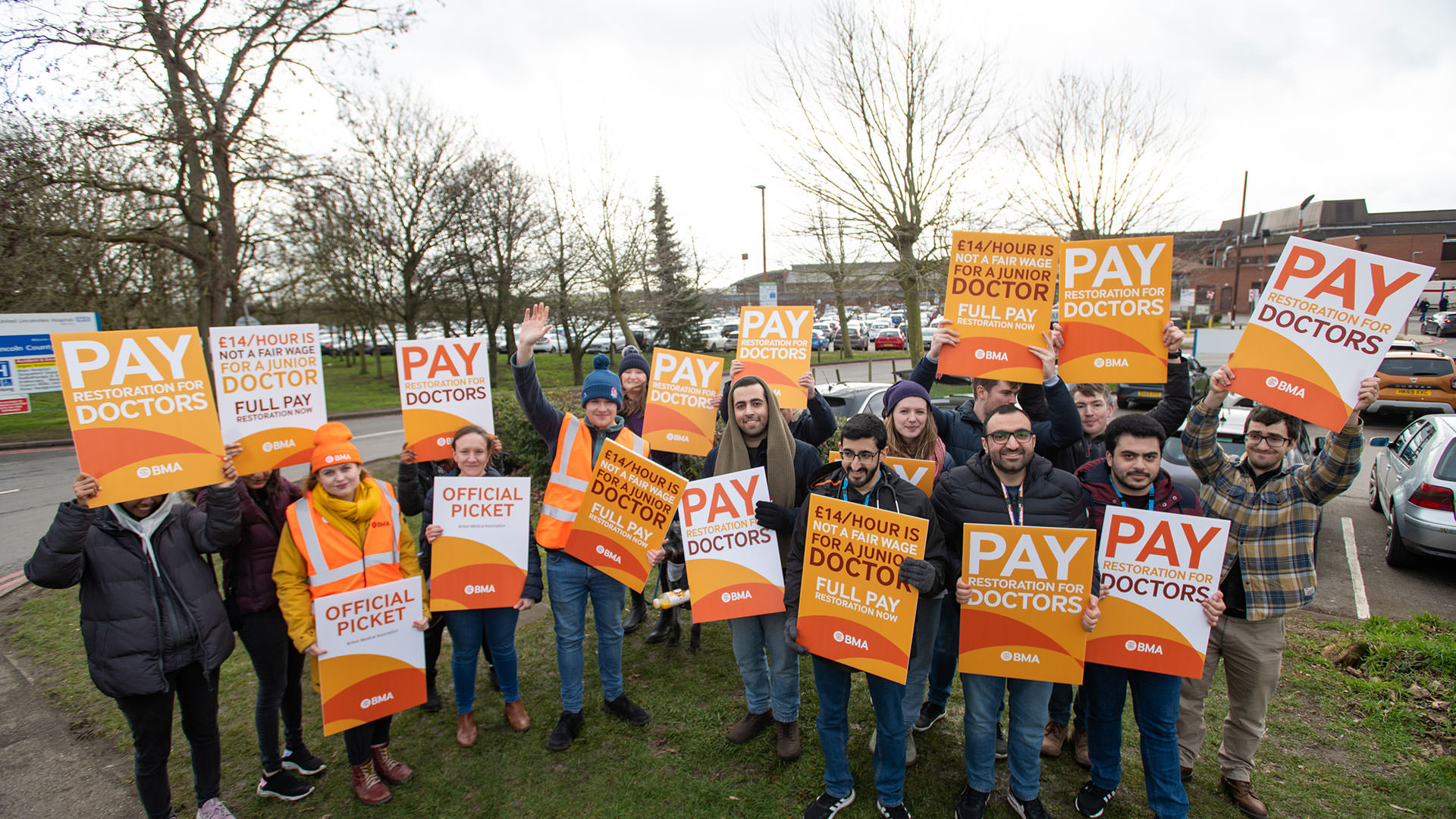 Seventy non-urgent operations and 300-400 outpatient appointments were cancelled as junior doctors in Lincolnshire began strikes over pay on Monday.
The 72 hour junior doctors walkout began at 7am on Monday, with pickets outside the hospital twice a day.
United Lincolnshire Hospitals NHS Trust (ULHT) said the current industrial action has had a "significant impact on our workforce".
However the doctors say the strikes are necessary to protect the NHS long-term.
Cars could be heard beeping their horns in support of the picket line of junior doctors outside Lincoln County Hospital.
Becky Bates, who is a foundation year one doctor at Lincoln, led the action on Monday.
She told The Lincolnite: "I'm here because the government has cut our pay over a quarter in the last decade and continue to refuse to negotiate with us, so the only option they've given us is to take industrial action.
"We are very grateful to our consultant and associate specialist colleagues who are covering those shifts, stepping up to make sure patient safety won't be compromised.
"If people need medical care over the next 72 hours they will get that in the hospital from our senior doctors who are in support, so we are absolutely confident they'll get the care they need."
Another doctor on the picket line said: "It's not just about the money, it's about the respect we deserve. It's about the hard work we put in, the risks we take, the care we give the patients, it is really important for us."
In response to ULHT recently releasing a statement about cancelling non-urgent operations and appointments Becky, who is paid £14.09 per hour as a first year doctor, added: "
We're seeing doctors leaving at alarming rates.
"A recent survey showed that two-thirds of doctors are considering leaving the NHS and so I would say I'm really sorry that those appointments have been cancelled, but in the big scheme of things we're trying to protect the long-term health of the NHS and we want everyone to have timely access to clinics and operations and everything going forward and we feel this is a necessary part of that.
"The government didn't listen to us until we announced our ballot. They wouldn't meet with us, they have started meeting with us recently. Steve Barclay didn't come with a mandate to discuss pay with us, so they have only started paying attention once we announced this action.
"We think they will only come with a credible offer once we've taken our action and shown our worth as a workforce."
Andrew Morgan, CEO of ULHT, told The Lincolnite they will get cancelled patients back in for new appointments as soon as they can.
He said: "It depends on their particular priority and clinical urgency. We know for those long waiters who have had their operations cancelled, we have booked a number of those in already before the end of March, so they'll have a very short period.
"But there will be others that might go beyond that period. We'll do everything we can to get them in as quickly as possible."
The striking doctors want their pay to be restored back to 2008 levels.
Mr Morgan declined to say whether he thought that was fair, saying "My job is to run the hospitals."
He added: "It's clearly increased the risk to us of keeping our services going. It's inconvenient to the public and extra work for other colleagues. Our job is to keep things going.
"We apologise to the public. We thank them for their understanding of why we've had to do this. We really do know that a number of people have waited a long time and it's very distressing almost on the day to get a call to say that we've had to cancel.
"We have moved our workforce around as much as we can to minimise any inconvenience and cancellations."
He added that he respects people's right to withdraw their labour and hopes the "strike is the conclusion to the dispute" so that it is "resolved as quickly as possible."
A hospital spokesperson said: "We are contacting all patients whose appointments we need to change and will work with them to re-book their appointments and operations for as soon as possible.
"If a patient has an appointment over the next few weeks and have not been told this has changed, it is important that they attend as usual.
"Our maternity and antenatal services will also be open. Our emergency departments remain open for those who need urgent and emergency care."
See more of our photo gallery from the strike below:
---
MyLocal Lincolnshire is the new home of The Lincolnite. Download the app now.