April 21, 2023 7.00 pm
This story is over 7 months old
In Pictures: RAF Waddington soldiers march for Freedom of Lincoln Parade
Celebrating RAF Waddington's Freedom of the City award in 1959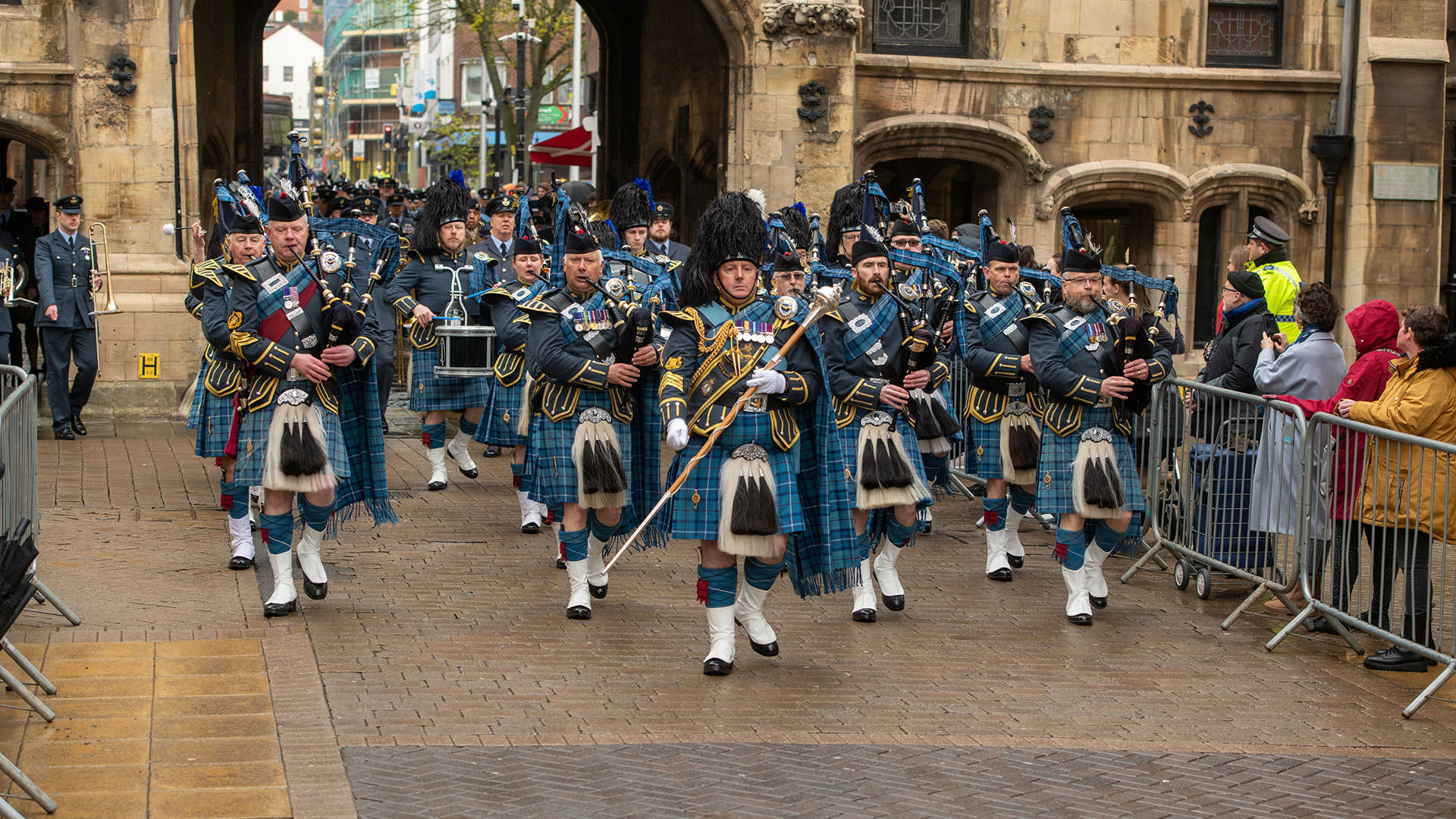 Over 140 personnel from RAF Waddington marched through Lincoln High Street on Friday for the annual Freedom of the City Parade.
The parade takes place each year to mark the Freedom of the City of Lincoln being awarded to RAF Waddington in 1959.
This year's procession began at St Martin's Square before going onto the top of the High Street and marching down to the War Memorial.
It was here they were greeted by the Station Commander, Group Captain Mark Lorriman-Hughes, Lincoln Town Crier Karen Crow and the Mayor of Lincoln, Rosanne Kirk.
Bayonets were fixed, colours flew and drums were played as close to 150 RAF Waddington personnel participated in the parade, and a special flypast took place over the High Street during the event.
Locals lined the street to welcome the personnel on their march, offering warm applause and giving thanks to the servicemen and women at RAF Waddington.
The RAF Waddington Station Warrant Officer Michelle Rees-Martin said: "It is my absolute honour to be the Parade Warrant Officer for the 2023 Freedom of Lincoln Parade, especially as I am the first female Station Warrant Officer at RAF Waddington to do so.
"Station personnel are extremely busy with operational activities however, volunteers have been in abundance and thrilled to participate in this prestigious high profile local event."
RAF Waddington Station Commander, Group Captain Lorriman-Hughes said: "It is an absolute pleasure once again to honour our status of holding the Freedom of Lincoln by parading for the city and its people.
"To be such an integral part of an amazing city and county, and to be so well integrated into the community is hugely important to us.
"Such days are a real opportunity to bring all parties of the community together and we very much look forward to, and take great pride in, it each and every year."
See more photos of the Freedom of the City Parade, captured by Steve Smailes Photography: