Explore the St Barnabas 💗 HeART trail across Lincolnshire 🌻
Charity ambassador Warwick Davis was in attendance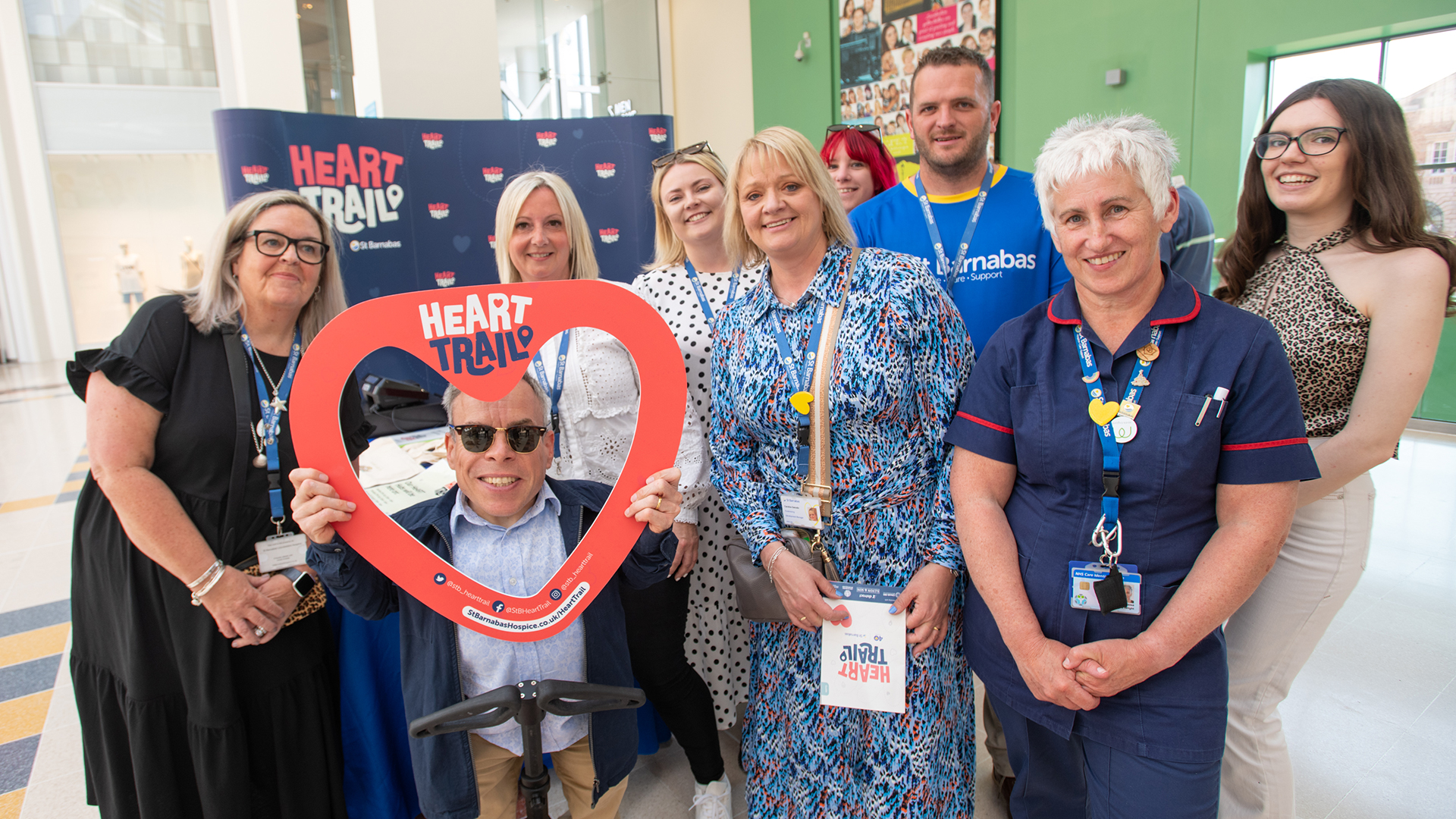 The St Barnabas Hospice HeART trail is now on, with 30 stunning sculptures to explore across Lincolnshire over the summer.
The HeART trail has been organised by St Barnabas Hospice to raise awareness of the tireless work of staff at the end of life charity over the last 40 years.
A total of 30 heart-shaped sculptures are situated across Lincolnshire – with 20 in Lincoln, five in Skegness and along the East Coast, and five more in Louth, Boston, Grantham, Spalding and Gainsborough – the five towns where a St Barnabas wellbeing centre can be found.
Check out the Play Tab for a full video tour of the Lincoln trail 
Hearts were designed by local artists, each celebrating the theme of 'Love Lincolnshire' by expressing their adoration for our beautiful county.
To celebrate the beginning of this trail, St Barnabas hosted a launch event in Lincoln on Friday, June 9 – the day before the HeART trail officially begins.
The launch event offered artists and sponsors behind the trail, as well as St Barnabas staff themselves, the chance to see the sculptures around Lincoln city centre – where they will reside until September 4.
As well as this, actor and television personality Warwick Davis, who is an ambassador for St Barnabas Hospice, visited Lincoln to lend his support to the launch and check out the sculptures for himself.
Watch our interview with Warwick on the Play Tab
Chris Wheway, Chief Executive at St Barnabas Hospice, said: "The HeARTs are all absolutely beautiful. It's going to be a fantastic experience walking the HeART Trail, so please do get involved when it launches on June 10!"
Once the trail ends in September, the sculptures will be on display at the Lincoln Museum, before eleven of the HeARTs go to auction, with proceeds going directly to St Barnabas Hospice to assist the vital work the charity does.
Alongside the main sculptures, St Barnabas has also set up the miniature Young at HeART trail inside the Waterside Shopping Centre.
This trail has seen 19 sculptures created by local nurseries and schools, not only allowing young people the chance to express themselves creatively and collaboratively, but also to help them understand the importance of local hospice care.
The locations for the St Barnabas HeART trail
A Green City by Rosie Ablewhite – St Mark's Shopping Centre
Working Together by Michelle Cranwell – Lincoln Arts Centre
Precious Metal by Kevin Baumber – Brayford Wharf North
The Lincolnshire Freemason Heart by Rosie Ablewhite – Bus Station
Pass It On by Sian Bristow – 1 Newmarket, Sincil Street
Heart of Green by Phillippa and Rachael Corcutt – St Benedict's Square
Legends of Our Skies by Jemima Cholmondeley-Smith – Stokes High Bridge Cafe
Seat of Love by Fizzco – Waterside Shopping Centre
Cathedral Quarter & Steep Hill by Pip Claffey – High Street by House of Fraser
Heart of The City by Rachel Benson – High Street by St Barnabas Charity Shop
Lucky Heart by Kevin Baumber – Danes Terrace near Lincoln Museum
Built in Lincoln by Mel Langton – Exchequergate
Steampunk Gear Heart by Kevin Baumber – Castle Hill
Heart of Lincolnshire by Vicky Kuhn – Lincoln Cathedral
Wish You Were Here! by Jem Dunn – Minster Yard
Love Lincolnshire Locket by Lois Cordelia – Eastgate at Cathedral visitor centre
In Memory of Stefanos by Stefanos of The Old Smithy – Eastgate by Cathedral Cafe
Summer in the Wolds by Karin Christensen – Bailgate by Newport Arch
Magical Adventure by Phillippa and Rachael Corcutt – Union Road by The Victoria
Notes of Love by St Barnabas Hospice – Cardinal Close
Visionary Heart by Mel Langton – Marshalls Yard, Gainsborough
Redwood Heart by Nigel Sardeson – Bridge Street, Louth
Seals of Approval by Hannah Jayne Lewin – Central Promenade, Mablethorpe
Heart of the Community by Mel Langton – High Street, Mablethorpe
Love, Love, Love Lincolnshire by Olivier Jamin – Anderby Road, Skegness
Lincolnshire Memories by Kathleen Smith – by Tower Esplanade, Skegness
Sweet Heart by Steve Andrews – The Hildreds Centre, Skegness
Built in Boston by Mel Langton – Pescod Square, Boston
Land Lover + Monty by Sandra Russell – Spalding Market Place
Wild At Heart by Brett Barker – Elmer Street North, Grantham