Employer Daniel Charles Construction
Location Lincoln
Industry Civil Engineering
Contract Full Time
Job Type Permanent
Deadline 15/07/2022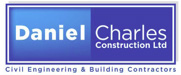 Description
An exciting opportunity has arisen for an enthusiastic individual to join our talented team at Daniel Charles Construction Limited, a privately-owned business based in Lincoln with a reputation for delivering quality Civil Engineering projects within Lincolnshire and the surrounding areas undertaking a range of interesting and diverse projects.
We have recently been successful in securing numerous projects and have an exciting opportunity for an experienced Contracts Manager to join our team. The successful candidate will ideally have previous experience in civil engineering, namely Roads & Sewers.
Our Contracts Managers are responsible for managing and delivering a wide range of projects across various sectors. Schemes are varied both in size and complexity but typically consists of roads, sewers and groundworks on housing developments.
Main Responsibilities
Overall responsibility for ensuring our projects are completed on time, on budget and to the highest standard.
Control all aspects of programmes ensuring systems, policies and procedures are fully adhered to.
Ensure strict compliance with legislation and our internal policies and procedures, particularly relating to Health & Safety, environmental and quality control.
Managing the project lifecycle, delivery through to completion and handover.
Managing, planning, reporting, forecasting and implementing mitigation plan as appropriate.
Driving performance in Health, Safety, Quality and Environmental.
Overseeing all construction work in the field including the management of our construction partners and suppliers to ensure compliance with project build requirements and ensuring an appropriate level of quality assurance.
Positively develop and manage strong Customer relations.
Working with Local Councils and Authorities to give high level of confidence that our build programme will minimise disruption whilst keeping the public safe.
Building and developing a high performing team, including recruitment, induction, training and development, performance managements, engagement and communication.
Candidate Specification
Previous experience of managing civil engineering and building contracts.
Experience in the supervision of multiple projects including civils and earthworks.
Experience in all aspects of project controls and planning.
Knowledge of NEC4 contracts or similar.
Experience of building strong relationships with clients, employees, contract partner, Local Councils & Authorities.
Demonstrate excellent organisational and communication skills.
Full driving licence.
At Daniel Charles Construction you will be offered a competitive salary that is commensurate based on your experience. Our core benefits include: –
26 days' annual leave, plus bank holiday
Private Medical Insurance
Car Benefit or Allowance
Stakeholder Pension Scheme
Career and professional development opportunities

 
Daniel Charles Construction Ltd is a committed Equal Opportunities employer.  This means that everyone who either applies to or works for Daniel Charles Construction Ltd is treated equally, whatever their age, gender, ethnic origin, nationality, marital status, disability, sexual orientation, or religious beliefs.