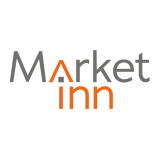 Market inn was founded in 2017 by Amy Wallis, a Lincoln University Marketing Graduate. The company has enjoyed substantial growth of its client base during its first year, as well as numerous collaborations with valued business associates, all of whom together form the Market inn family. Amy has big dreams for the future and is looking for a like-minded individual to join her as the vision continues to become reality.
"At Market inn I put my clients first, always going above and beyond for them. I am very proud of, and work very hard to maintain, my strong brand which I wholeheartedly believe is defined by what people say about my business when I'm not in the room." Amy, Founder
I am currently looking for a Digital Marketer who can continue this ethos and perform a crucial role as I take the first steps in growing my team.
A little bit more about Market inn:
Serves the marketing needs of hospitality businesses
Rapidly expanding by successfully growing businesses of all shapes and sizes within this exciting industry
Provides a highly creative, strategic and bespoke approach to client business growth
Passionate about creating happy clients by having a thirst for knowledge
Based in a prime location in the rapidly expanding Lincoln City Centre with great transport links and local amenities
……and we don't bite (only oranges)!
Jobs at Market inn Ltd