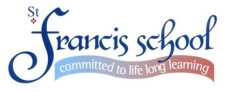 St Francis School is a very special school with a reputation for excellent practice. We welcome young people between the ages of three and nineteen years with a wide range of physical conditions, including those with associated sensory or cognitive difficulties. We also cater for students with life-limiting conditions.
Our mission is to provide first-class education, therapy, medical support, and independence training for young people with physical disabilities in a caring and supportive environment.
We harness our expertise to challenge and nurture our students to help them lead the fullest and most fulfilling life possible. Here your child will be safe and happy, with all aspects of their wellbeing catered for.
Our key strength lies in our holistic, multi-disciplinary approach. This highly skilled and dedicated team, supported by state-of-the-art equipment to aid students with their mobility, communication and education, provide your child with the bespoke care and unique educational package that will help them learn and develop in the way that suits them best.
Therapy is integrated into our students education and care programmes, as part of the working curriculum through their comprehensive CAM (Communication, Access, Mobility) programmes.
Jobs at St Francis School