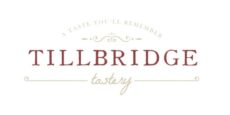 We founded The Tillbridge Tastery out of a deep love for real food, for food that is fresh, healthy, and authentic. We only use the best ingredients which we source as close to the premises as possible which we then lovingly prepare on-site, anything which we cant produce here will be sourced as close as possible and with the highest quality, for example, we sell Blyton ice cream which is 7 miles away and many other local delights.
THE Tillbridge Tastery is a 16th-century cottage with a walled garden located in the village of Sturton by Stow and is named after the nearby ancient Roman road. The Tastery currently offers home cooking using quality local produce in the daytime. Customers can tuck into Afternoon Teas, light bites, and soon evening meals as well as an extensive takeaway menu lovingly prepared by the team.
Tillbridge Tastery
All of the ingredients we use here at The Tillbridge Tastery in Lincolnshire are as local as possible. We stock our kitchen in much the same way that we do in our home kitchens, with daily deliveries of fresh ingredients that we select ourselves, quality is more important than quantity.
THE FUTURE  
We are looking for real disruptors in the catering trade, bring on the dragons! If you want to be noticed and can prove yourself as an up-and-coming high rolling chef then we will fully support you.
Jobs at Tillbridge Tastery