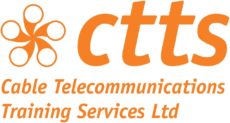 Cable Telecommunications Training Services (CTTS) is at the forefront of 21st century telecommunications technologies being a leading and innovative training provider. Expansion of our state of the art course portfolio covering evolving and cutting edge technologies has opened up exciting opportunities for full time trainers based at our national training centre in Lincoln and delivering courses at clients premises nationally.
Cable Telecommunications Training Services (CTTS) is a specialist training provider and consultancy in the field of communications cabling networks and systems and IP convergence technologies. The company is based in Lincoln and operates out of its state of the art National Training Centre. Clients include MOD Resettlement, Openreach, Virgin Media, KCOM, TFL, City Fibre, Telent and many other clients nationally and international.
Renowned for the innovative design and development of its specialist training support programmes within the Telecommunications Sector, CTTS ensures it delivers realistic, hands-on training using live systems and state of the art equipment to reflect the workplace UG and OH environments. As a BSI ISO 9001:2015 registered company, CTTS ensures the highest standard of provision with a dedicated team of experienced and fully qualified subject matter experts.
CTTS offers nationally accredited qualifications covering a range of skills, including installation, testing and maintenance of fibre optical and copper communication networks for both the internal and external environments, passive optical networks and air blown fibre systems, synchronous digital hierarchy and transport networks, National Roads Telecommunications Services as well as bespoke training programmes for its global clients. Whether an individual requires training or the whole workforce, CTTS has proven experience of accommodating their training needs either at its National Training Centre or at the clients' premises. CTTS received national recognition in 2002 for the effectiveness of its bespoke training programmes in digital communications by being awarded a National Training Award by the UK Skills Council. CTTS was awarded Defence Employer Recognition Scheme Gold Award in 2020.
Jobs at Cable Telecommunications Training Services Limited