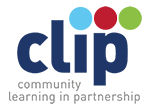 Community Learning in Partnership | CLIP
CLIP was founded in 1995 by Janet Farr as a training organisation specialising in skills for the voluntary sector and the community. From early days, it found a niche in high quality training provision and management – particularly in rural Lincolnshire.
Widening participation:
Over 25 years later CLIP is now a well-established organisation with the clear goal of widening participation in learning by people from rural, coastal and isolated communities. We work, with equal commitment, with young people aged 16-18 years who have under-achieved at school and with adults who are looking to refresh their skills – for personal development, family, higher education or work. CLIP is also committed to supporting people who have experienced mental health difficulties.
Our Centres:
CLIP now works with over 2000 learners a year and has over 40 staff and tutors. Most of our work is located in our community learning centres in Mablethorpe, Market Rasen and Gainsborough.
Jobs at Community Learning in Partnership (CLIP)