August 21, 2012 11.33 am
This story is over 119 months old
New council houses get solar power
Solar power: Photovoltaic panels are being installed on the the first council houses to be built in Lincoln for 20 years.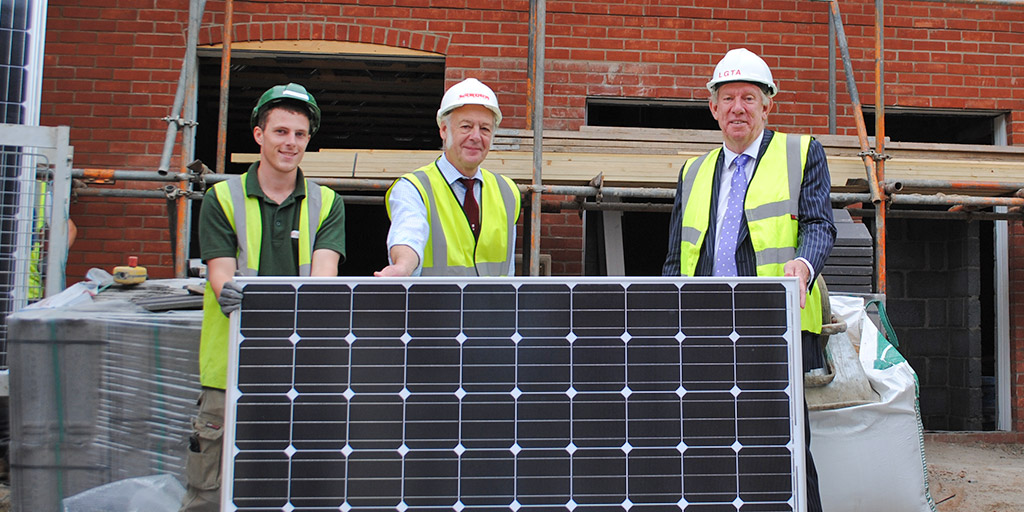 Green social housing: City Councillor Peter West (centre) and Lindum's Herman Kok (right)
Solar panels are being installed this week on the first council houses to be built in Lincoln for 20 years.
The five town houses on Wellington Street have each been provided with six solar PV panels, which will generate around 1,380kwh per year for each home.
The panels providing energy for the properties are estimated to bring some £300 per year financial savings per house and a Co2 saving of 0.67 tonnes per year.
Other green measures in the homes will include energy monitors, high-spec insulation, windows and doors and modern heating systems.
Lindum started building work on the homes in March, and they are set to be available for families on the council home waiting list before Christmas 2012.
Councillor Peter West, Portfolio Holder for Housing at the City of Lincoln Council, said: "We're really keen to push the green agenda with our first housing development in two decades, and have had them designed in a way that will assist in reducing the city's carbon footprint."
Herman Kok, Financial Director at Lindum, explained how sourcing for the building work was done entirely locally: "Everybody who worked on this project is from maximum 20 miles away from Lincoln.
"Most people, most suppliers and most workers are from Lincoln, so it's a typical Lincolnshire project, by a Lincolnshire company for a Lincolnshire client.
"We're really proud that the council is leading the way in new council housing. We've been building social housing for some time, as well as our housing.
"So it's really good to see that the City Council is investing in its stock."
There are more than 3,000 people on Lincoln's waiting list for council housing, with some waiting almost five years.
The City of Lincoln Council plans to borrow an additional £5.25 million over the next seven years to build around 50 new council homes by 2020.
This means that around £750,000 would be spent on building council homes every year between 2013 and 2020.