January 16, 2013 12.35 pm
This story is over 107 months old
Protest outside Lincoln BT call centre over agency pay
Fairer pay wanted: The CWU are protesting outside the BT call centre in Lincoln to request fair pay for agency workers who are left over £500 short per month.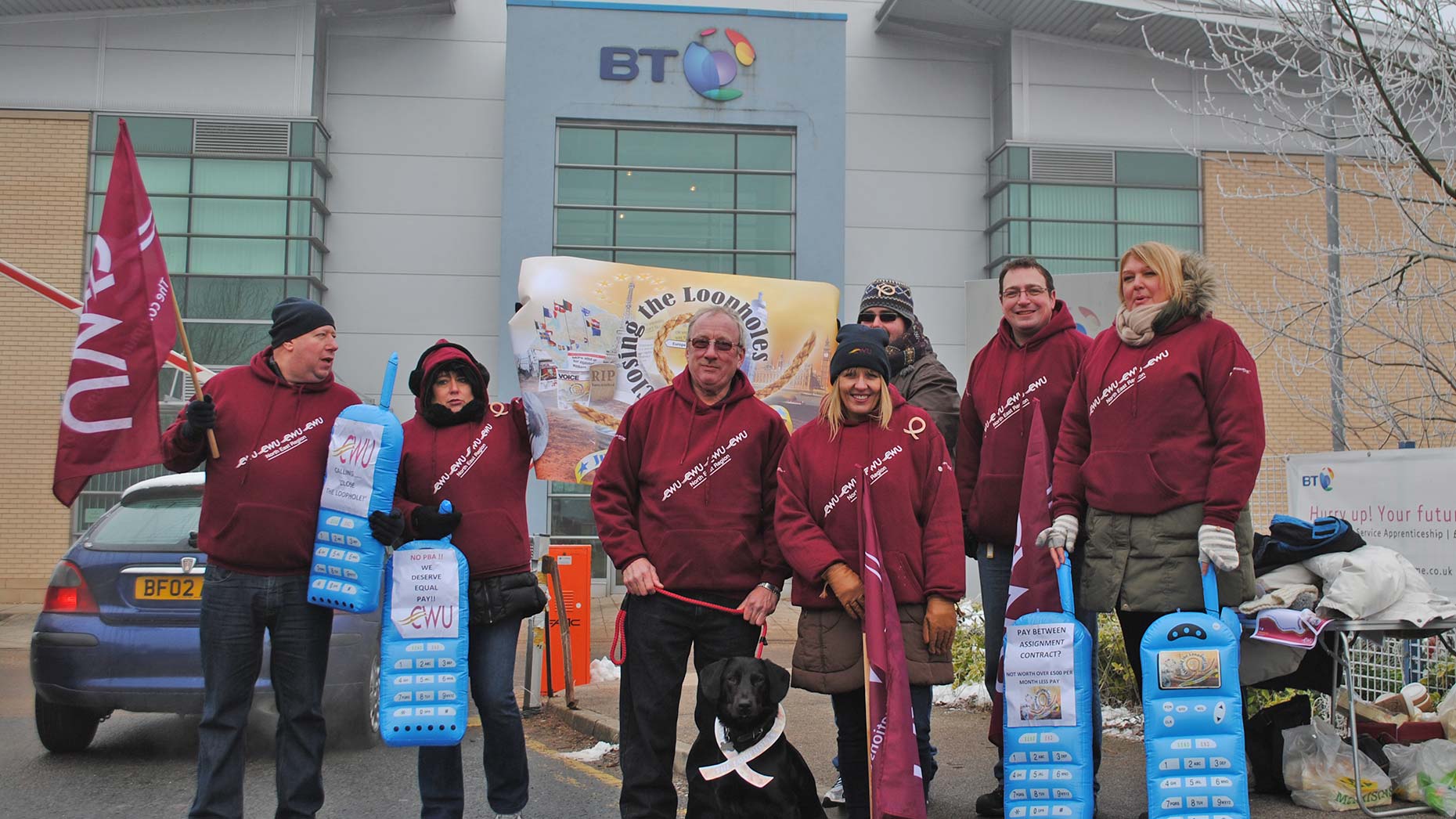 A union representing agency workers held a protest outside the BT call centre in Lincoln on Wednesday, over a loophole in agency pay which is costing local workers more than £500 a month.
The Communications Workers Union (CWU) are leading the Lincoln branch of a national protest held outside call centres across the UK on January 16.
The union believes that people working through agencies are losing large sums off their wages in some companies due to a loophole in the law.
Agency workers should receive the same treatment after 12 weeks within a job as other employees, following legislation made in October 2011.
However, a legal loophole allows companies to use Pay Between Assignment (PBA) contracts, which sign away agency workers' rights to equal pay.
Around 1,000 workers in the country affected by PBA are undergoing work for BT/Manpower.
In Lincoln, this is leaving workers on £7.50 per hour on a 37.5 hour week £584 a month worse off. Without PBA, this would have risen to £11.38 per hour instead.
The Lincoln protest began at 7am outside the call centre on Ruston Road.
Sally Bridge, the campaign lead, was in Lincoln at lunch time to support the protest: "We're here today to raise awareness about the fact there is a loophole in the current legislation, which allows contract to be issued that cheat people out of significant sums of pay.
"It's not just about the permanent workers, it's about the other agency workers as well. There's a £500 per month difference between one agency worker and another agency worker, working side by side, doing exactly the same job."
She added: "It's not illegal, that's the problem, but then again it's morally wrong.
"Firstly, we're raising awareness amongst our own agency members, but we're also saying to the public that this is morally wrong, and that this is a social and economic issue they need to be aware of.
"We're also saying to employers and agencies alike that they should stop using these contracts, and the government has to do something about this legislation."
One Lincoln resident who knows about the loss in potential wages due to PBA is Will Buchanan.
He is an agency worker on a Pay Between Assignment contract working in a call centre in the city.
He earns £7.50 an hour for a 37.5 hour week which is £584 a month less than agency workers who achieved equal pay. He started in November 2011.
Will Buchanan said: "When I signed up with the agency they told us to sign the contract, but none of us realised what it meant. We only found out when our CWU rep told us that other agency workers were getting a pay rise and we weren't – we'd probably still be in the dark otherwise.
"It's legal, but it seems unethical and carried out in an underhand way. It was glossed over when I signed up. It makes you feel second class and it's an awkward situation."