February 7, 2013 10.57 am
This story is over 112 months old
Siemens Lincoln develops exchange programme with Centrica
Graduate opportunities: Engineering graduates working at Siemens or Centrica will expand their skills with a new scheme between the companies.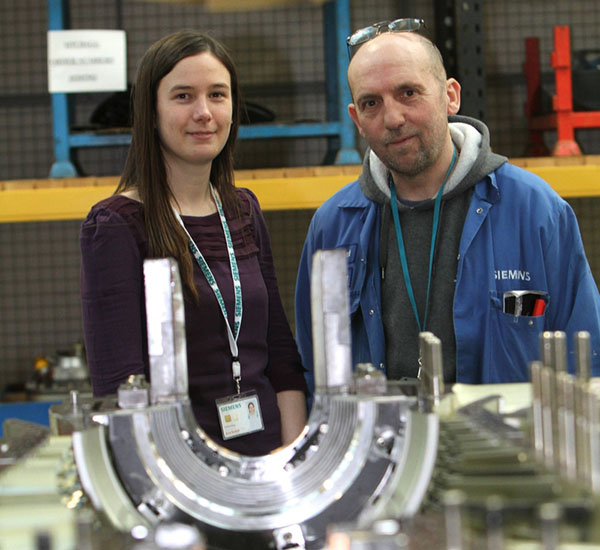 Siemens and Centrica are working together to develop a new exchange programme, giving graduates chance to improve their knowledge and skills while working for either company.
One of the first local graduates benefiting from the scheme is turbine engineer Anna Southhall (28), who just started a secondment with Siemens Lincoln.
The scheme means she's been able to see the work that goes into designing and developing gas turbines for use in the oil and gas industry, and industrial power generation.
Southhall will be with the Siemens team for three months before returning to Centrica, where she normally works.
She said: "Having spent the last few years working at Centrica's South Humber Bank power station near Grimsby it's so rewarding to know I'm playing my part in helping to keep people's lights on.
"My interest in power stations started back in school when I took part in an engineering education scheme at the former Drakelow Power Station, designed to get kids interested in engineering.
"I guess it must have done the trick – 10 years later and I've made it through Centrica's graduate engineering programme, secured a permanent role in the business, and now with this exchange at Siemens, I'm just a few months away from applying to register as a professional engineer through the Institution of Mechanical Engineers."
The two engineering companies aim to establish regular graduate exchanges to grow their young talent base.
John Weir, Technical Training Manager at Centrica, said: "When it comes to high calibre graduates like Anna, we're quite literally talking about Centrica's engineers of the future so it's essential that we give them the opportunities to grow as professionals.
"I'm sure this will be a hugely valuable experience for her and other engineers as we look to develop the programme further."
Human Resources Director at Siemens Lincoln Paul Birt said: "We are delighted to be pioneering this graduate exchange programme with Centrica.
"We believe that this will hugely enrich the experience of our graduates enabling them to expand their knowledge of engineering, as well as experiencing other business cultures and working with different teams. We see this as a good model for future talent management."