July 18, 2013 2.49 pm
This story is over 108 months old
Lincoln Jobseekers claimants higher than UK average
Higher than average: The percentage of Lincoln residents on Jobseekers Allowance is higher than the UK average.
The number of Lincoln residents claiming Jobseekers Allowance (JSA) is higher than the UK average, statistics show.
Figures from the Office for National Statistics (ONS) found that 4.7% of people aged 16-64 years in Lincoln claim JSA.
The total number of people claiming JSA in Lincoln is 1.2% more than the UK's average of 3.5% of JSA claimants.
Statistics also show that 1.5% of people claiming Jobseekers Allowance for longer than 12 months — 0.5% higher than the UK average.
However, residents claiming aged 18-24 is at 6%, which is just lower than the UK average of 6.2%.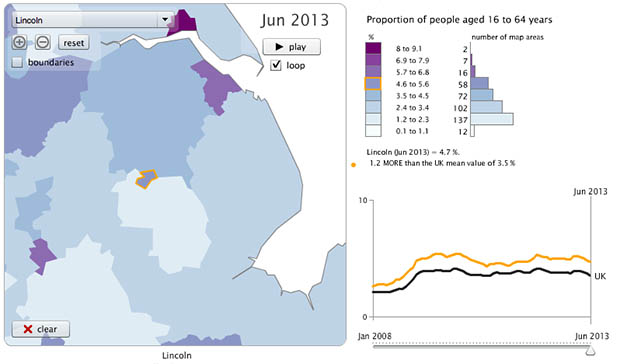 This comes after ONS found that there were 336,000 more people in employment in the UK and 72,000 fewer unemployed people over the past few months.
ONS added that 1.48 million people within the UK aged 18 or over were claiming Jobseekers Allowance, the lowest number of claimants since March 2011.
Despite the drop in unemployment figures though, the number of people unemployed for over one year is at its highest since 1996.
Over the past year, 915,000 people have been unemployed and searching for work for over a year – an increase of 32,000.
This is in spite of the number of vacancies within the UK rising to 529,000, the highest since 2008.
Despite Lincoln's higher than average figures, the overall figure of people claiming in the city and the East Midlands has fallen.
There are 249 less claimants in Lincoln presently overall.
Lincoln MP Karl McCartney said: "It's great news that the number of people claiming Jobseeker's Allowance is falling in the East Midlands.
"This means since the election there are 249 fewer people claiming the main unemployment benefit in Lincoln."
"British business is rising to the challenge of creating jobs. There is always more to do, but these figures are encouraging."