April 10, 2014 9.44 am
This story is over 98 months old
Lincoln College signs £250m deal in Saudi Arabia
Official signing: Lincoln College signed the £250 million contract to run three colleges in Saudi Arabia.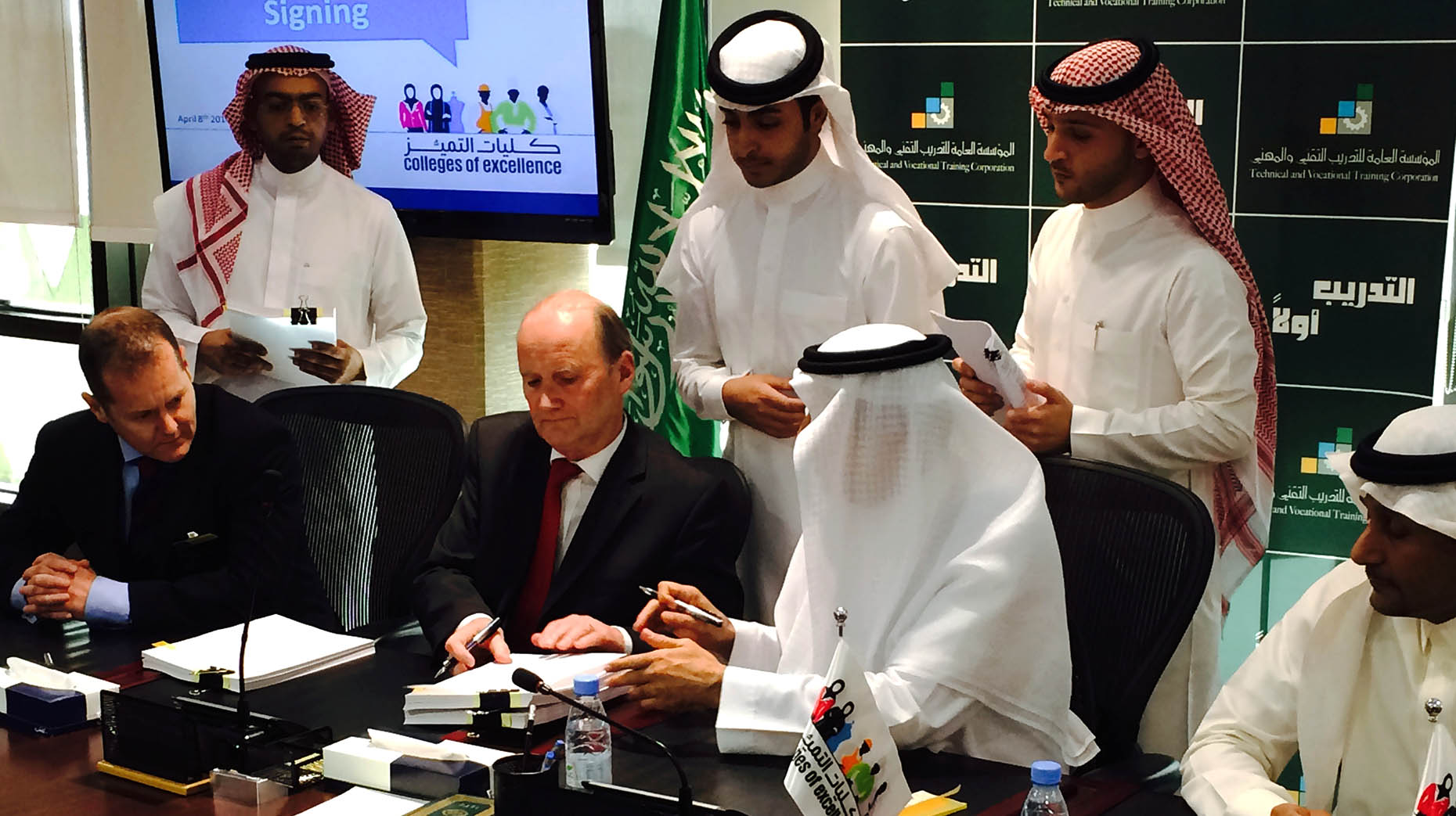 Lincoln College officially signed a £250 million contract to establish three colleges in Saudi Arabia during a ceremony in the capital Riyadh on April 8.
In total, 100 colleges are being set up across Saudi Arabia as part of its Colleges of Excellence programme, aimed at improving education and training.
Lincoln College was one of 12 education providers from across the globe selected to operate 26 colleges in this latest wave of bidding.
Each provider has been offered an initial five-year contract to deliver vocational training and employment-related skills to Saudi men and women.
Of the three colleges to be operated by Lincoln College, one will be for women and two will be for men.
Overall, some 825 Saudi students, including 275 women, will be trained each year once the colleges reach full capacity.
Following the official signing Lincoln College is now in the process of recruiting senior staff to manage the colleges, two of which are on target to open in September 2014.
The college is also procuring IT, furniture and other equipment as well as appointing a graphic designer to create the branding.
Many of the suppliers are being sought from the East Midlands to help boost the local economy.
The Managing Director of Lincoln College International, Simon Plummer, said: "We were delighted to officially put pen to paper during the ceremony at the Colleges of Excellence headquarters.
"His Excellency Dr Ali bin Nasser Al Ghafis, the Governor of Technical and Vocational Training Corporation, was keen to emphasise the Kingdom's commitment to improving the employment prospects of Saudi men and women and we're honoured to be part of this mission.
"This contract win strengthens Lincoln College's standing as a world-class technical and vocational training college and helps to put Lincoln and the UK on the world stage in terms of education."
Minister of State for Skills and Enterprise, Matthew Hancock, has been keen to underline the UK Government's support for the UK bids.
"These deals are a vote of confidence in the UK's improving education system," he said.
"Exporting helps companies grow and is a vital part of the Government's long-term economic plan to create jobs and reduce the deficit.
"I visited Saudi Arabia earlier this year in support of UK bidders and am particularly pleased that they will soon be offering high-quality practical skills training to an additional 24,000 Saudi students including 14,000 Saudi women.
"I look forward to seeing the UK's education and training presence continue to grow in Saudi Arabia and internationally. I encourage any company with global ambitions to contact UKTI."