June 11, 2014 1.36 pm
This story is over 90 months old
Lincoln students complete programme in memory of Red Arrows pilot
Blue Skies graduates: Lincoln students receive awards for completing a charity programme in memory of Red Arrows pilot Jon Egging.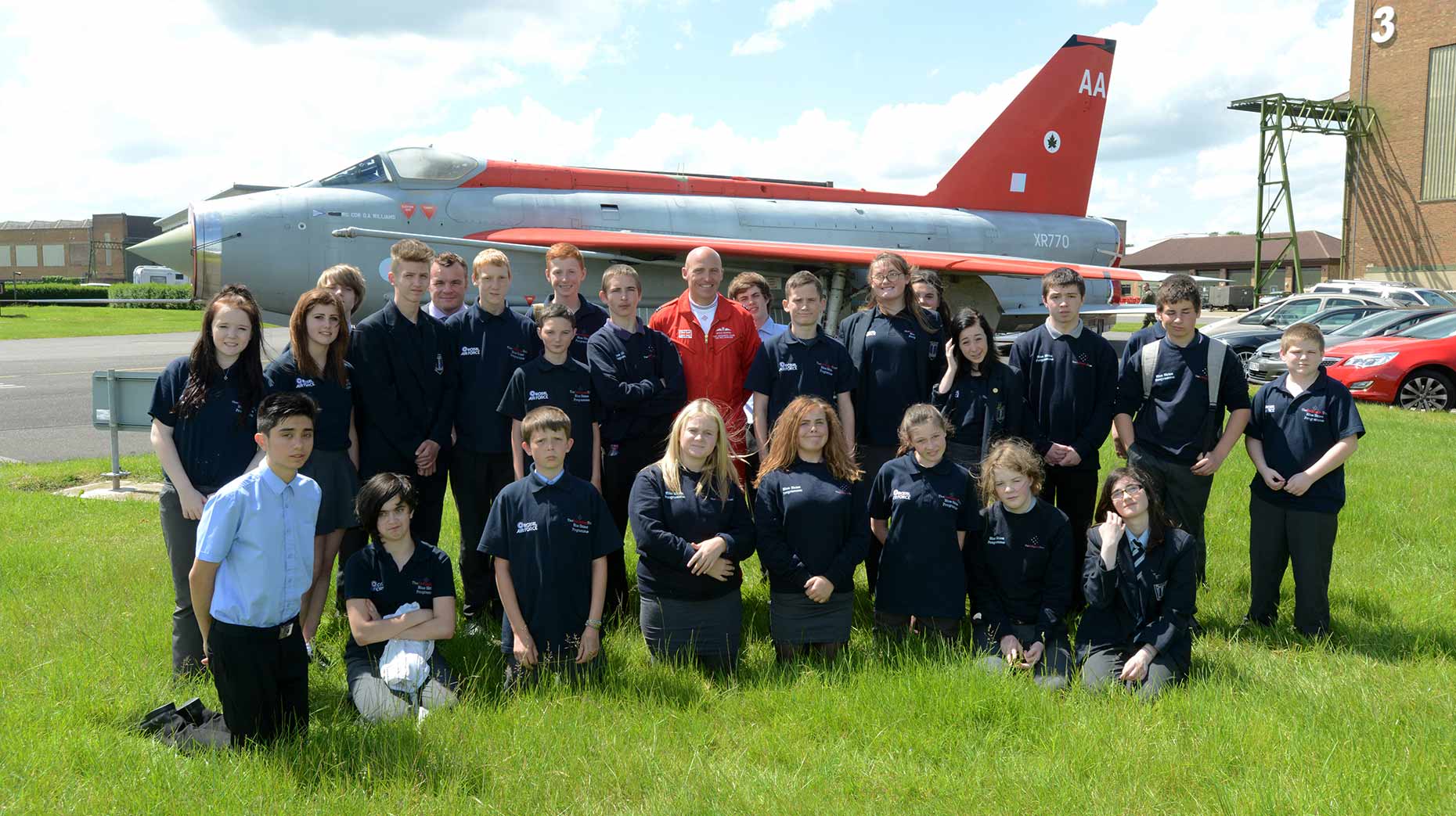 Students from a Lincoln school have been presented with awards after completing a charity programme in memory of Red Arrows pilot Jon Egging.
Some 25 pupils from Priory Witham Academy were recognised for taking part in the Blue Skies Programme, set up by the Jon Egging Trust.
The students, aged between 13 and 15, were mentored through a special nine-session programme by personnel from RAF Coningsby, RAF Cranwell, RAF Scampton, RAF Wittering, RAF Waddington and MoD North Luffenham.
Presenting the awards was Flight Lieutenant Steve Morris (Red 5.)
The charity was set up in memory of Red Arrows pilot Jon Egging who tragically lost his life on August 20, 2011, whilst completing a display at the Bournemouth Air Festival.
The programme realises his dream of helping young people work towards heir ambitions.
With the help of trained personnel from across the base, the level 1 and level 2 students were guided through problem solving, teamwork and communication tasks, with credits towards a qualification in BTEC Workskills.
Opportunities provided on the programme included:
Behind the scenes tour of RAF Scampton and a tour of the Red Arrows Squadron
Teamwork and leadership activities at RAF Cranwell
A tour of the fire section at RAF Waddington
Communication day at RAF Wittering
Teamwork training with the bomb disposal unit at MoD North Luffenham
Students from the Lincolnshire programme who are about to be put on placement at Humberside airport also became the first level 3 students for the trust.
Dr Emma Egging, wife of Jon Egging, and co-founder of the Jon Egging Trust, said: "I am very proud of our Blue Skies graduates.
"Over the last three years these students have achieved a great deal as a result of their participation on the Blue skies programmes and they have moved forward in their lives."
John Wiles Assistant Head Teacher said: "The Jon Egging trust has created a vehicle that is developing skills that are having a real tangible impact on our students' school work.
"Attitudes to learning, attendance, and progress have all improved as a result of the experiences our children have had on the Blue Skies programme."
Flight Lieutenant Steve Morris (Red 5) said: "Watching the young people grow in confidence and self esteem has been a privilege to witness.
"Many of us knew Jon Egging, and to see Emma's strength and focus to create the Jon Egging Trust has been inspirational. So I feel it is only right that we help her to inspire the next generation to take control of their future."
Rachael Barton – Level Two Student said: "The Jon Egging Trust has been an incredible opportunity that I am privileged and honoured to be a part of. We have worked at being a good team worker as well as a leader. Not only has this helped me now, but also these are skills I will keep for life. I love it "