Rare Red Arrows artwork on sale for RAF Association charity
Rare aviation art: Some 500 signed prints of a painting marking the Red Arrows' 50th display season have gone on sale, all are signed by the team.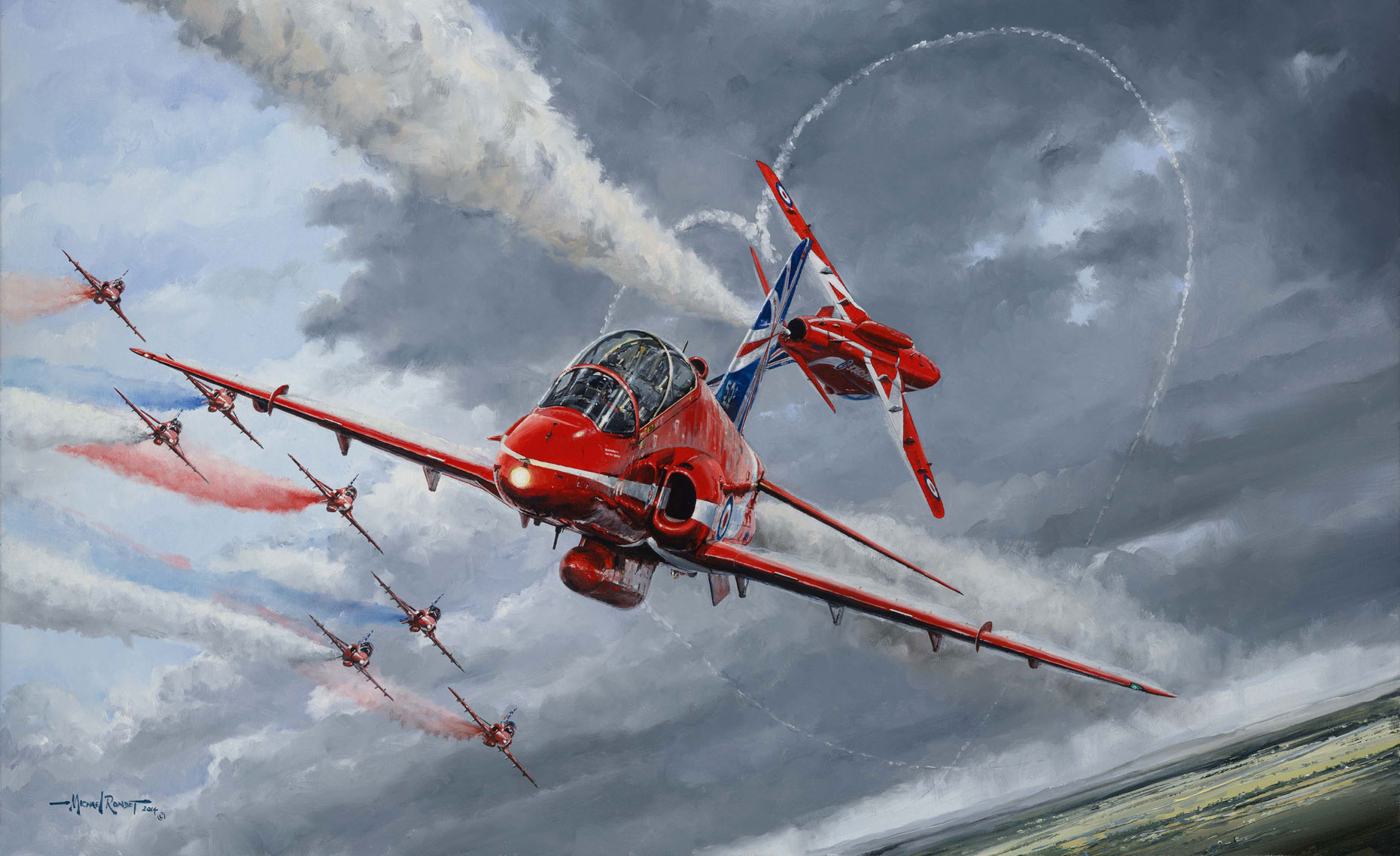 Some 500 signed prints of a painting commissioned to mark the Red Arrows' 50th display season have gone on sale, with a £50,000 RAF Association fundraising target in mind.
The painting was created by well-known aviation artist Michael Rondot, and each of the 500 prints have been signed by all 10 of the Red Arrows team.
The painting itself will be presented to the RAF Club in October.
Copies will also be presented to the Chief of the Air Staff Sir Andrew Pulford, the Red Arrows, the Secretary General of the RAF Association and ICAP, which is sponsoring the painting.
The prints are 700 x 500mm overall and cost £100, plus postage and packaging. They can be ordered directly from the RAF Association by calling Rishi on 0116 268 8785.
Nick Bunting, Secretary General, said: "The RAF Association is thrilled to be working with the Red Arrows, especially in this special anniversary season.
"We are grateful that the Reds have chosen the Association as the beneficiary for this fundraising endeavour. They are part of the RAF family, helping to look after those who need us."
Squadron Leader Ruth Shackleton, Red Arrows Team Manager, said: "Mike Rondot's magnificent painting not only captures the excitement of the Red Arrows brilliantly and celebrates the team's 50th display season, but it also provides a wonderful opportunity to raise vital funds for the Royal Air Forces Association.
"We hope the public will wish to purchase this unique limited edition print as a splendid reminder of the world's most famous display team."
Artist Michael Rondot added: "Squadron Leader Jim Turner, the team leader, knows my style of painting from the days we flew Jaguars together. When he suggested a painting of the Reds we were both keen to show what the team does, rather than a 'pretty' scene with a lovely blue sky with nine aircraft in perfect formation.
"I have painted an imagined situation showing the synchro pair in front of the other seven Hawks on a blustery, difficult flying day. The Reds turn out and display in all weathers and I wanted to capture that."