Mahatma Gandhi's granddaughter and Siemens boss among guests to receive Lincoln graduation honours
The University of Lincoln's class of 2016 will be joined by honoured guests including Ela Gandhi, granddaughter of Mahatma Gandhi, Chief Executive of Siemens Juergen Maier and eminent mathematician Professor Efim Zelmanov at their graduation ceremonies next week. More than 3,000 graduands will celebrate the culmination of their degree studies over four days of ceremonies…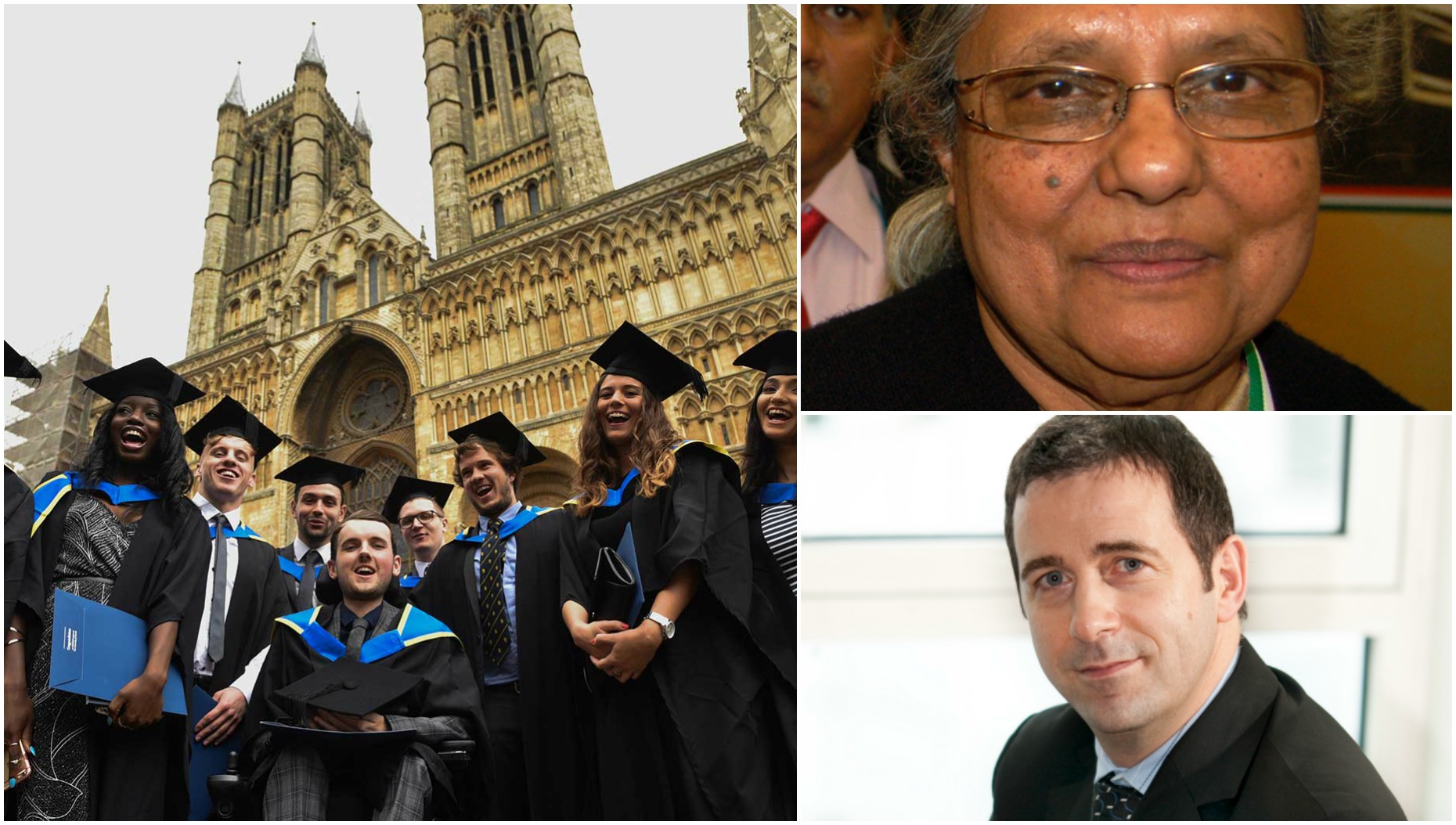 The University of Lincoln's class of 2016 will be joined by honoured guests including Ela Gandhi, granddaughter of Mahatma Gandhi, Chief Executive of Siemens Juergen Maier and eminent mathematician Professor Efim Zelmanov at their graduation ceremonies next week.
More than 3,000 graduands will celebrate the culmination of their degree studies over four days of ceremonies beginning on Monday, September 5 at Lincoln Cathedral.
Undergraduate and postgraduate students from across the academic colleges will receive their certificates in front of friends and families.
They'll be joined by high profile honorary graduates who have each been recognised by the university for the outstanding contribution they have made to their respective fields.
World-renowned politician and campaigner Ela Gandhi – the granddaughter of Mahatma Gandhi – will be among the university's guests this year, becoming an Honorary Doctor of Laws.
Other figures receiving honorary degrees this year are Juergen Maier, Chief Executive of Siemens in the UK, acclaimed film and television producer Tony Garnett, and Professor Efim Zelmanov, a mathematician who has won the coveted Fields Medal – often referred to as 'the Nobel Prize of mathematics'.
Celebrated poet Professor James Fenton, Queen's Nurse Candice Pellett, and Maureen Kavanagh – a campaigner who has been influential in helping people affected by major disasters, will also become Honorary Graduates at this year's ceremonies.
Some of the university's academic staff will also be recognised for their contribution to students' successes through the Vice Chancellor's Teaching Award.
This year's recipients include Dr Nicola Crewe from the University's School of Life Sciences, Dr Roger Bretherton from the School of Psychology, Dr Helen Smith from the School of History & Heritage, and Hanya Pielichaty from Lincoln International Business School.
Professor Mary Stuart, Vice Chancellor for the University of Lincoln, said: "Each year, our graduation ceremonies represent a real highlight of our academic calendar. They allow the whole university community to applaud the many successes of our students and staff, and to wish our new graduates well as they take their next steps.
"We are immensely proud of what our students achieve and welcome this opportunity to celebrate with them, their friends and their families, who provide such valuable support throughout their studies.
Among the undergraduate students collecting their degrees this September is Joshua Irving, who is already pursuing a promising career with BAE Systems.
Joshua graduates with a First Class Honours degree in Business and Finance and collects the award for Best Student in Finance from Lincoln International Business School.
Joshua, who is originally from Bury St Edmunds, said: "At university there are so many things to do and being able to find the right balance was key to my success.
"For me the memory of opening my results to find I'd be graduating with a First will always stay with me. It really cemented my belief that my time at the University of Lincoln was well spent and that I had made the most out of a fantastic experience."