June 2, 2017 8.58 am
This story is over 61 months old
'Fake' Lincolnshire Conservatives Twitter account claims poor people are 'dangerous' and food bank users have a 'deplorable lifestyle'
A Twitter account claiming to be from the Lincolnshire Conservatives has been suspended after complaints were made about some of its tweets which said poor people were "dangerous" and food bank users had "no cooking skills". The tweets posted overnight on June 2 originate from an account purporting to be the official Twitter account for…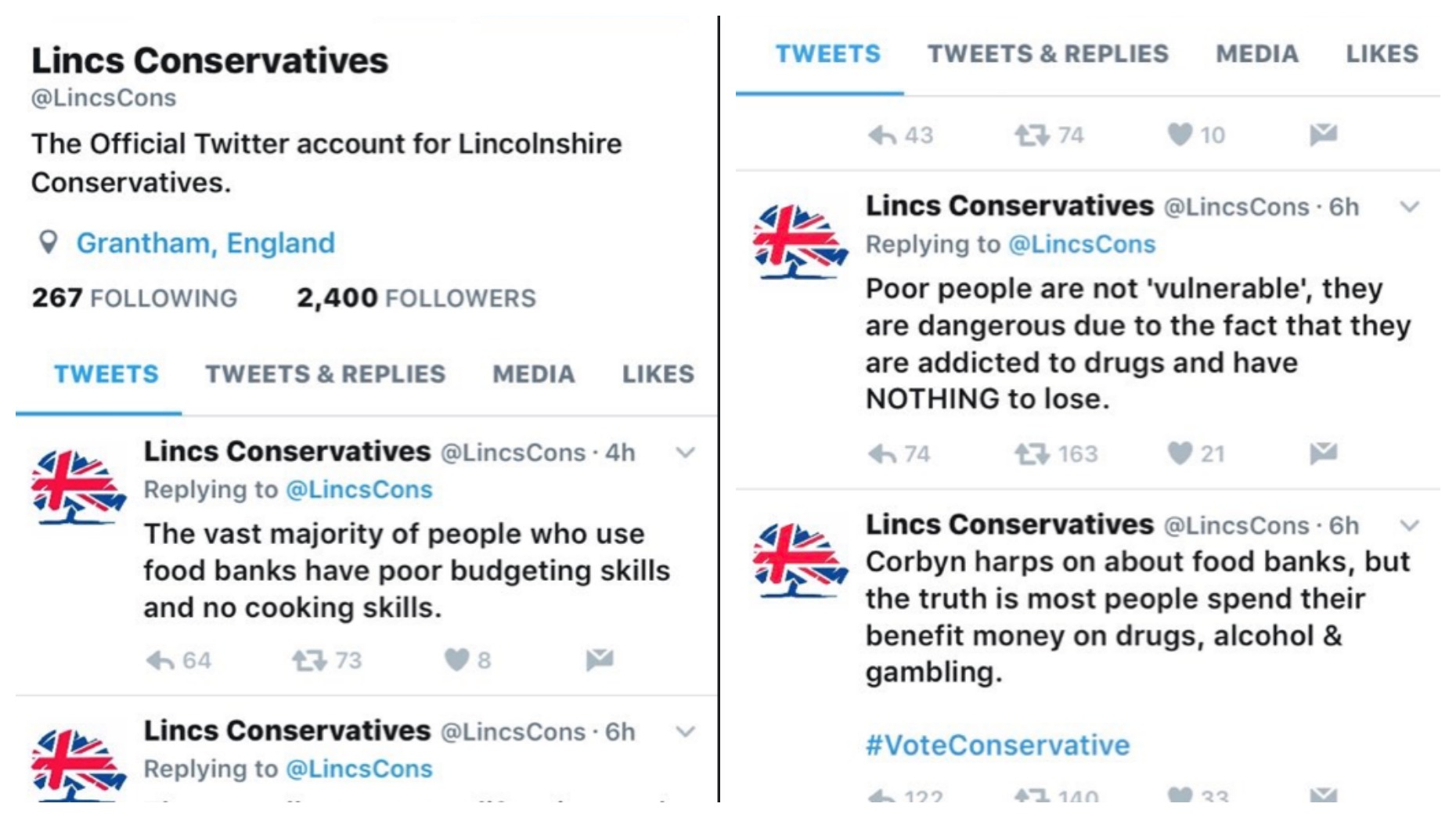 A Twitter account claiming to be from the Lincolnshire Conservatives has been suspended after complaints were made about some of its tweets which said poor people were "dangerous" and food bank users had "no cooking skills".
The tweets posted overnight on June 2 originate from an account purporting to be the official Twitter account for Lincolnshire Conservatives, with a location tag in Grantham.
Several offensive tweets were published, starting with statements that Labour leader Jeremy Corbyn was "impotent" and "disappoints his wife," suggesting that he would similarly disappoint voters.
The tweets then boasted about tweeting from Grantham, the birthplace of Margaret Thatcher, and professing to have "never been more confident" about winning the election.
Following this the account tweeted that "poor people are not 'vulnerable', they are dangerous due to the fact that they are addicted to drugs and have NOTHING to lose.
It continued: "Corbyn harps on about food banks, but the truth is most people spend their benefit money on drugs, alcohol and gambling.
"The vast majority of people who use food banks have poor budgeting skills and no cooking skills.
"They usually resort to a life crime and then blame the government for their deplorable lifestyle. Corbyn supports those rogues."
Richard Davies, Conservative county councillor for Grantham North West, told Lincolnshire Reporter: "It's a fake account.
"We've reported it to Twitter for impersonating us and they've taken it down.
"Our account is @LincsTories."
Hi All, just to confirm @LincsTories is the official account for the Lincolnshire County Council Conservative Group.

— Lincolnshire Tories (@LincsTories) June 2, 2017
Thanks to everyone who notified us about the fake account impersonating us, Twitter support have acted brilliantly and suspended it.

— Lincolnshire Tories (@LincsTories) June 2, 2017