Lincolnshire RSPCA called out to dogs in hot cars
The RSPCA message is clear 'not long is too long'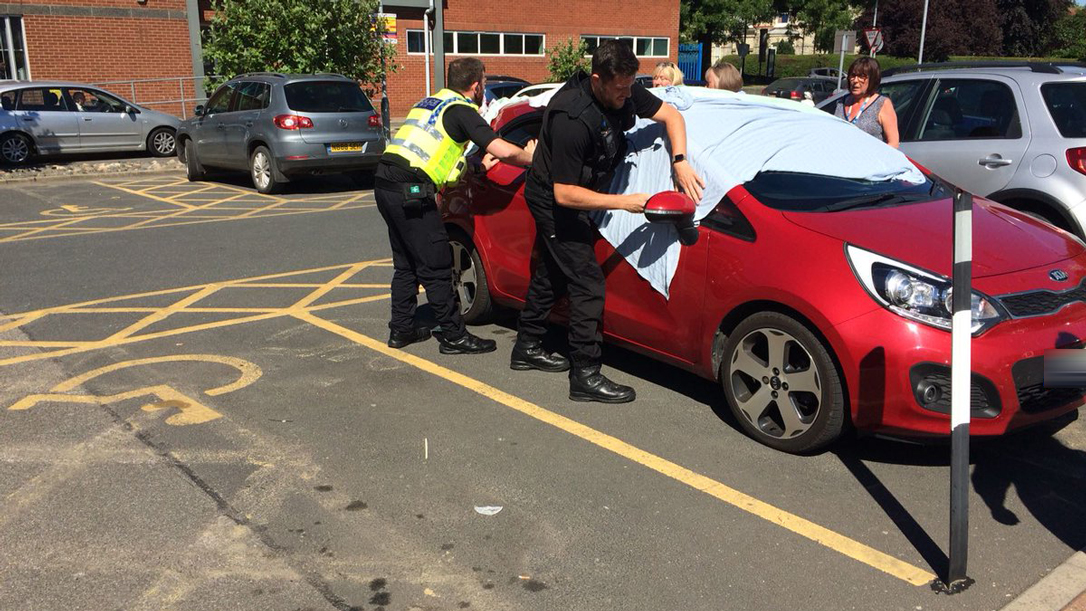 The RSPCA was called out to five separate cases in Lincolnshire of dogs left in hot cars over the past fortnight.
Nationwide, the charity has been called to 625 cases between June 11 and June 24, with the majority of those during Monday's sweltering 28° heat.
At one point on Monday, they were receiving a call every eight minutes despite police advice that the public should call 999 in an emergency.
A Lincolnshire Police spokesperson said: "Dogs can die in hot cars, even if they are left for just a few minutes.
"If you have concerns about a dog in a hot car, call us on 101. If the dog is in particular distress and it is an emergency call 999. Do not to attempt to force entry to the vehicle yourself."
In York this week, police resorted to smashing the windows of a blazing hot car to rescue two dogs. They had been left for more than half an hour.
#PC1810 and PCSO 3680 have just rescued two dogs from a vehicle where the owners had left them for over half an hour in a car in the blazing hot sun. The window was smashed and the owners will be prosecuted by @RSPCAYORK. There is no excuse for this, I am utterly appalled…1/2 pic.twitter.com/xUMWUbzBVK

— NYP York City (@NPTYorkcity) June 25, 2018
The RSPCA say their message is clear: "'Not long is too long' and we urge anybody with a dog not to take the risk and to leave their pet at home.
"Temperatures can rise quickly in cars, caravans and even conservatories – when it's 22°C outside within an hour the temperature can reach 47°C inside a vehicle, which can result in death."
A dog's normal body temperature is 39°C, with the upper lethal limit being 42°C.
According to the RSPCA, brain damage can begin to happen at 41°C. Unlike humans, dogs' fur prevents them from sweating in the same way and instead they resort to panting.
Unfortunately this is not effective at high temperatures and humidities, meaning that a dog in a hot car can heat up very rapidly.
As part of their campaign the RSPCA has released a list of excuses given to inspectors who came to rescue pooches from the dangerous conditions.
"My dog is white, he'll be fine."
"They're fine, they're smiling?" (The dogs weren't smiling, they were panting excessively.)
"I parked the car in the shade when I got here, I can't help it if the shade moved."
"The dog barks when I leave it alone in the house, it annoys the neighbours."

 

"We only went to buy a new kitchen."
"We feel bad leaving him at home on his own all day."
"I'm having an open day to sell my house, the dogs would have been in the way."
"It's OK, I'm a vet."
"It's not like my dog's on its own in the car, my kid is with it." (On this occasion 'the kid' was a five-month-old baby strapped into a car seat.)
"I left the window open."
"We didn't think we'd be long." – The owners had been at a Sunday service at church.
"I've only been in the pub for half an hour, anyway it's OK, I run a dog rescue centre."
RSPCA campaign manager Holly Barber,who runs the Dogs Die in Hot Cars campaign, said: "There is absolutely no reason or excuse that warrants risking your pet's life by leaving them in a car on their own in this heat. 
"People don't believe it will happen to them or they tell themselves they'll only be a minute, but it simply isn't good enough. 
"We're pleading with people not to take the risk and to leave their pets at home where they will be safe and happy."