September 26, 2019 12.41 pm
This story is over 32 months old
Turf-cutting ceremony marks start of £21m medical school construction
The work is scheduled for completion in spring 2021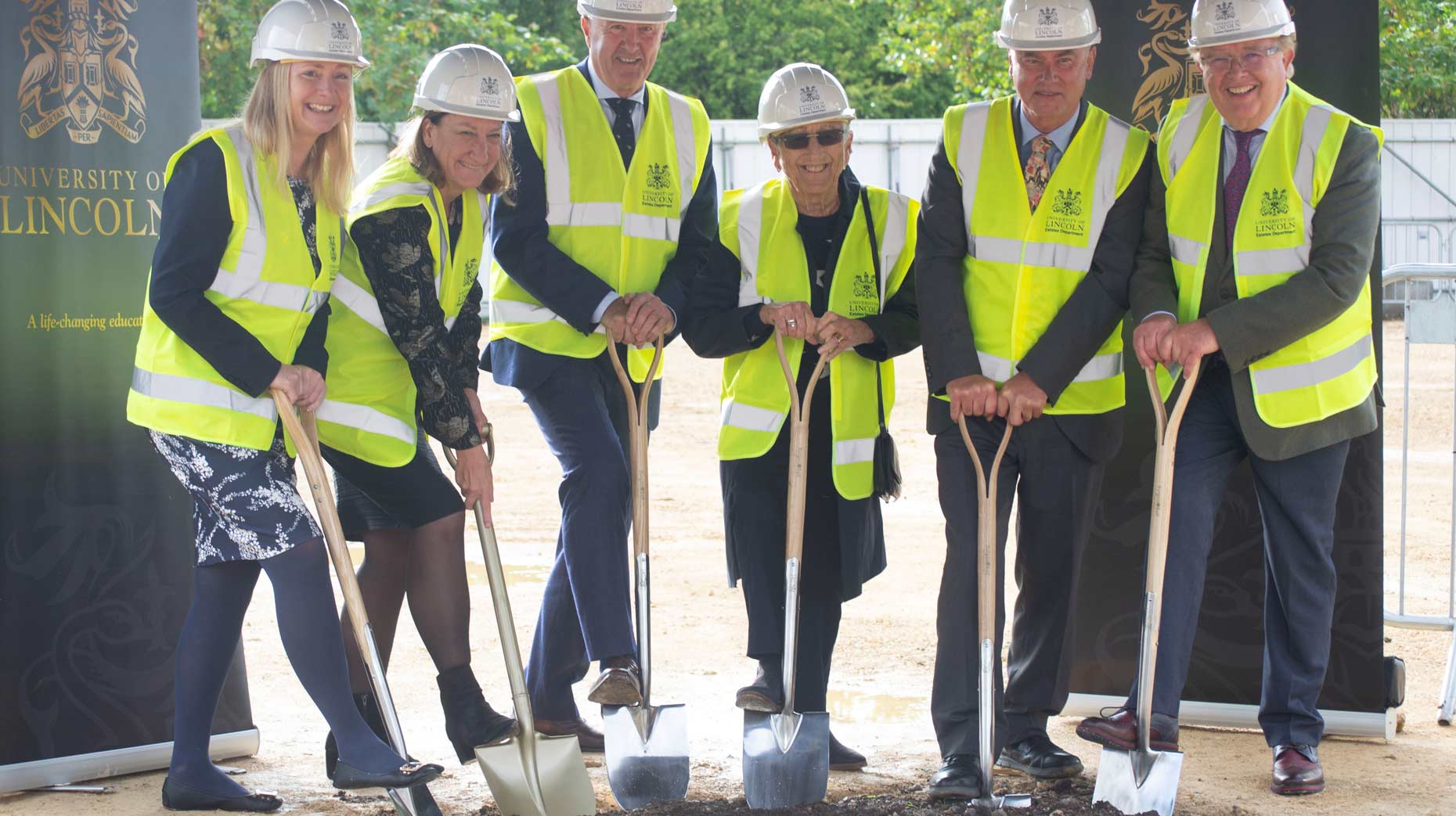 Charitable organisations, grant funders and philanthropic donors cut the turf at a ceremony to mark the start of construction of the £21 million Lincoln Medical School, which their gifts and grants will help build.
As previously reported, work started on the new five-story medical school this summer, which will comprise lecture theatres, laboratories, clinical and pro-section anatomy suites equipped with leading-edge diagnostic tools and a dedicated science library.
The work is scheduled for completion in spring 2021 and once at full capacity it will provide training to around 400 medical students at any one time.
Over £21 million is being invested to create the Lincoln Medical School building at the University of Lincoln. It will provide a dedicated new facility to train the doctors of the future and address historical skills gaps in the regional NHS workforce, as until now Lincolnshire was the largest English county without a medical school of its own.
A major fundraising initiative was launched last summer and businesses, charitable trusts and individuals were invited to contribute. Over £2.5 million in philanthropic gifts and grants has been raised to date.
Several of the donors and funders joined the turf-cutting ceremony on Wednesday, September 25.
The donations will help construct and equip the medical school buildings, as well as creating opportunities for local students through bursaries.
Contributions towards the capital project include grant funding of almost £5 million from the Greater Lincolnshire Local Enterprise Partnership via the Government's Growth Deal. The university will also commit substantial capital spending.
Doctors of the future recently started their studies when the first intake of undergraduate medical students enrolled at Lincoln Medical School earlier this month.
Core features of the medical school will include a clinical skills suite with mock consultation rooms, simulating hospital wards or a GP surgery, with the latest technologies to provide high quality teaching.
The medical school will also be one of the most sustainable of its kind in the world, featuring photovoltaic panels generating electricity for its laboratories and a 'green wall' to aid energy efficiency.
Professor Mary Stuart, Vice Chancellor of the University of Lincoln, said: "Creating a medical school for Lincolnshire has been an aspiration for many years and we are now realising that goal.
"The ceremonial turf-cutting is a milestone moment for people with a passion for the future of healthcare in Lincolnshire, and we are grateful for the immense efforts of all those organisations and individuals who have helped to get here – including our generous funders and donors.
"Our ambition is to create a building our whole community can be proud of, and which will serve the people of Lincolnshire for generations to come."
Initially run as a partnership with the University of Nottingham, the school will eventually become the sole responsibility of the University of Lincoln.
Businesses, individuals, trusts and foundations can still be part of the project through gifts large and small – click here for more information.