November 26, 2019 3.00 pm
This story is over 25 months old
Four Red Arrows step down after huge North America tour
Many will join airlines after hanging up their iconic red suits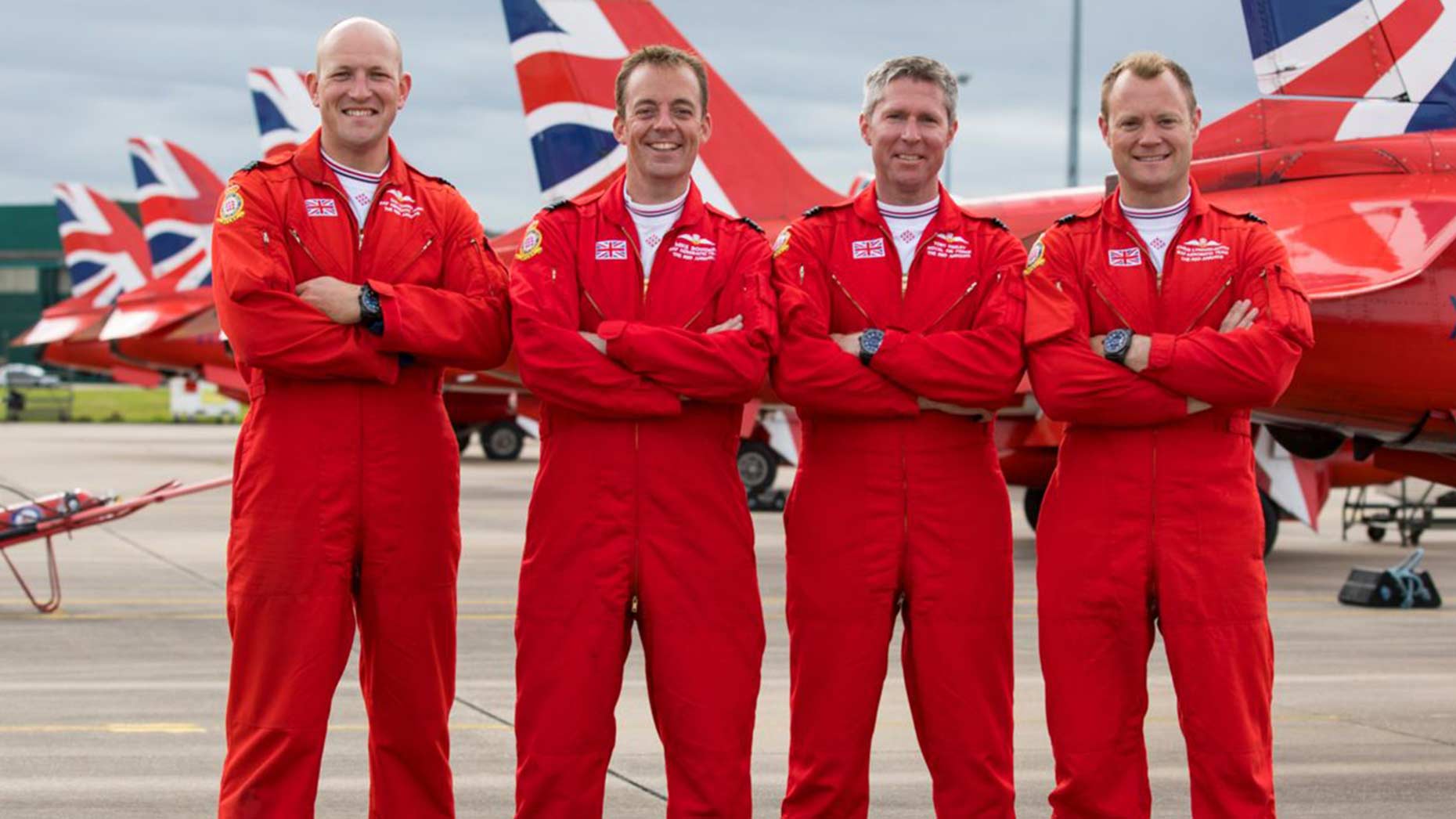 Four pilots have officially stepped down from the Red Arrows after flying in 17 display seasons between them.
Flight Lieutenant Dan Lowes, Squadron Leader Mike Bowden, Flight Lieutenant Toby Keeley, and Flight Lieutenant Chris Lyndon-Smith have hung up their iconic red suits.
They recently made an emotional return to RAF Scampton after a huge North American tour over 74 days, which will the four pilots' final display season.
Red 3, Squadron Leader Mike Bowden was recalled to the team earlier this year to fill in for a colleague suffering from a sports injury and will now move onto an airline.
He said: "It was my childhood dream to be part of this team, so I'll always look back on it with immense fondness.
"I'll miss so many aspects of the Red Arrows – from putting the famous smoke on over a big crowd to going upside down in a jet.
"Also, on the ground, it's been fantastic to have the opportunity to meet countless people at shows and other events."
Flight Lieutenant Toby Keeley, Red 6, leaves the team after three seasons and said he will look back with "extremely fond memories of the comradeship and friendship.
"For me, flying fast-jets doesn't get any better than flying in the Red Arrows, it is the pinnacle of fast-jet flying and I feel very proud to have fulfilled my lifelong ambition."
He will also be moving onto a career in the airline industry.
Flight Lieutenant Chris Lyndon-Smith, Red 8, has flown in six different positions across the team's diamond nine formations over six different seasons.
Chris will be leaving the RAF to fly for an airline and said: "It's been an incredible second stint with the team – not least becoming a dad for the first time during this period.
"These last three years have reconfirmed why being a Red Arrows pilot is such a special role and why it's an honour to be selected to wear the red suit.
"I've met some amazing people, had the opportunity to take a jet to many awesome places and have done some very exciting flying across the UK."
Also departing the team is Flight Lieutenant Dan Lowes, who flew as Red 9 and was the Executive Officer.
The former Typhoon pilot said: "It has been an honour and a privilege to serve our magnificent country as a member of this world-class outfit.
"Every day, at every level, you see the men and women of that unit putting in extra effort to succeed – that is how we took 12 aircraft from Lincolnshire to California and back again.
"They will be the proudest moments of my professional career and I'm so thankful to be able to say I was there.
"But, as for us all, this wouldn't have been possible without the love and the support from those at home.
"To my parents, my sister and brother, my beautiful fiancée and to all my family and friends who have been there for the ride – thank you so much."