Rugby Report: Lincoln Ladies extend unbeaten run with battling draw
Lincoln's men's 1st XV lost, but the third team won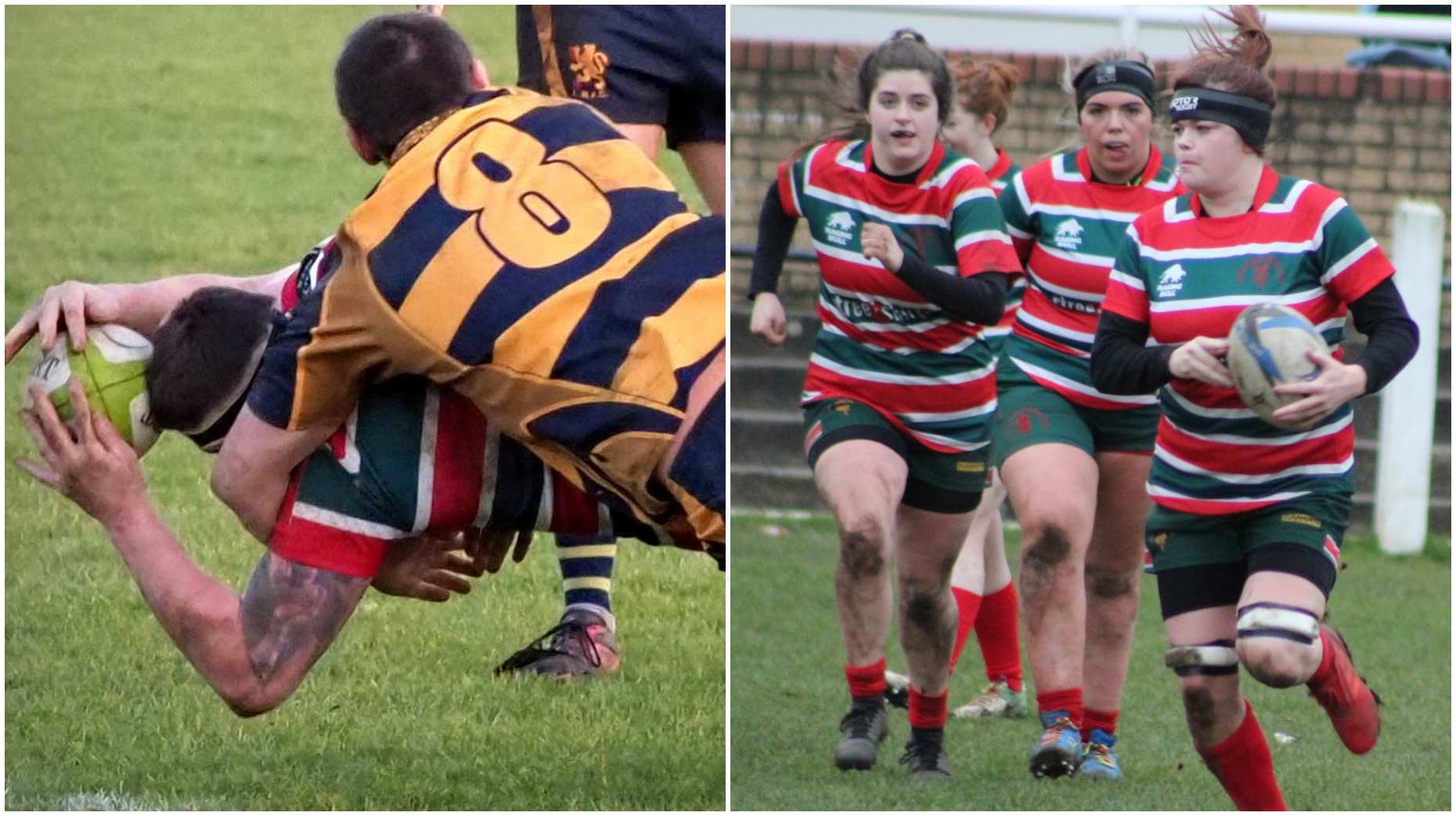 Jodie Hill scored her first try for the club as Lincoln Ladies extended their unbeaten league run to three matches with a 22-22 draw at Hull.
Lynne Brooker-Brown slotted over a penalty to reduce the deficit after Hull's early try but the hosts, who lost a player to the sin bin, then extended their lead with two tries.
Lincoln narrowed the gap after strong work by the forwards set up a try for Shannon Snell, which Lynne Brooker-Brown converted.
Lincoln took the lead in the second half when Clare Brooker-Brown chased Bob Chapman's kick before being fouled by a Hull player, who received a yellow card.
The ball bobbled before being scooped up by Hill, who powered through three defenders to go over for a try, which Lynne Brooker-Brown converted.
Lincoln lost Clare Brooker-Brown to injury and Liv Smith to the sin bin before Hull retook the lead with a converted try.
The visitors secured a draw with the last play of the match. Chapman took a quick tap to Linda McLean, who set up Smith to run 40 yards for a try.
Lincoln's 1st XV produced a much-improved performance before eventually going down to a 28-15 home defeat against Loughborough.
Lincoln started strongly and opened the scoring through Louie Cooke's early penalty.
Full-back Dan Hill dodged and weaved his way through the defence to run in for a great try, which Cooke converted, to increase Lincoln's lead.
Loughborough reduced the deficit when their captain Kieran Hewgill beat a few defenders and offloaded for Andrew Price to go over for a try, which Greg Biddle converted.
The visitors snatched the lead with second half tries from Callum Smith and Jamie Grice, which were both converted by Biddle.
Lincoln clawed their way back into the game when Grant Cowe powered through the defence to dive over for a try.
Grice powered over for his second try, which Biddle converted, with less than two minutes left to play to secure victory for Loughborough.
John Walsh crossed for four tries as Lincoln's 3rd XV began 2020 in style with a 56-0 home victory over Boston.
Grant Laws and Luke Brodrick grabbed two tries apiece, while Chris Smith and Harry Atkinson each scored one. Alex Brodrick kicked three conversions.
Harry Whittaker, Lloyd Buck, Luke Wells and Ruari Catani-Brown scored Lincoln Colts' tries in their 31-20 home defeat against Oundle.
Lincoln Touch emerged as Shield winners after the Winter Eastern Regional Development tournament in Kings Lynn.
After a slow start of two defeats and a draw, Lincoln went on to beat Nottingham and BGL Blues to lift the Shield.
Other Results
In National League Two (North), captain Tom Foster scored Scunthorpe's only try in their 30-7 home defeat against Preston Grasshoppers. Paul Cook added the conversion.
In Midlands Two East (North), Market Rasen & Louth won 42-5 at Ilkeston thanks to tries from Adam Goodwin, Jake Pryer, Connor Janney, Chris Everton, Jake McKay and Ben Young. Janney and Young each kicked three conversions.
Stamford remain top of Midlands Three East (South) after a 20-15 victory at Dunstablians.
Gareth Ramsden, Jack Jones and David Martin scored Stamford's tries. Harry Bentley kicked one conversion and a penalty.
Bourne dropped into third place after a 30-24 defeat at Daventry, but are only six points adrift of Stamford.
Tom Dixon, Kyle Wallis and Sam Thornburn scored Bourne's tries, with Sam Evison adding three conversions and a penalty.
Ash Anker and Willis Ingleby both scored tries as Spalding lost 16-12 at Huntingdon & District. Conall Mason kicked one conversion.
In Midlands Three East (North), second-placed Grimsby are just five points behind leaders Ashby after their 36-15 win at Nottingham Moderns.
Tom Roberts, Lewis Newsum, Jak Pickford, Luke Chaplin and John Mansfield scored Grimsby's tries, with Brad Treacher kicking four conversions and a penalty.
A hat-trick from Ash Rendall-Tyrrell guided Grimsby's 2nd XV to a 42-12 victory at local rivals Cleethorpes. Ash Waterman grabbed two tries and Dane Briggs scored one, with Stu Saunders and Lee Spall each kicking three conversions.
Tom Holmes and Sam Pearson scored Cleethorpes' tries and captain Nathan Phillips kicked one conversion.
James Goodrich and Henry Parker scored the tries, which were both converted by Ben Whinney, as Kesteven's 1st XV lost 19-14 at Mellish.
In Midlands Four East (North), Jaron Cowern grabbed a hat-trick as leaders Boston made it 13 wins from 15 games with a 71-0 home victory against Worksop.
Matthew Deane grabbed two tries and Danny Wilson, Josh Cook, Will Scupham, Kyle Turley, George Sharp and Sam Johnson each scored one. Scupham kicked eight conversions.
Alex Nabais crossed for five tries as Cleethorpes beat Tupton 60-23.
Isaac Machon, Andy Shaw, Lloyd Jones and Harry Parker each scored one try, with Harry Lightfoot kicking six conversions and a penalty.
Alex Morley scored his first try for the 1st XV as North Hykeham secured back-to-back wins with a 23-19 victory at Nottinghamians.
Ryan Carr and Jordan Jolley also scored tries and Rob Booth kicked two penalties and a conversion.
Brad Beresford crossed for a hat-trick of tries, which were all converted by Robbie Goodyear, as Gainsborough won 21-14 at Skegness.
Liam Barnard and Colin Haigh scored Skegness' tries, which were both converted by Lewis Haigh.
Rob Titmus, Adam Loveday, Curtis Key and Jack Osborne scored Sleaford's tries in their narrow 30-22 home defeat against East Retford. Cameron Catelugh added one conversion.
In Midlands Four East (South), Stamford College Old Boys lost 31-12 at Brackley. Stamford's tries were scored by Craig Darlington and James Towse.
Women's Rugby
In the Women's NC2 North (East), tries from captain Holly Newman and Harriet Burniston helped Scunthorpe to a 12-5 victory at Boston. Mel Wright added one conversion.
Boston's try was scored by Mollie Smith.
A spirited Sleaford Ladies side were only able to travel with 12 players, battling hard even after losing another player to injury, in a 43-0 defeat at York RI.
Hannah Thorogood was named as their forward of the match and Jody Stobart as the best back. The opposition named Sherrie Christian as their Sleaford player of the match.
Kesteven Ladies lost 61-0 at home against league leaders Driffield in what was an enjoyable day of learning for the hosts both on and off the pitch.
Ladies club captain Sarah Goss said it "really was the epitome of what rugby is all about, irrespective of the scoreline – a great game with great people".