July 17, 2020 2.24 pm
This story is over 17 months old
Lincolnshire leaders clash over devolution ideas
District council leaders have different ideas to the County Council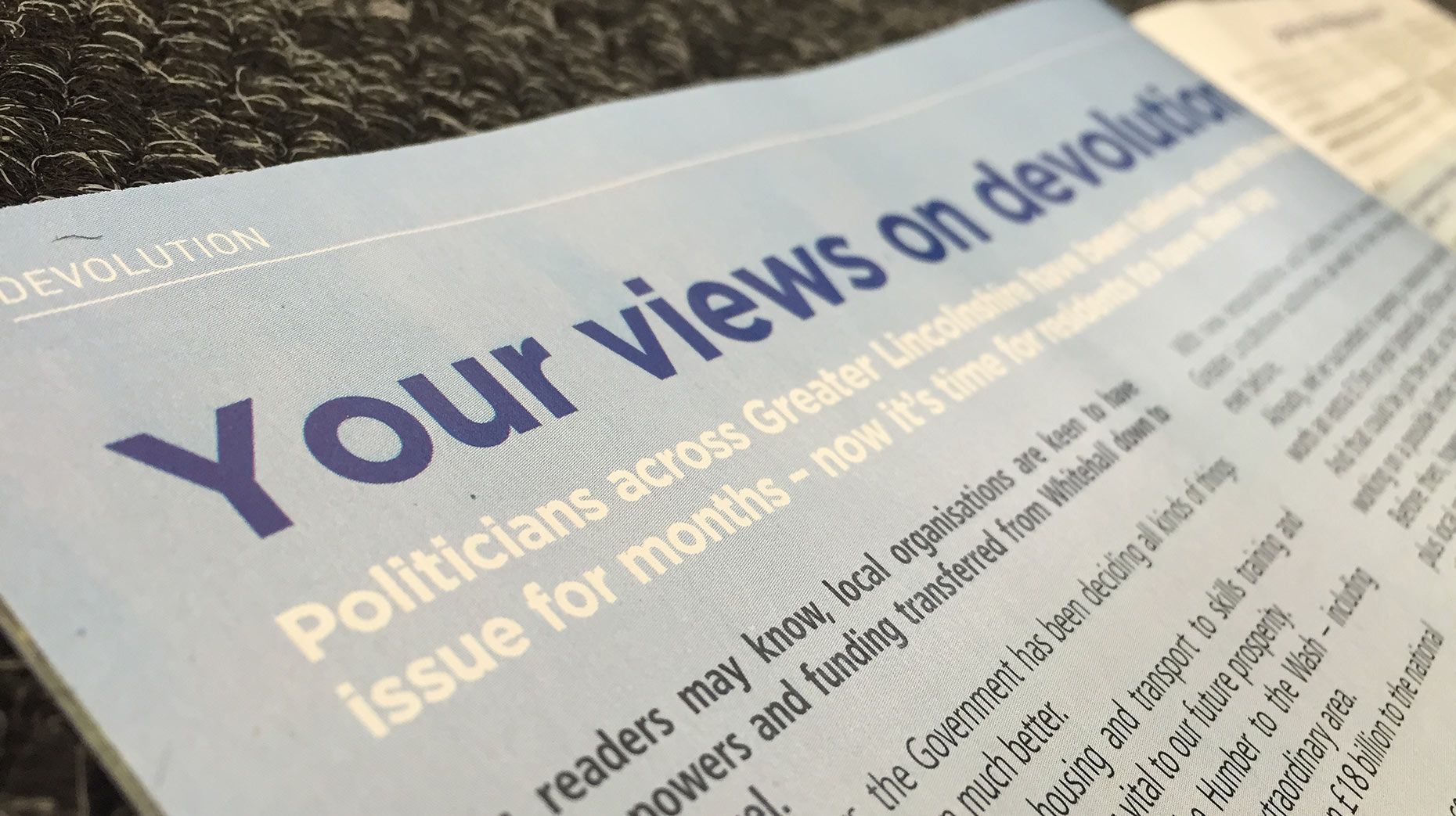 District councils across Lincolnshire have hit out at a lack of engagement and consultation over a devolution bid which could see them disbanded by 2022.
Leaders from Lincolnshire County Council, North Lincolnshire Council and North East Lincolnshire Council in May wrote to the Secretary of State Robert Jenrick as part of their "collective ambitions for devolution to Greater Lincolnshire with options for local government re-organisation".
County council leaders say they are "excited" by the bid and "keen to get Lincolnshire to the front of the queue".
The proposals could see the formation of two unitary councils for Greater Lincolnshire – North and South – and would see the existing councils abolished and disbanded.
But after a meeting this week with Simon Clark, the Minister of State for Growth and Local Government, where the seven district councils were invited to submit proposals for the reorganisation of local government, leaders instead banded together to put forward a different plan.
District council leaders said they were "disappointed with the lack of engagement and consultation so far" and raised concerns about the time-frame.
The councils said they believed the current proposals would "not take account of the county's complex physical, economic and social geography".
Instead, they have proposed a new 12-month "scoping exercise" to identify what a successful reorganisation could look like, with those proposals being implemented in 2023 instead of elections.
Leaders at the City of Lincoln Council said the approach to implementation "cannot work" and is "likely to hit stumbling blocks like those seen in Devon and Norfolk over recent years".
Council leader Councillor Ric Metcalfe said: "[The authority] has been a long standing enthusiast for a devolution deal and has been an active and constructive partner within the Greater Lincolnshire partnership over many years to help try and achieve this.
"However, we are very clear that now is not the time to be pursuing a deal.
"The council has shown a fantastic level of resilience to deal with the upheavals this year has thrown at us and to consider devolution at a time when we were all still responding to the Covid-19 pandemic is wholly inappropriate.
"It is imperative that, over the coming year, we use all our capacity to drive forward… economic recovery.
"Our consent was neither asked for nor given for Lincolnshire County Council to approach government on the issue at this time.
"The county council's views on local government reorganisation and devolution do not represent our own.
"There is no rush to get a deal in place, it is wholly unrealistic and inappropriate and we will work to ensure that our views and concerns are conveyed and addressed as part of any discussions with government."
Lincolnshire County Council leader Martin Hill said the meeting with Mr Clark had been "successful" and that if the proposal progressed it would "give both more power and more money to Lincolnshire".
"As a county council we are excited by this prospect and are keen to ensure we are at the front of the queue to get this prize for Greater Lincolnshire residents," said councillor Hill
"We will be building on the work we have already done for the previous devolution bid and are confident we can hit the government's timescales of early autumn.
"This is a fantastic opportunity for Greater Lincolnshire that we don't want to lose out on."
The devolution bid is the second time in recent years that a devolution deal for Lincolnshire has been considered, with the County Council choosing not to progress plans for a mayoral combined authority in 2016.
Here's what other district council leaders also had to say:
West Lindsey District Council – Councillor Giles McNeill
"The county's unilateral approach to the Secretary of State will lead to a divisive discussion into local government structures which is highly indulgent, when the clear priority of government and our local authorities should, rightly, be on the current COVID-19 pandemic, the recovery following the current crisis and working to deliver the best possible public services to our residents."
East Lindsey District Council – Councillor Craig Leyland
"When devolution was raised as a possibility again earlier in the year, I was clear that I believed it was not the right time to be pursuing a deal
"I still believe this to be the case, however I also recognise that these discussions have now moved on apace and, if local government re-organisation is to take place in Lincolnshire, we must find a way of doing that which works for everyone.
"By working with our district colleagues, we have been able to bring forward our own proposals that seek to find the most suitable, long-term solution for all of Lincolnshire which has to be the aim of any reorganisation and devolution.
"There is no rush to get this deal done, and I would like all of us – including the county council and the two unitary authorities –  to come together in a considered way and make sure we get this right."
North Kesteven District Council – Councillor Richard Wright
"North Kesteven District Council has long advocated an appropriate devolution deal for Lincolnshire, founded on co-operation, respectful partnerships and investment for the delivery of a shared ambition to enable all of our communities to flourish; and we continue to do so.
"Councils such as ours are focused on responding to the ongoing pandemic and to supporting our communities and our local economy in recovery.
"The process has not formally begun, but if and when it should do so, I fully intend to understand and represent the views and concerns of the district in those discussions and to ensure it is fully considered in the most appropriate timeframe."
Boston Borough Council – Councillor Paul Skinner
"Devolution is clearly part of the government agenda. We need to work together with other districts to make sure this is fit for purpose for the whole of Lincolnshire.
"We have been told that some of the monies we haven't been getting into the borough of Boston and Lincolnshire will become available to us as part of this deal.
"I believe there is no immediate rush to complete this deal, we need to work together and make sure we get it right for the people of Lincolnshire."
South Kesteven District Council – Councillor Kelham Cooke
"With the publication of the government's devolution white paper due in the autumn, it is not surprising that discussions on this topic are gaining momentum.
"However, whilst I support and welcome the government's general direction of travel, I remain concerned that the time is not right for Lincolnshire to push forward with plans that will have a profound impact upon our communities right across Lincolnshire.
"We are a vast and very diverse county and this must be fully considered and reflected in any plans for devolution and reorganisation to ensure that Lincolnshire's huge potential for growth is properly harnessed and enhanced by any future reorganisation, an ambition we know is shared and supported by the government.
"Local authorities across the county have successfully supported their communities through the response phase of COVID-19.
"But the virus is still with us, and our focus right now must be on supporting and nurturing vital economic growth and recovery on the ground, and from the grassroots up, building on the trust we have already established with our local businesses.
"To retain this trust, we must bring people with us through a collaborative approach with our partners, with those we do business with, and those we serve.
"We have yet to see what is in the government's white paper, it would be prudent to ensure that as we move forward we do so at a pace and with a plan that is informed by the white paper, and has the interests of our communities front and centre during what is still an unprecedented time in our history."