April 22, 2021 5.22 pm
This story is over 8 months old
Lincoln illustrator publishes her first graphic novel
Draw-some work Helen!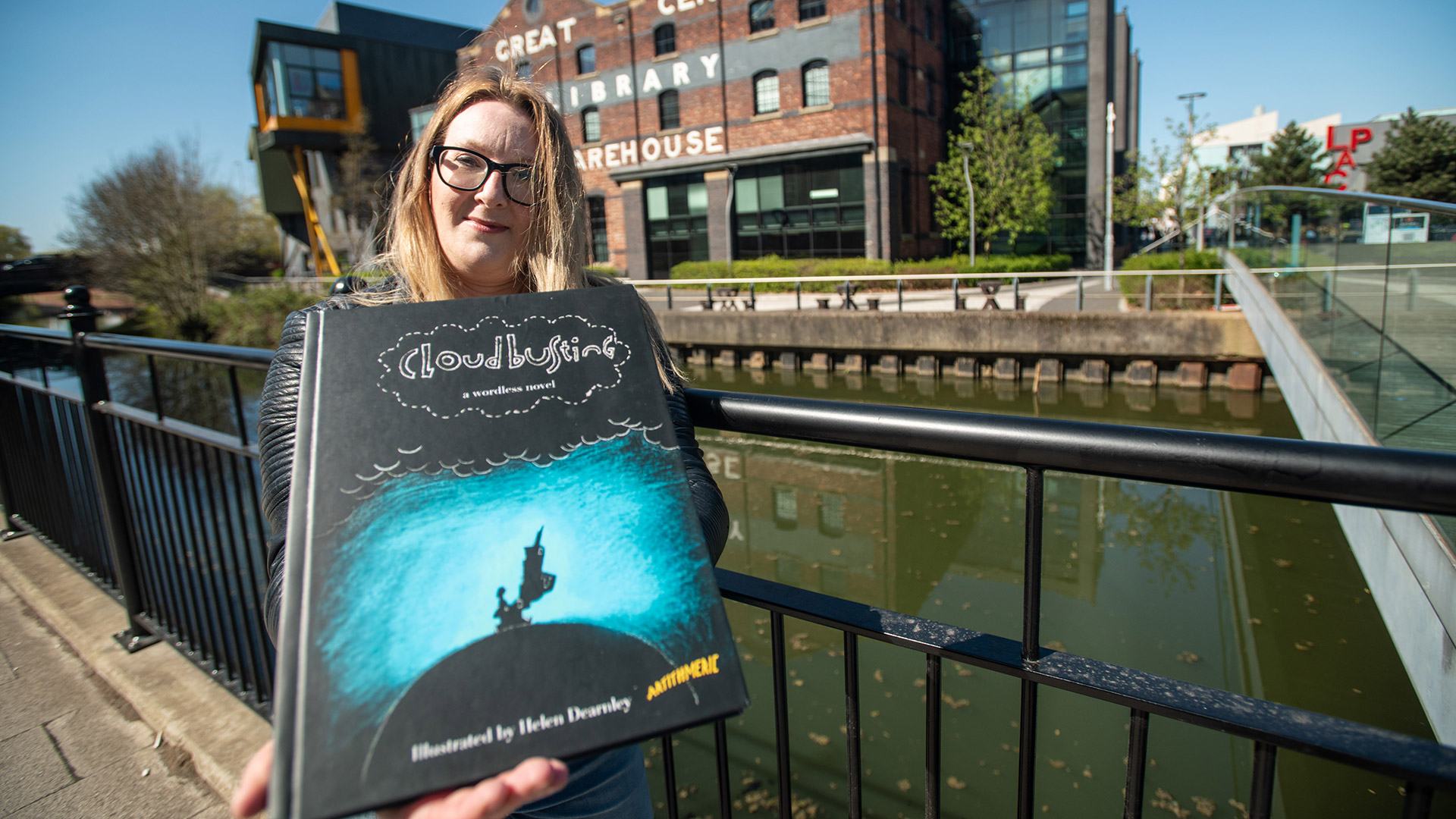 A Lincoln-based illustrator has released her first published graphic novel inspired by a dream, her real life experiences as a single parent and Kate Bush's Cloudbusting music video.
Helen Dearnley moved from Spalding to Lincoln in 2005 to do a degree in Fine Art and Illustration and has lived in the city ever since. She has been working as a freelance illustrator since graduation and in 2009 she set up Helen Dearnley Fine Art & Illustration.
The idea for her new graphic novel Cloudbusting was conceived during the 2012 floods in Lincolnshire. Helen then began to develop the idea and also took inspiration from reading Eric Drooker's graphic novel 'Flood!'.
She illustrated her graphic novel Cloudbusting from the perspective of a single parent searching for work during the age of austerity.
She completed the graphic novel in 2017 and thanks to Artithmeric, hardback copies were launched online earlier this month. It is available to buy for £25.50 and Helen hopes booksellers and libraries will stock it in the future.
Cloudbusting is a dream, in which a female and male colleague are seen working together, carrying a large, heavy object up a hill. They appear as small silhouettes.
The characters in Kate Bush's music video have been re-appropriated to place the woman as the 'Professor' and her male colleague working together,.
Near the end of the original music video there is a reference to a newspaper article in New York with the headline 'Rainmaker storms city'. Helen wanted to localise this in her novel by referencing The Lincolnite, saying "if the events happened here it would be in The Lincolnite".
The graphic novel also takes inspiration from A-ha's 'Take on Me' music video, with Helen having collaborated with the band, as well as Canadian electro-funk duo Chromeo, on previous projects.
Helen told The Lincolnite: "It feels really good and I am hoping people will get excited and buy it.
"It will be interesting for people in Lincoln and Lincolnshire. There are not many people making graphic novels in or about Lincoln, and I feel happy to see my graphic novel in print.
"All creatives were #excludeduk from any business support. I was running some art workshops, but when lockdown hitm that stopped and it restricted business opportunities, but I stayed positive and am looking ahead to the future."
After graduation Helen ran Lincoln Artists' Network as a business venture for a few years and up until last spring she worked teaching cycle training for Bikeability.
She is also a carer for her two sons who have mental health conditions and continues to work as a self-employed illustrator.
She has previously self-published a variety of comics and zines, including Ms Blackbird's Home for Peculiar People and Taped from MTV.
Taped from MTV was commissioned by Chromeo who wanted Helen to make them a personalised comic. She gave it to them at a gig at the Printworks in London in 2018.
Helen also previously collaborated with Morten Harket from A-ha, doing a self-portrait for him in 2010, as well as some other artwork for the band. She was also commissioned to illustrate a book called Move To Oslo by Tanya Fleck.
She is looking forward to showcasing and selling her graphic novels, comics and other artistic work at the Thought Bubble Comic Con event in Harrogate later this year on November 13 and 14.
Helen is also available for artistic commissions and any request can be emailed to her at [email protected].
You can buy the graphic novel from here.