August 28, 2012 9.51 am
This story is over 116 months old
My Egyptian Paralympic experience in Lincoln
Paralympic volunteer: A sports therapist from Lincoln volunteered to help while the Paralympic Egyptians trained in Lincoln.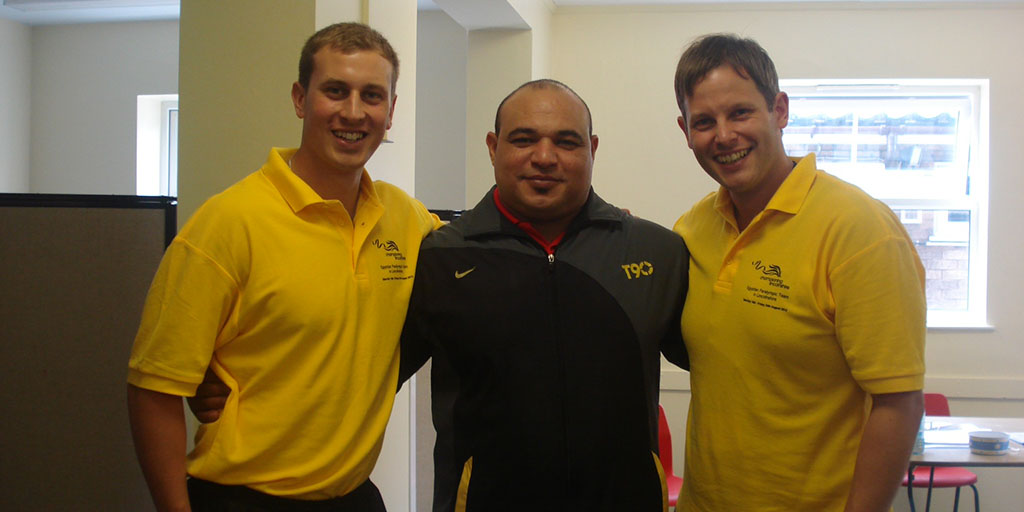 Chris Swallow (L) with power lifter Muhammed Saeed.
— Chris Swallow is a Sports Therapist running mobile sports injury clinic CSSMART. He volunteered to help with treating the Egyptian Paralympians during their stay in Lincoln last week. For three days, he worked with athletes in seated volleyball, table tennis and power lifting. Here is his account of working alongside the team.
---
Over the past few months the Lincolnshire Sports Partnership has been drawing attention toward the Paralympics. A big reason for this is that Lincolnshire has been successful in their bid to host a pre-games training camp for the Egyptian Paralympic team. After hearing about the opportunity for volunteers to aid with their stay over the past week, I applied without hesitation and was extremely lucky to be selected as an assistant physiotherapist.
I had been given shifts based at the University of Lincoln campus in the Sports Centre on both Monday and Wednesday, where both the Table Tennis and Sitting Volleyball teams were training. They decided they wanted to train twice a day, so I was working mornings between 9:45 and 12:30 and evenings between 5:45 and 8:00.
I arrived at the team's hotel, the Holiday Inn Express, on the Monday morning and immediately met Steve Booth, one of the interpreters. After previously hearing that not many of the Egyptian team could speak English I was delighted to have someone whose knowledge of Arabic was so vast. He told me a little about Egypt and how their economy isn't as strong as it is here — that you could eat out for meals and live well for about £5 a day. I was also quite shocked that disabled people are treated very separately in Egypt and that in numerous cases they could be outcast from society. I didn't know what to expect but hearing this was a shock to the system.
Table tennis athletes arrived first at the Sports Centre on Monday and I was in awe when watching them play, they weren't just good. These people having a variety of disabilities were taking life by the scruff of the neck and excelling through sport, to such a high standard that at some points I thought they were playing with multiple balls, so fast were the speed of their shots.
The sitting volleyball team arrived and I assisted them upstairs to the gym where they completed circuit training – I must say I was quite astounded by the upper body and core strength these guys had. The players practised specific skill drills and shots which looked seriously hard work. The Wednesday was much the same with the sitting volleyball team taking the morning off but having an evening circuit.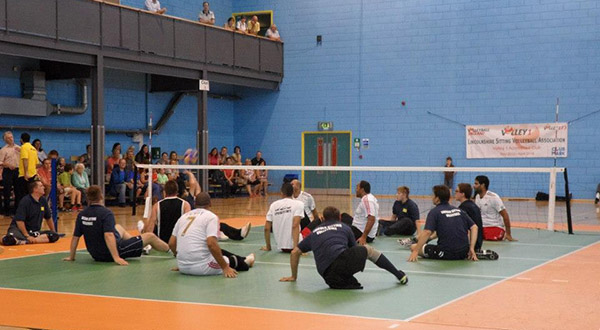 I also got more of a chance to speak to Tom Turton, the lead physiotherapist who has previous Paralympic experience from Athens in 2004, he has also held constant communication with their physiotherapist over in Egypt. He informed me that there is no culture for stretching over in Egypt, and that through religion only women medical professionals are allowed to treat women athletes.
I was challenged by one of the table tennis players to a game, although after watching him over the previous shifts I decided my chances of scoring a point, let alone winning were very limited, so I politely declined. I did though; take up the offer to have a one to one training session with one of the sitting volleyball team players. He showed me the variety of shots including set, spike and pass and we had a little rally going, he also showed me his football skills though he said he wasn't so good with his right leg as it was prosthetic! After holding a good ten minute conversation, I discovered that the sitting volleyball players train at a Police Headquarters, as the forces have better facilities than most of the sports clubs and that they loved it over in Lincolnshire as it is "beautiful."
The following day I was working in Louth at St Bernard's School with the power lifters, which was a totally different experience. The men and women trained separately, but all were also more at home with hands on treatment. They were obviously used to taking a lot more care over their bodies as they are under a greater amount of stress.
I also noticed that they were very keen on having kinesiology tape applied especially around the shoulder to provide a large amount of support as well as needing some soft tissue work towards their backs. I treated four Gold medallists from Beijing including Mohammed Saeed, Metwaly Mathana and Fatma Omar, who I had previously seen lift in Beijing and was astounded at their friendliness and their willingness to communicate in both Egyptian and English even though they were limited in their vocabulary.
All the athletes I worked with were a credit to both Egypt and the Paralympic Association. They made a once in a lifetime experience very special by promoting the four Paralympic values of Equality, Courage, Determination and Inspiration. I would also like to thank the Lincolnshire Sports Partnership for their superb organisation of the week, without them, it would have been an impossible task and the week ran very smoothly. Lastly to all the volunteers, not only those I met and spoke to, but everyone who gave up their time to make this experience so special for all. From my communication with the Egyptians, they were hugely appreciative of all that was done for them.
The whole experience has completely changed my perception of disabled people, and has shown me that volunteering in all cases can be exceedingly rewarding. All it costs is your time, and the experiences given back by the people make this more than worthwhile. I have wished all the athletes the best of luck whilst in London and I will be watching eagerly throughout the games, not only cheering on Great Britain but Egypt too.