December 4, 2012 11.55 am
This story is over 131 months old
Local's stolen Games Maker kit replaced
Kind help: After hearing a Lincolnshire Games Maker had his kit stolen, Lincolnshire Sports Partnership stepped in to replace it.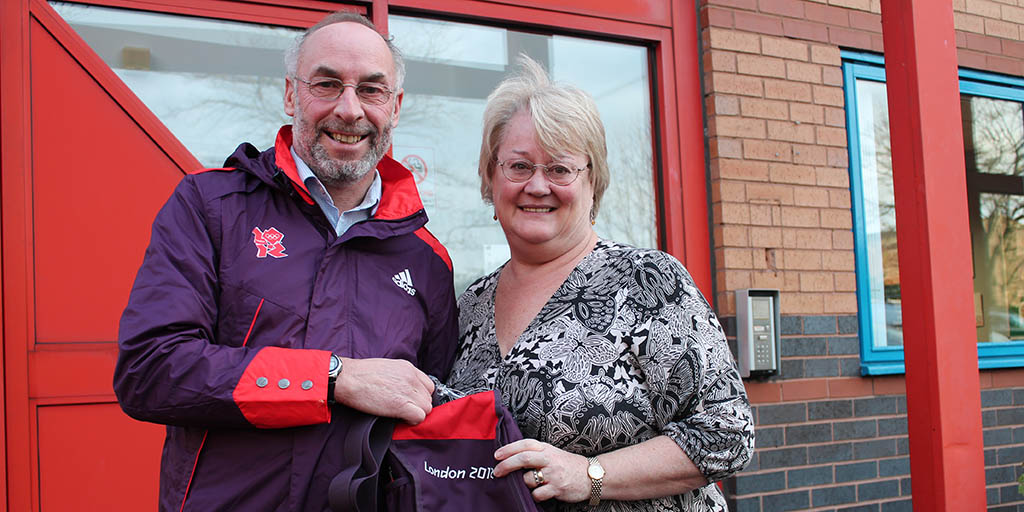 Robin Wright and Janet Inman, Chief Executive of Lincolnshire Sports Partnership, with a replacement Games Maker uniform.
A Lincolnshire man whose Games Maker jacket and bag were stolen whilst volunteering during the Olympics had the kit replaced by Lincolnshire Sports Partnership.
Robin Wright (59) from Sturton-by-Stow helped in the press and media department during the games. He helped athletes to press conferences and interviews.
He volunteered for two weeks at the Archery event at Lords Cricket Ground, but in the second week a man stole his purple Games Maker jacket and bag.
Wright chased the man, but the offender escaped with his Games Maker kit, phone, wallet and house keys.
Wright said: "At the time, I just thought the items would be replaced. The Met Police caught the action on video and arrested the gentleman, but he had quickly passed the items on.
"I was assured LOCOG would replace everything and not to worry, but by the end of the Games, nothing had appeared. It was very disappointing – all the Games Makers were fantastic and we deserved better."
He added: "I was told that there was no spare kit left and it was just hard luck. Phones and door locks could be replaced, but a once in a lifetime kit couldn't.
"I was very disappointed in LOCOG and even wrote to Lord Sebastian Coe to complain. I hoped for at least a reply, or something to have been done in the aftermath of the Games, but I got neither."
After hearing, Lincolnshire Sports Partnership wanted to help replace Wright's uniform, and managed to get a new jacked and bag from LOCOG.
Chief Executive Janet Inman said: "Lincolnshire Sports Partnership was very disappointed to hear that a volunteer from our county had their belongings stolen at the London 2012 Games.
"Robin is a valued member of the sporting community in Lincolnshire; well known in his role as Director of Sport at the University of Lincoln, a fantastic supporter of cricket in the county and his work on the Lincolnshire Steering Group for the London 2012 Games has been outstanding.
"We saw this as a way to thank him for his hard work, commitment and dedication to sport in Lincolnshire."
Wright said: "I was so taken back and very grateful that Lincolnshire Sports Partnership has been able to replace my kit.
"Being a Games Maker is something I treasure greatly and I'm very thankful that I now have my jacket and bag, which I can pass down to my children as a memento from a fantastic summer of sport."