November 7, 2013 10.15 am
This story is over 120 months old
Lincoln Cathedral donates medieval script for historical scholarship
Thornton Manuscript: A historic gift has been unearthed in a collaboration between Lincoln Cathedral and the University of Lincoln.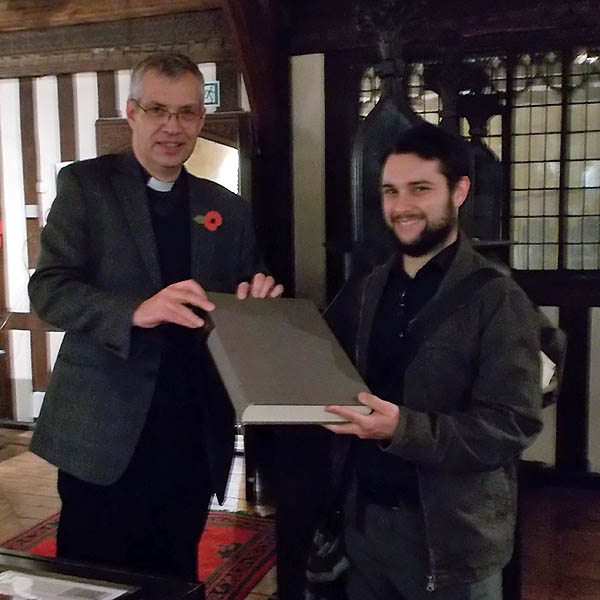 A valuable facsimile of a fifteenth-century manuscript, containing a unique medieval account of King Arthur's death, was gifted to the University of Lincoln by Lincoln Cathedral as part of an expanding partnership to support historical scholarship in the city.
The original Thornton Manuscript, housed in Lincoln Cathedral's medieval collection, is a body of secular, religious and medicinal texts compiled by Robert Thornton, a Yorkshire landowner, between 1430 and 1450.
The manuscript includes the only surviving medieval versions of several important Middle English romances, such as the alliterative Morte Arthure (The Death of King Arthur), and offers an incredible level of insight into the literary and spiritual tastes of a late medieval household.
It will be a useful resource for undergraduate and postgraduate students on the University's BA (Hons) History and MA Medieval Studies programmes, and for doctoral research.
Dr Mark Hocknull, Canon Chancellor at Lincoln Cathedral and Visiting Senior Fellow at the University of Lincoln, presented the Thornton Manuscript replica to a visiting group of postgraduate students from the university.
The presentation was made in Lincoln Cathedral's Medieval Library, which was built in 1422 to provide a secure home to its late medieval collection.
Dr Hocknull said: "The Thornton Manuscript is a hugely significant collection of texts that is used by academics from all over the world.
"It is one of the most popular manuscripts housed in our library at Lincoln Cathedral, but it is also one of the most fragile!
"At Lincoln Cathedral, we are eager to encourage this kind of scholarship and to support access to some of the world's most important medieval documents.
"We are delighted to be able to gift a facsimile of the Thornton Manuscript to the University, where we know it will be beneficial for medieval teaching, learning, and research projects."
Dr Joanna Huntington, a specialist in medieval history in the University of Lincoln's School of Humanities, said: "As a school, we are keen to develop teaching, learning and research links with Lincoln Cathedral, which is home to a magnificent wealth of medieval history, and which we are lucky enough to have here on our doorstep.
"As our partnership with the Cathedral evolves, we are delighted to be able to embed these links within our undergraduate and postgraduate programmes."
As part of the continuing collaboration between the university and Lincoln Cathedral, the organisations will also create a new post for a joint librarian.
The new appointment will develop access to the medieval collections and archives housed at the Cathedral and the University, and will play an important role in supporting academic research projects in the future.