March 31, 2014 1.29 pm
This story is over 115 months old
Red Arrows go to Cyprus to perfect 50th season display
Final preparations: The Red Arrows have left their home base near Lincoln to complete training in Cyprus ahead of their 50th display season.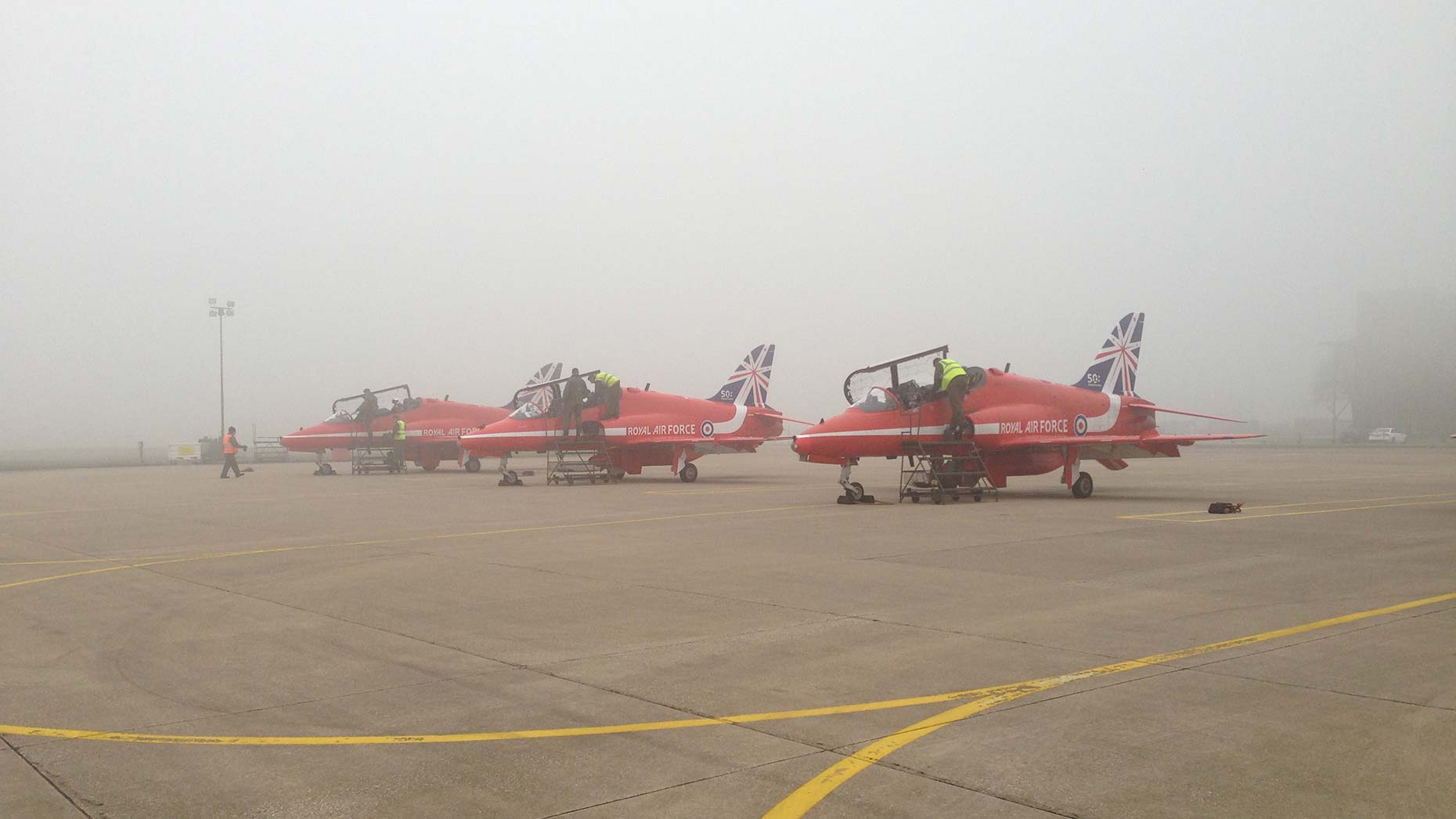 The Red Arrows have left their home base near Lincoln to complete training in Cyprus, ahead of their 50th display season.
Twelve aircraft took off from a very misty RAF Scampton on March 31.
The team will operate for the next two months from RAF Akrotiri in Cyprus, as the pilots practice their display ahead of the milestone 2014 season.
The annual training at the base is known as Exercise Springhawk and sees the Reds fly three times a day, five days a week, to perfect their performance.
The island's location guarantees the better weather, which is needed for the Red Arrows to practice and attain the necessary approval from senior Royal Air Force officers before they return and display in front of the public – known as Public Display Authority (PDA).
Flying in the back seats of the Hawks to Cyprus were members of the Circus – the Royal Air Force engineers who were specially selected from the Squadron to accompany the pilots throughout the training and display season in 2014.
They fly on transits – but not in displays – and ensure the aircraft are serviced efficiently at each location when operating away from RAF Scampton.
Squadron Leader Jim Turner, Team Leader of the Red Arrows, said: "First and foremost it gives us very good weather.
"We're based at RAF Akrotiri – it's on a peninsula so you're surrounded by the ocean on three different headings.
"You have got fantastic different display sites too, that give you different weather conditions during the day. So this allows us to fly in good weather and really get the show as polished as it needs to be."
To reach RAF Akrotiri, the Red Arrows transit through France, Italy and Greece. The jets fly approximately one hour 40 minutes before requiring refuelling, depending on the height, altitude and weather conditions.
The team's first stop is in Lyon and they are spending Monday night in Italy – due to arrive at RAF Akrotiri on April 1.
The team has visited Cyprus for pre-season training since 1979.
The team are accompanied by key members of the Squadron to enable them to operate normally out of a host station.
Once attaining PDA, the Red Arrows will return and carry out their first UK display at Falmouth on May 31.
This year is the Red Arrows' 50th display season and, to celebrate the occasion, the team's fleet of jets has received a new look.