Lincolnshire Police speak of financial strain during Shadow Minister visit in Lincoln
Concerns: Lincolnshire Police invited Shadow Minister for Policing Jack Dromey to Lincoln to show the work it does despite heavy cuts from government.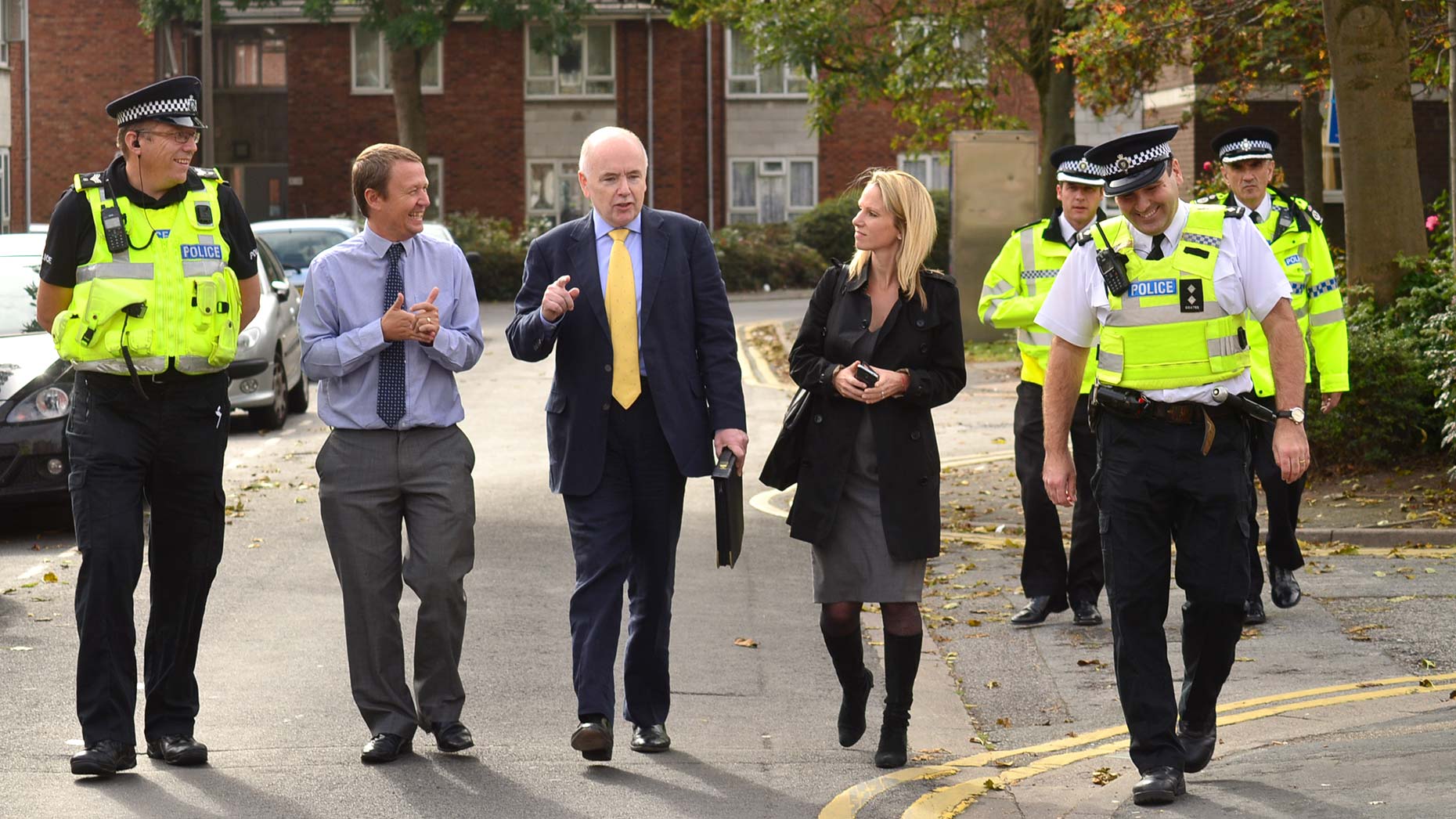 Shadow Policing Minister Jack Dromey visited Lincoln Police Station in order to find out more about Lincolnshire Police's work and the challenges it faces.
He was briefed on the work the force is currently undertaking in Lincoln, called Operation Pottery, which tackles modern slavery in the county.
He then visited the city centre, particularly the Portland Street area, where police and the city council have been working together to improve safety in light of the recent murders, robberies and deaths.
His trip comes after Lincolnshire Police received an outstanding mark for delivering affordable policing in the recent HMIC report.
However, despite remodelling the force due to government cuts in order to cope with the need for more frontline officers, there is a concern both at Lincolnshire Police and in the HMIC report that the force may struggle to cope when further cuts are handed down to police forces.
£7 million cuts
Accompanying the Shadow Minister during his visit was Chief Constable Neil Rhodes and Labour's MP candidate for Lincoln, Lucy Rigby.
Chief Constable Neil Rhodes said: "I'm really pleased we got the Shadow Minister here today to listen to our story.
"We've talked him through Operation Pottery, where we rescued quite a few people from modern day slavery. He was massively impressed by what he saw.
"We took him down to the streets off the High Street to see some of the initiatives taking place there to make that area of town a lot safer and nicer for people to live in.
"My principal focus though was so he understood the finances of policing in Lincolnshire, the quality of service that we were providing, and the challenges that face us moving forward.
"Currently, we're rated as a "good" and in some areas "excellent" police force but, while we've had our book balanced for this year and next year and we can sustain officer numbers, when we look forward to 2016/17 and beyond we face really substantial cuts that honestly threaten the sustainability and viability of policing in Lincolnshire.
"How much more of a risk can you get than a fall in police numbers?
"If our predictions are correct, we will face a cut of around £7 million in 2016/17, increasing to £11 million in 2017/18. £11 million equates to the loss of 236 police officers."
"Four years ago, we had 1,220 police officers, we have 1,100 now. We're working really hard with the PCC to sustain officer numbers at that level – we simply can't take 236 out.
"If the community of Lincolnshire is to be policed properly, as it is currently, then we need to be funded at the cost of being in business, and the current mechanism simply won't do.
"I hope he takes back a picture of a force that's linked to its community and performing robustly currently, but who, if we aren't careful, could struggle to sustain that performance if funded poorly, and could result in officer number dropping to a level which is unsafe."
Impressed and concerned
After his walk on the beat with a number of local police officers, the Shadow Minister was able to reflect on what he'd seen of policing in Lincolnshire.
He said: "I've been very impressed by what I've seen, but also very concerned.
"I'm very impressed by the work of Lincolnshire Police service — I've heard first hand of some outstanding work done, most recently Operation Pottery. It's a model other police forces nationwide can copy – highly effective, well organised operation, working with a range of partners to tackle the evil of modern day slavery.
"I've also been out on the beat seeing how the police operate in the town centre, ensuring the safety and security of that community.
"However I'm also very concerned. It's clear Lincolnshire Police have coped remarkably well over the past four years with the biggest cuts in policing since the War. The problem its got now is that its on a cliff edge. If we continue down Theresa May's path of the biggest cuts to police in Europe, there will be serious consequences for the people of Lincolnshire."
"Lincolnshire can be proud of what they've done in difficult circumstances. The force has coped remarkably well with Theresa May's austerity cuts so far, but no further."
"Our view is the duty of any government is the safety and security of all its citizens, and that's why the first thing we intend to do is cancel the proposed cuts in 2015 and 2016, reversing the tide of the past four years. We are not going to take risks with the people of Lincolnshire.
"I've heard disturbing stories of an excellent police force trying to cope as the thin blue line is stretch ever thinner. Lincolnshire is a very big county with a diminishing number of police officers, and that means when people call for help, it can take up to two-three hours for police to get to them.
"That cannot be right. I don't blame the police, they are doing their best in difficult circumstance. We need to put more police officers back on the beat in the communities of Lincolnshire.