Annual Lincolnshire food and drink guide launched in Lincoln
Food and Drink: A free comprehensive guide to eating out in Lincolnshire has been launched in Lincoln, including some of the top eateries in the city.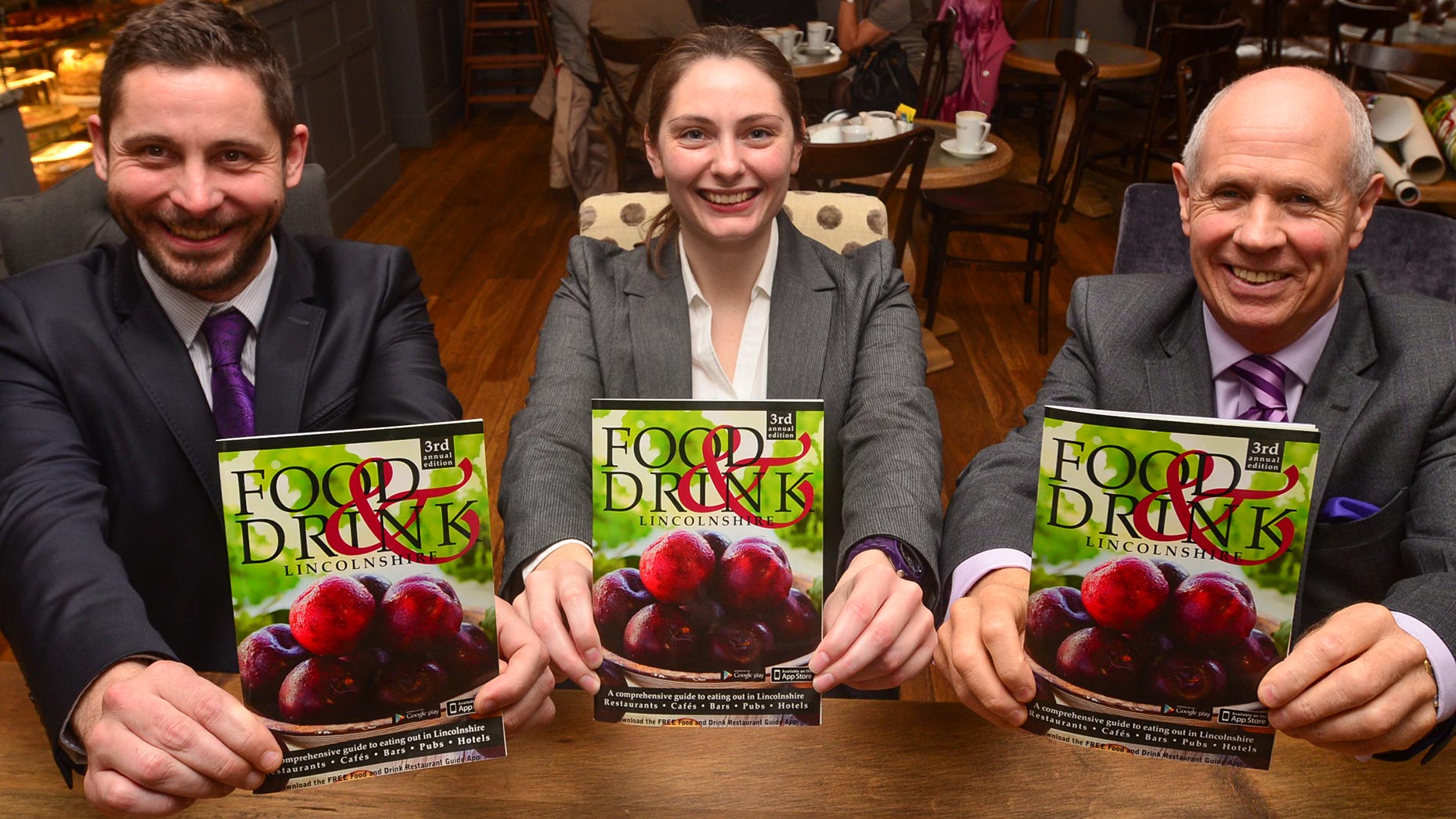 A free comprehensive guide to eating out in Lincolnshire has been launched in Lincoln, including some of the top eateries in the city.
The Food & Drink Lincolnshire guide, which is being backed by Lincolnshire County Council Executive member for Economic Development, Councillor Colin Davie, is available in outlets across the county.
The 3rd edition was launched at The Rest hotel in Lincoln, alongside local business representatives who are advertising through the project.
Popular Lincoln businesses that are featured in the guide include the Reform restaurant in The Castle Hotel, the Wig and Mitre on Steep Hill and the Coffee House at The Rest hotel.
The guide can be picked up from hotels, restaurants, shops, and tourist information stops in Lincolnshire.
In addition, the guide forms part of a website and app, which are also free to download.
Robin Fry, Managing Director at Food and Drink Guide Ltd, said: "Our focus is on editorial, a guide to restaurants and photography. Users of the guide can find the listings on our website and app, and each year we bring out a printed guide.
"If you said that Lincolnshire is the biggest producer of food and drink in the country, not many people would know that. I think Lincolnshire has got great things to shout about and it maybe doesn't shout enough.
"The guide is free so it is advertorial based, but the editorial talks about the eating experience.
"In addition to the app, we also have a website called Food Festival Finder because of the growing number of people that actually go to food festivals."
The Petwood Hotel in Woodhall Spa is also featured in the guide. Director Emma Brealey said: "We found out about the guide through their local rep Peter Gardiner of Food Lincs, and food is a massive part of our business. It's what we are focussing on for growth and it actually acounts for about 49% of sales.
"We were keen to get on board with a publication that was promoting all things great about Lincolnshire and its finest produce."
Food and Lincolnshire tourism
Executive member for Economic Development, Councillor Collin Davie, said: "The more our local businesses show off what they have to offer, the better it is for our potential visitors.
"Information is power, and the more information out there the stronger the Lincolnshire brand and the Lincolnshire message becomes.
"The key thing for me is that the excellent things we have to offer in the county is recognised further afield.
"Food and drink is a huge part of the Lincolnshire economy, it's a huge sector for the LEP and we are looking to increase the value of it.
"A good example of our much-sought-after food events was the Lincolnshire Sausage Festival, which took place this weekend. I believe the event attracted the highest number of visitors ever.
"Businesses need to keep banging the drum for Lincolnshire products and this guide is another part of that jigsaw.
"We have a lot to look forward to in 2015 and we will be getting a lot of visitors to the area and they are going to be looking to the best places to eat."
Tourism Development Manager at Lincolnshire County Council, Mary Powell, added: "Food and drink attaches to everything. When you visit a place, it's about the attractions but you also do lots of eating and drinking. It also said a lot about that experience.
"A lot of people and a lot of local businesses are getting excited about Lincoln Castle re-opening after its £22 million restoration and what is means for business."
Local businesses that are interested in appearing in the next edition of the guide can contact Food & Drink Guides Ltd on 0117 927 7167.
Advertising rates begin at £450 for a 1/3 page listing to an outside back cover advert, which costs £1750.
The company prints a minimum of 50,000 copies per region and the website receives around 3,000 hits on a daily basis.