Businesses and residents sign petition over Lincoln roadworks chaos
Review required? Local residents and businesses are demanding a review of roadworks on Station Road with a petition.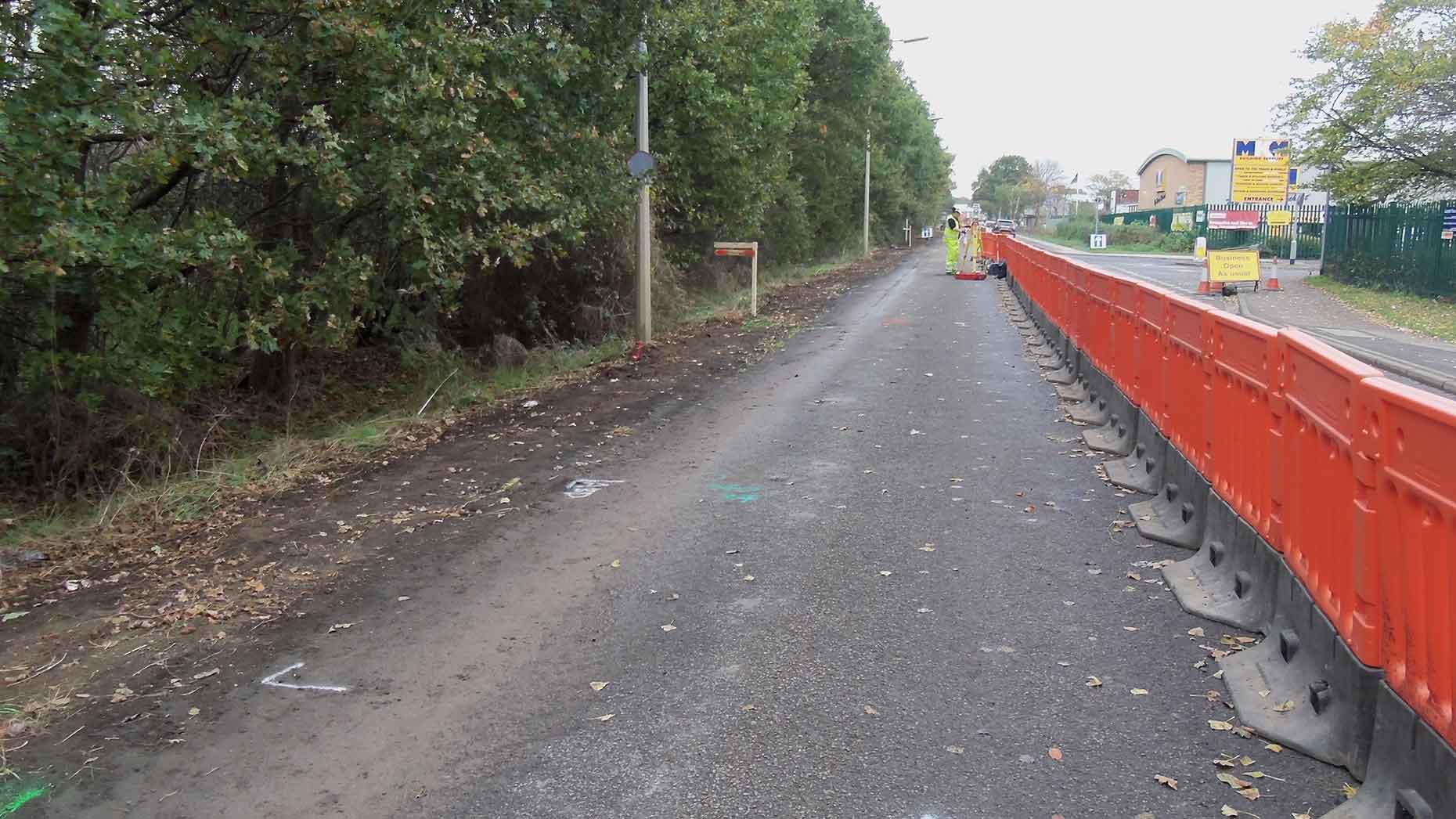 Businesses and nearby residents to the roadworks on Station Road in North Hykeham, south of Lincoln, have created a petition demanding a review of the work.
As previously reported, Station Road is undergoing 16 weeks of improvement works to make the road more accessible to pedestrians and cyclists.
The work by Lincolnshire County Council via contractors will create a new 2.5m wide shared footway and cycle path along the west side of Station Road.
A one-way traffic management system will be operating during the works, plus a diversion around the works.
Despite regular meetings with Lincolnshire County Council, local businesses are experiencing a number of issues with the works, such as loss of clients and productivity issues due to the diversion.
Lindum Construction, which operates from its headquarters on Station Road, says it has lost out on around £300,000 since the work began.
Fun Farm Lincoln's day nursery is also suffering due to parents having to add an extra 60 minutes to their journeys to drop children off at the facility.
Local residents and parents have also highlighted that the roadworks have made existing walkways unsafe due to traffic build up.
The petition, which was approved on November 14, calls for Lincolnshire County Council to review the roadworks, and put a traffic light system in place or ask contractors to work nights and weekends, with a shorter Christmas break.
Additionally, access should be improved for the businesses operating in the area.
Katie Hart, a local resident who takes her children to Fun Farm Lincoln, set up the petition with support from businesses and other individuals.
She said: "My children attend Funfarm nursery on Stephenson Road, and myself and all the parents are having major problems with a three mile diversion through congested roads in the city as it's now a one way system. The petition is requesting the council to do the work quicker as to cause less disruption."
In her petition, she added: "The excuse that night work is 'unsafe' is unsatisfactory, there are no residential properties within close enough proximity to the works to be affected by night work.
"Network Rail state that a traffic light system cannot be put in place due to the barriers being unsatisfactory. However, improving the barriers to a satisfactory level in order to allow a traffic light system would be much more beneficial to the entire city.
"Many parents are losing money due to having to start work late and finish early in order to collect their children on time. Add this to the cost of extra fuel to cover an extra six miles per day is equating to a lot of money for the average working family.
"The council's suggestion of walking or cycling or catching a train, with multiple children under five, is absurd, considering the safety of this route whilst these works are taking place.
"Children attending the North Hykeham schools from the Doddington Park area are also experiencing difficulties with travelling to school, in particular collecting children from after school clubs and extra curricular activities on time, and getting to parents evenings on time."
"The majority of people appreciate the reasons why these road improvements need to be done, however the length of time it is taking is unacceptable. This situation is likely to get much worse when the winter weather takes effect, and people are facing up to two hours of travelling time to complete journeys that would ordinarily take up to 30 minutes."
Financial losses
Lindum Construction have been facing difficulties not only with its own staff not being able to get to work and lorries facing problems on the diversion route, but a number of safety concerns too.
Simon Gregory, Board Director and MD of Lindum Construction said: "The current works are causing huge difficulties in both time and costs to the Lindum Group and their tenant businesses at Lindum Business Park.
"400 cars and between 25-30 lorries use the Lindum Business Park on a daily basis and as a result of the one way traffic system in operation, these vehicles are being diverted on a route involving already heavily congested roads – Doddington Road, Whisby Road, Tritton Road, Newark Road and the bypass between the Damon's roundabout and Pennell's roundabout.
"The work is scheduled to take 16 weeks, with this following 12 months of road works affecting Whisby Road for the Teal Park development, the substantial inconvenience caused is trying the patience of commuters and businesses alike.
"Our own company has had to allow more flexible working hours to enable employees to avoid the unacceptable delays they face sitting in traffic commuting to and from the office, along with their increased fuel consumption.
"The productivity of our lorries is being reduced as drivers are having to allow extra time to get round the congested diversion rout to remain within the legal limits recorded by their tachographs – we estimate that the financial cost is in the region of £300,000 for the Lindum Business Park occupants alone."
"Time and money aside, there are also safety concerns to be addressed. Lindum Plant is contracted by Lincolnshire Fire and Rescue to service, maintain and repair all of their fire engines and support vehicles and, as such, is required to respond to emergency call outs within a specified time.
"If these call outs happen at peak time it could take an hour longer to respond. In reverse, in the event of an accident, the additional time it would take emergency services to attend our premises on Station Road or the surrounding affected industrial estates, is of considerable concern."
Despite listening to locals' requests, Lincolnshire County Council stresses a safety issue near the railway crossing is the reason a traffic light system is not in place.
Vanessa Strange, Transportation Manager at Lincolnshire County Council, said: "Full consideration was given to all means of traffic management during the works on Station Road – unfortunately due to the proximity of the level crossing to the works, and the safety implications associated with the unmanned barrier crossing, Network Rail has not permitted the use of two-way traffic management with traffic lights.
"We are aware of traffic congestion in the area, particularly at peak time, and are working with local businesses and residents to constantly monitor and review the situation."