July 9, 2015 1.14 pm
This story is over 100 months old
Lincoln Damon's bosses respond after man's fingernail protest goes viral
Fingernail fiasco: A man handed a Lincoln restaurant a social media storm when he protested outside, claiming to have found a fingernail in his food.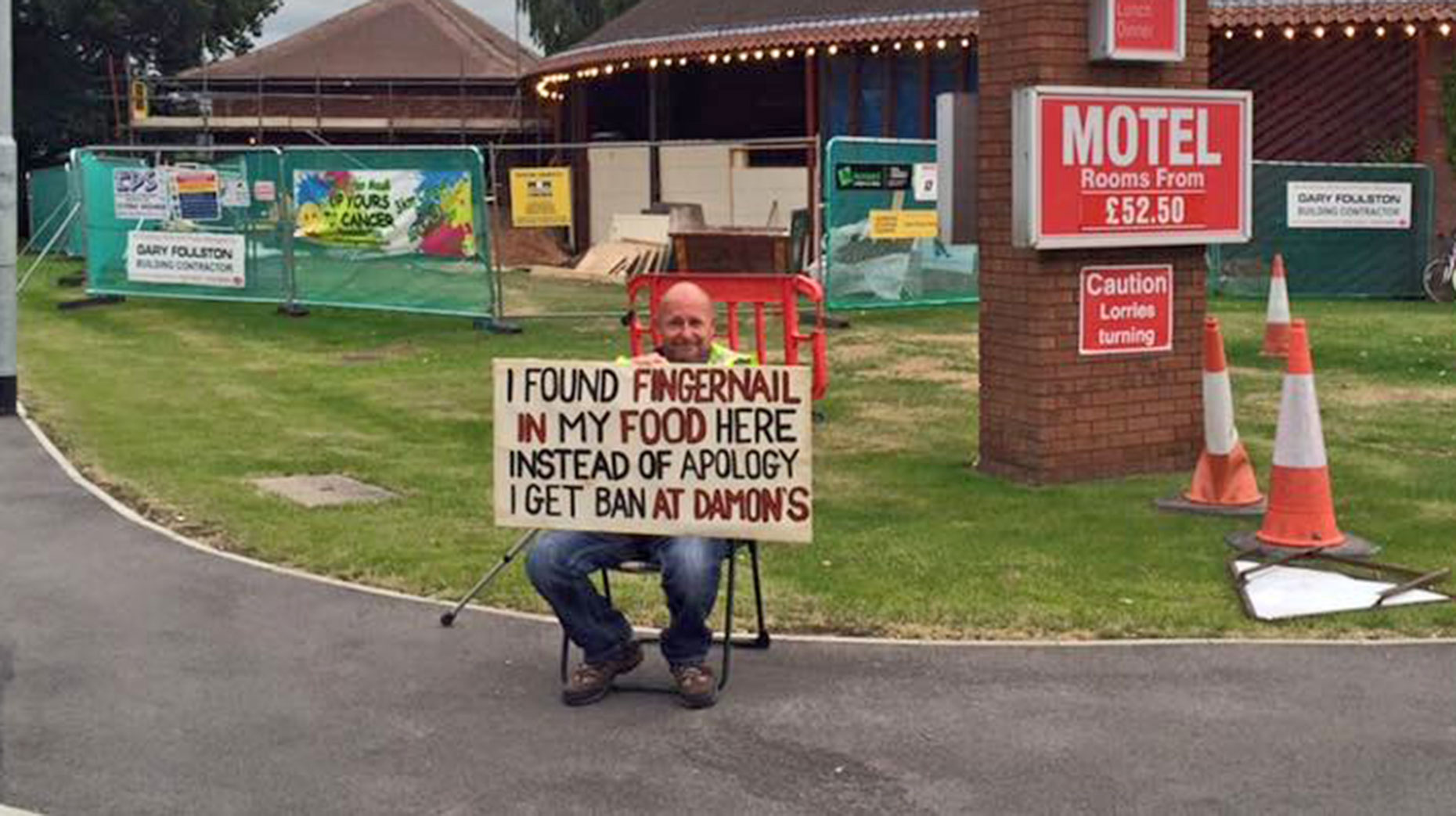 A man who spent hours protesting outside a Lincoln restaurant, from which he was banned after claiming to find a fingernail in his meal, has handed the firm a social media storm.
The bar and grill restaurant Damon's, based off Doddington Road in Lincoln, took a slating on social media after pictures emerged of angry customer Mark Mackerman, holding a placard which read: "I found fingernail in my food here. Instead of an apology I get a ban at Damon's" on the evening of July 8.
Local woman Laura-Jo Greenwood, who was on her way back from a gym nearby, spotted the man outside Damon's and shared a picture of him on Facebook.
The Facebook post alone, was shared over 1,000 times and received over 600 comments.
Mark, who plans on returning with his banner until he is happy with an apology, told The Lincolnite: "We went on June 11 for my granddaughter's birthday, it was when the waitress came to the table that I pulled the thing out of my mouth. We assumed it was a fingernail and called for the manger.
"There was a big to do with the manager, who threatened to call the police if we didn't pay for our meals.
"We contacted health and hygiene officials in the days after and were eventually offered a refund from Damon's and told we'd get a written apology.
"Instead of an apology however, I received a letter from the regional manager that told me my family and I were banned from all of the firm's sites.
"I don't want to take it to court, I just want an apology. It's gone on so long now that I wouldn't accept anything from anyone other than the person on top.
"I stayed on the public footpath outside Damon's last night for about two and a half hours, despite their attempts to move me on with bouncers. I will be back tonight, tomorrow night and every night until I get an apology."
Damon's CEO and Company Director Stuart Carey gave a statement in response to the protest and allegations made against the restaurant.
He said: "We were unfortunate to receive a complaint from the customer last month, where he alleged to have found a finger nail in his food.
"Our staff dealt with the complaint at the time and he was obviously offered a refund.
"He was also told that Damon's would look into how the situation that had arisen, which was followed up with a full kitchen investigation and further investigations with our suppliers.
"Also as a gesture of good will and to close the matter, we offered him a full refund for his alleged experience at our Lincoln restaurant.
"The ban of the customer from our restaurants only came about due to the aggressive, threatening and intimidating conduct of him and members of his party after his initial complaint to members of staff and management.
"We are more than happy to deal with any complaint and will always try and resolve any issues the best we can. Although as you can appreciate, we will not tollerate that sort of behaviour in front of other customers and staff."
Carey added that since the incident on June 11, local environmental officers completed a full review of the Damon's kitchen including preparation, cooking and service areas on Monday, June 15.
He said officers agreed a 5* hygiene rating would remain.