October 12, 2016 5.12 pm
This story is over 85 months old
Contractors lined up for £96m Lincoln Eastern Bypass
Lincolnshire County Council has selected a preferred bidder to deliver the construction of the Lincoln Eastern Bypass. Carillion Construction has been recommended after competing with three other shortlisted companies. The £96 million, 7.5km single carriageway road will link the A158 Wragby Road roundabout to the A15 at Bracebridge Heath and is hoped to cut congestion in the…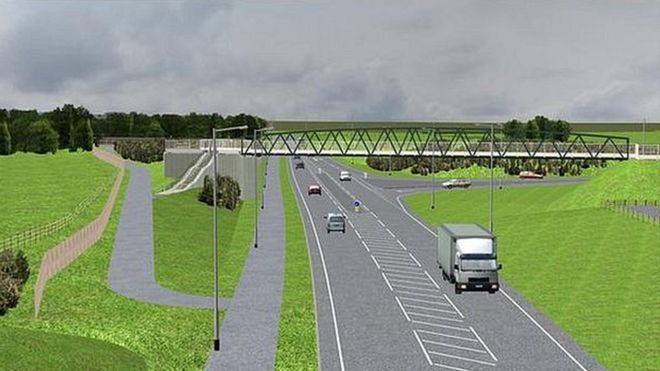 Lincolnshire County Council has selected a preferred bidder to deliver the construction of the Lincoln Eastern Bypass.
Carillion Construction has been recommended after competing with three other shortlisted companies.
The £96 million, 7.5km single carriageway road will link the A158 Wragby Road roundabout to the A15 at Bracebridge Heath and is hoped to cut congestion in the city centre.
In addition, it will help unlock housing and economic developments around Lincoln, which are estimated to add around £600 million to the value of the Lincolnshire economy.
Other companies shortlisted for the £52,953,457 contract to build the road were:
Hochtief UK
John Sisk and Lagan (joint venture)
John Graham and Graham Farrans (joint venture)
The council's executive will be asked to approve Carillion as the contractor for the project when they meet on Tuesday, November 1.
If approved, Carillion will be awarded the contract for the main works once the Department for Transport has formally confirmed the £50m of funding provisionally granted in November 2011, which is expected to happen in December.
Councillor Richard Davies, Executive Member for Highways, said: "This project will take a lot of pressure off the roads in and around Lincoln – in fact, it's projected to reduce traffic levels on Broadgate by around 25%.
"That will mean less congestion, better air quality and reduced journey times.
"It will also pave the way for the housing and economic developments that are vital for the county's future prosperity.
"I'm delighted we've reached this important milestone and look forward to the main works starting in the new year."
The road will take around three years to complete. Diggers arrived on-site in May for initial works to build a 130m track required to access part of the site.
Archaeologists have recently been appointed to look at areas identified previously as having possible cultural heritage remains in them.
This work will initially focus on the area to the north of Washingborough Road and has already unearthed remains from the Medieval era.
A separate contract will shortly be awarded via Network Rail to allow access under the Lincoln to Spalding Railway line embankment, utilising a closure of the railway in October 2017. Access through the embankment is planned to be gained by April 2018.
Updates on timings of specific areas of the scheme and road closures are expected at a later date.