February 9, 2017 10.39 am
This story is over 81 months old
Cancer patient leaves nearly £40k in her will to Boston hospital and leukaemia charity
A former cancer patient has donated more than £37,000 to the chemotherapy suite at Pilgrim Hospital and the Boston Cancer Leukaemia Fund. Wendy Coleman was treated for bowel cancer over a two-year period but sadly died on December 17, 2015, aged just 66. She left a legacy in her will to donate £18,622.15 to the…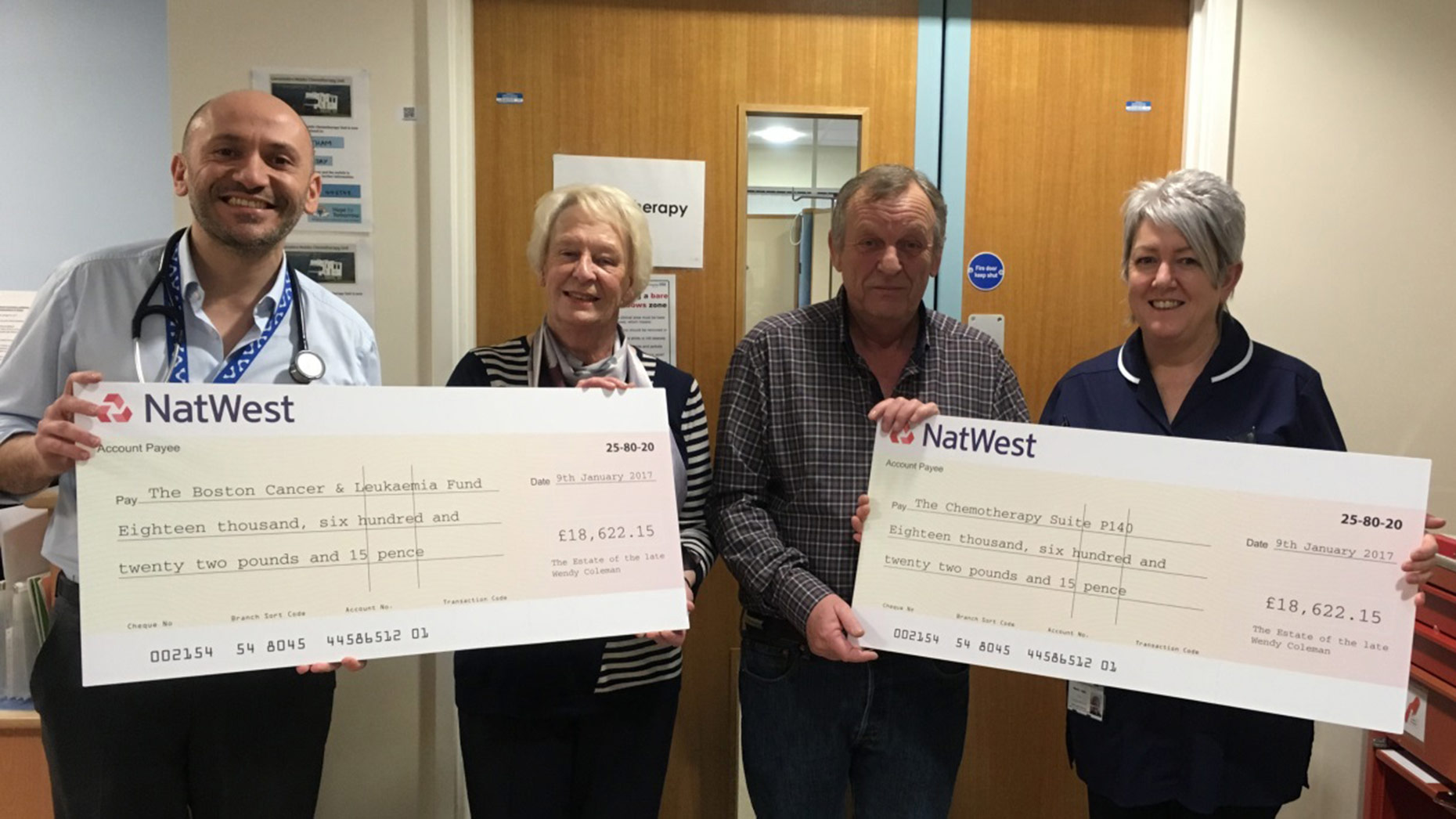 A former cancer patient has donated more than £37,000 to the chemotherapy suite at Pilgrim Hospital and the Boston Cancer Leukaemia Fund.
Wendy Coleman was treated for bowel cancer over a two-year period but sadly died on December 17, 2015, aged just 66.
She left a legacy in her will to donate £18,622.15 to the chemo suite and the same amount to the leukaemia fund.
New double glazed windows have been ordered for the chemo suite as well as new chairs and footstools for patients to use while undergoing treatment.
Privacy screens to retain patients' dignity, new tables and a trolley for the use of Sepsis treatment have also been purchased, along with chairs for the nurses at the desk.
Wendy's sister-in-law Joan Waterfall said: "She was well looked after here at Pilgrim Hospital, she thought the staff were all brilliant and couldn't fault them. When I would accompany her to appointments staff were really lovely to me too.
"Wendy's husband John passed away 12 years earlier and was supported by the Boston Cancer Leukaemia Fund so she wanted to support both.
"We hope the money will help with the comfort of patients at the chemo suite and make a difference."
Chemotherapy suite sister Mandy Logue said: "Wendy was a lovely lady. I was so shocked when Joan and Peter came in with the cheque – we are very grateful the money will really make a difference to our patients."
Clinical director for clinical services Ciro Rinaldi said: "BCLF is grateful to Mr and Mrs Waterfall on behalf of Wendy Coleman for this amazing donation.
"BCLF is committed to support leukaemia and cancer patients during their difficult journey.
"Our charity has funded research projects over many years, to study and understand why those disease develop and how we can eradicate them.
"It is thanks to contribution like this that such a mission can continue."