February 23, 2017 5.45 pm
This story is over 81 months old
Drunk man hitched a ride on top of Lincoln train to avoid paying fare
A drunk fare dodger caused major disruption to the rail network when he climbed on top of a moving train. Unemployed James Webster, 38, was photographed sitting on top of the busy passenger service after the driver was forced to stop. Shocked bus driver Drew Kearns snapped the the daredevil after the train was brought…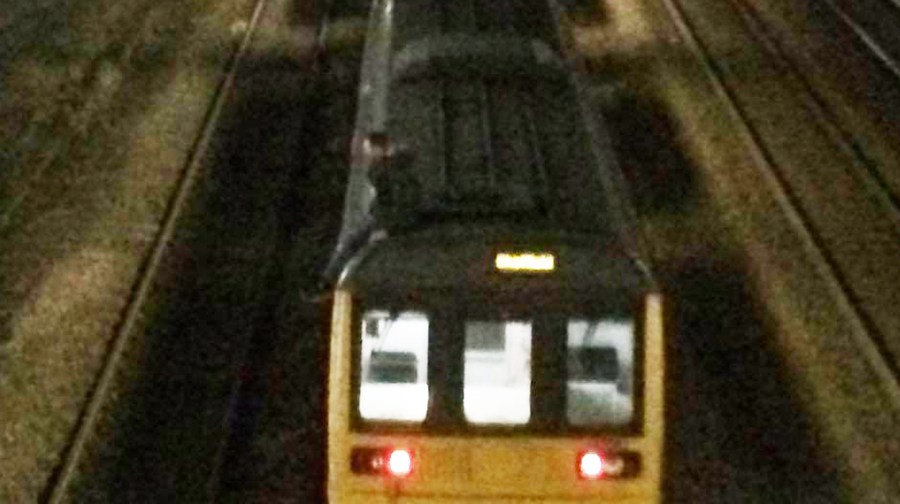 A drunk fare dodger caused major disruption to the rail network when he climbed on top of a moving train.
Unemployed James Webster, 38, was photographed sitting on top of the busy passenger service after the driver was forced to stop.
Shocked bus driver Drew Kearns snapped the the daredevil after the train was brought to a halt outside Lincoln University.
Webster was drunk and had no money to pay for a £6.60 ticket for the 20 mile journey back to his home town of Gainsborough.
Lincoln Magistrates were told he feared he would miss his last train back and faced with spending the night on the streets climbed on top of the train intending to surf home.
But he was spotted by the driver and the train was halted half a mile into its journey.
Dan Pietryka, prosecuting, said that police had already been called as a result of Webster's disruptive behaviour at Lincoln railway station.
Officers went to Lincoln University campus where the train was halted. Webster ran off down the track but was caught and arrested.
As a result of the incident rail services in and out of Lincoln were delayed. 22 services were affected with two trains having to be cancelled. A total of 948 minutes of delays were recorded as a result.
Mr Pietryka said that when Webster arrived at Lincoln Station he was told he would not be allowed to travel without a ticket.
He then vaulted the barrier and got on the train only to be removed.
"At 7.43pm the train left the station. As it was doing so the defendant was seen to be hanging on the back of the train as it pulled out of the station.
"The driver was informed and it was brought to a halt.
"The guard and the driver got off and walked down the track. They saw the defendant sat on top of the train.
"The police had been called out and they arrived. The defendant started to run off down the tracks to avoid being detained.
"He jumped over a fence into the university campus and was chased by the police. He was caught and arrested."
Mr Kearns from Lincoln said: "I was on my way home from work at around 7.45pm when I saw something strange from the uni bridge.
"There was a man walking up and down the roof of a train that had come to a stop just past uni bridge.
"It looked like he was looking for a way down. The train driver was aware and had stopped because of him and all other trains had stopped due to the incident."
Webster, 38, of Salisbury Street, Gainsborough, was charged with climbing onto and obstructing the Northern Rail train at Lincoln on January 30, and a further charge of having "entered onto the railway while unfit as a result of being in a state of intoxocation" in breach of the Railway bye-laws.
His lawyer Dean Bower said his client apologised for what happened.
"Since he has sobered up the word he has used to describe his actions is idiotic.
"He has asked me to apologise on his behalf particularly for the inconvenience he caused to the passengers.
"On the face of it he was trying to get back to Gainsborough. He didn't have any money. He thought that if he didn't get the train he would have to sleep on the streets.
"He didn't really think what he was doing. Had he thought rationally he wouldn't have done it. He plainly put his own safety at considerable risk."
Magistrates sentenced Webster to a 12 month community order and a three month night time curfew. He was also ordered to pay £85 costs and an £85 victim surcharge.