Plans for new Market Rasen leisure centre on display
It has expansion possibility for a pool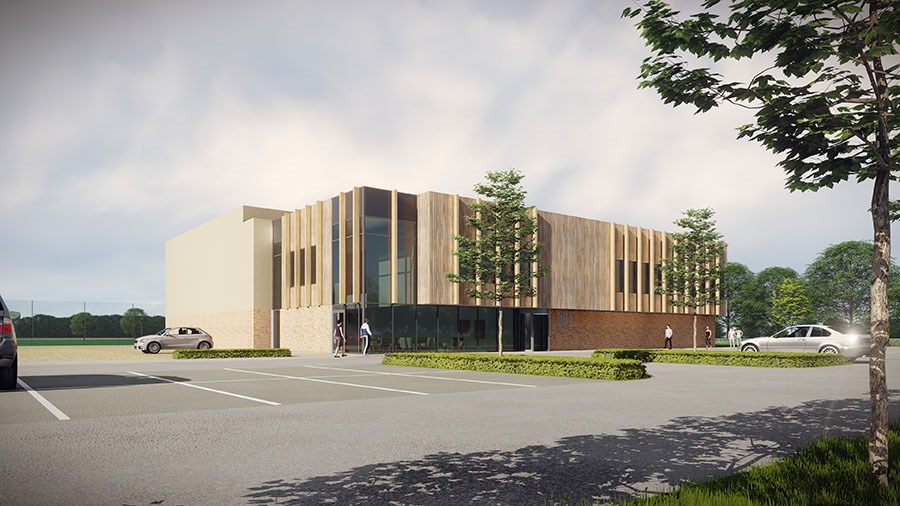 Plans for a new leisure centre in Market Rasen do include areas that could be expanded into a swimming pool at a later point, it has been confirmed.
Residents were invited to the town's Festival Hall on Wednesday, where they were able to view the plans up close, including a video tour of the plans.
The event was part of the council's consultation, which will lead to its planning application for the controversial facility.
Karen Whitfield, West Lindsey District Council's Community Commercial Programme Manager, said there were many opportunities for people to contribute.
She said: "We've had some good feedback from Market Rasen Town Council. Middle Rasen Town Council were blown away with the plans.
"We've had positive comments about the scheme and the plan, and that it's needed for the town.
"As a council we've been aware we needed to invest in Market Rasen for a long time.
"We're aware some residents would like a swimming pool, unfortunately that's not feasible at this time, however we are futureproofing our design in such a way we could add a pool on at a later date."
She said for a pool to be viable, Market Rasen would 'need to grow significantly'. Tvhe council was working with Market Rasen Town Council on a three year vision, which could include the pool at a later date.
John Matthews, chairman of Market Rasen Town Council said the plans were a 'fantastic opportunity for the town'.
"It's a great opportunity for the people of this town and will improve the facilities we've got enormously.
"It's modern, it's contemporary, the outside is very attractive and the facilities were excellent."
He said a swimming pool was 'very desirable' but was expensive to run. He said at the moment it was a 'wishlist' but that he hoped the dry facilities would bring in the money for a pool.
County Councillor Lewis Strange for Market Place ward called the plans 'tremendous' and 'good news for the people of Market Rasen.
"It gives Market Rasen the little bit of encouragement it needs, we shall feel that we shall be judged as important here and that WLDC cares as much about Rasen as it does about Gainsborough."
He said the town should 'walk before it can run' in terms of a swimming pool and let the dry leisure facility settle first.
He suggested there were various different options that could be explored, including outdoor pools.
Adrian Campbell, from Market Rasen Action Group, however, said that despite the investment he was disappointed to see a lack of pool.
He queried the council's comments about the viability of a pool and asked to see the figures behind the reports.
"Our argument is that it's feasible because people want it," he said, adding that he did not believe the dry facility was feasible and said an existing WLDC facility's quiet.
He said the response to the petition had been 'amazing' but was sceptical over its effect.
He called for more research to be done and further information
"My fear is they will put the dry in, it will not be a success and they will say 'how can we possibly build a pool, we're not making money out of the dry facility?'"
Market Rasen resident Judith Randall said the plans were 'well-developed' but said more could be done.
"The town lacks a swimming pool and we've got a good opportunity here in terms of adding a pool as part of the development.
"We do want the dry leisure facility, we do appreciate the investment but we'd like to see more. We feel Market Rasen has missed out and in the past a lot has gone to Gainsborough.
"It's 20 miles to WLDC Leisure Centre and that's just not practical to use."
Parent Thirza Dixon however said the dry facility 'was going to be amazing'.
"Market Rasen needs as many facilities as it can get to help develop and boost the town."
She said she would 'love' a swimming pool, but called on people to be 'pragmatic'.
She said if the dry leisure centre was needed she would support that.
"I don't want to turn people off the dry leisure facility just because they only want a swimming pool we want to do everything together."
The proposed dry leisure facility is part of a £7.8 million leisure investment across the district, with £6.3 million going into the Market Rasen area.
Residents organised a campaign to get a swimming pool built in Market Rasen following the announcement including creating the Market Rasen Swimming Pool Facebook page.
A petition to replace plans for a "dry leisure" facility with a swimming pool has attracted over 2,000 signatures from residents in Market Rasen.
Plans to build a leisure centre off Gainsborough Road were announced by West Lindsey Distrct Council in June, despite the fact the town already has a similar facility with a gym, 3G football pitch and sports hall.
Residents have been campaigning for 60 years to get a swimming pool and are currentlyforced to travel eight miles to Wragby for a dip.
With no direct bus routes, residents complain that the journey isn't suitable for those without a car.
In July, Conservative MP for Gainsborough, Sir Edward Leigh, waded in on the debate and suggested that an outdoor swimming pool may be the solution.