November 22, 2018 9.52 am
This story is over 60 months old
Lincolnite of the Week: Phil Gray – The music man
Lincoln's most famous street music man Phil Gray has embarked on a second mission to collect musical instruments for more than 40 schools in Jamaica. The 62-year-old began his campaign called Give A Child A Guitar back in 2015 after visiting his family in the town of Trelawney in Jamaica with the aim of bringing music…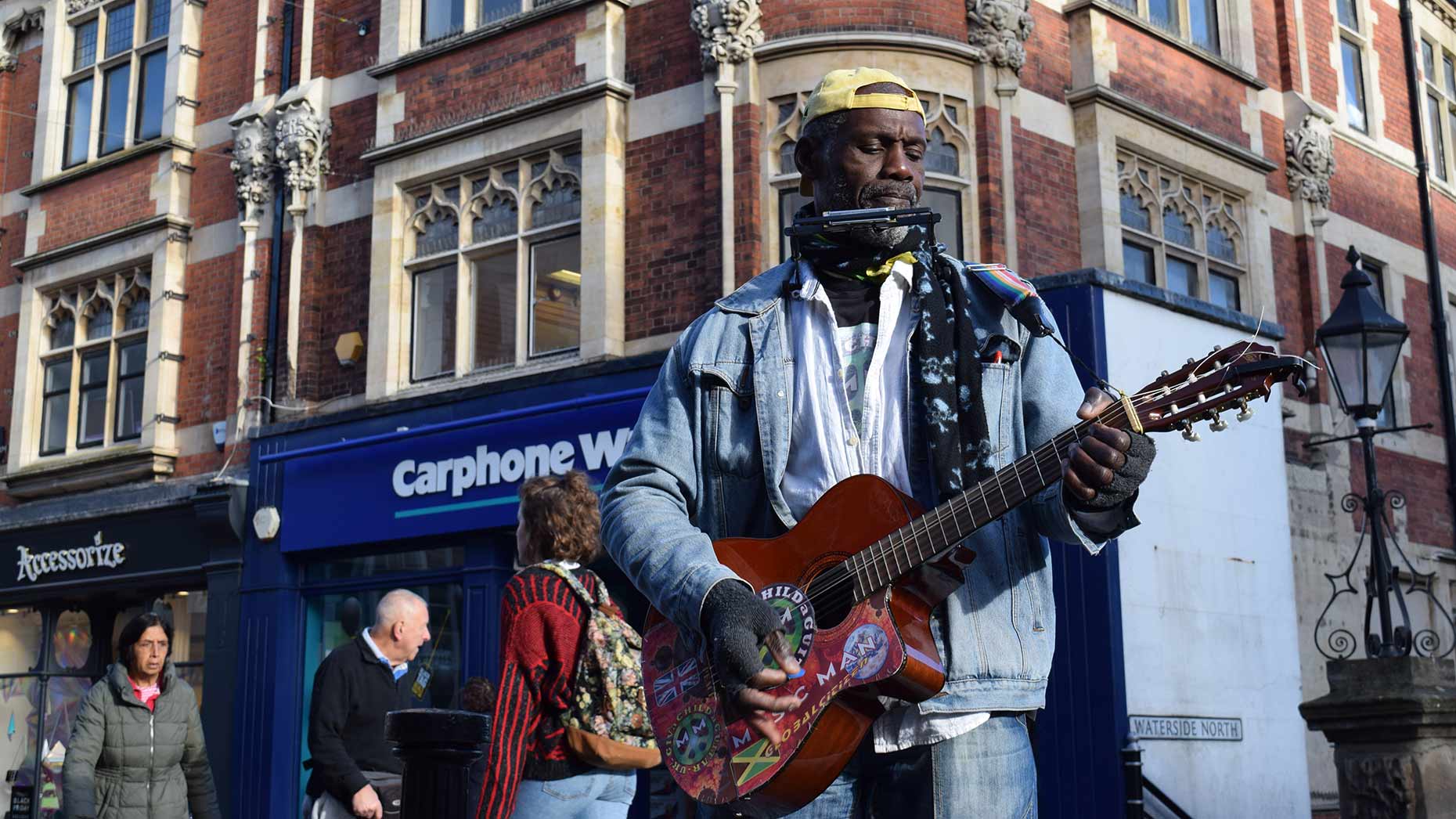 Lincoln's most famous street music man Phil Gray has embarked on a second mission to collect musical instruments for more than 40 schools in Jamaica.
The 62-year-old began his campaign called Give A Child A Guitar back in 2015 after visiting his family in the town of Trelawney in Jamaica with the aim of bringing music all the way from Lincoln to schools in need halfway across the world.
"I asked my cousin to help me see if I could play for a few of the local schools. The kids were so excited to see someone playing an instrument and I started to wonder how often they actually got to experience live music," said Phil.
"The majority of the schools I went to had no instruments or access to music at all. These are state schools we're talking about. So the next time I went to Jamaica, I took a couple of my own guitars over and started performing for some of the children at the schools.
"It was my aim to build on from there. I started campaigning back in the UK and did several Bob Dylan cover concerts to see how much money I could raise to cover the cost of sending the instruments over. I also put an appeal out for any instruments and the response was great.
"I had a collection of around 20 instruments a clarinets, a couple of violins, a dozens guitars and a piano organ."
Phil says it's the generosity of the people of Lincoln that has kept his campaign going.
"Whenever I'm busking on the High Street or up hill, people stop me with offers of instruments. One gentleman gave me a beautiful harmonica he'd bought but never really got the chance to use.
"It's really great to see the reaction from the kids. There are around 40 schools in Trelawney Parish that are desperate for more equipment, more instruments. It's an opportunity for them to learn that they otherwise wouldn't have."
Anyone wishing to help the cause or donate an instrument can contact Phil on his Facebook page here. 
Phil has always had a passion for music. Having worked as a teacher, he would often end his lessons with a musical performance. But when it came to busking, he was a little more apprehensive.
"I was very cautious and nervous about busking at first. In 2010, Lincs FM ran a talent contest, which was held at the Theatre Royal. I was then accepted onto the stage at the Lincolnshire Show. I enjoyed performing greatly, so that was were the idea of busking came from.
Posted by Phil Gray on Wednesday, 21 November 2018
"I hopped on the train to Nottingham, mainly because I didn't want to bump into any of my pupils at the time. Nervously, I set up my music stand, I was wearing dark glasses and hat. Then I began playing.
"To my surprise people were very positive and gave me donations, I think I'd earnt about £20 for two hours busking. What I didn't anticipate is that I would love it so much.
"Since 2010, I've been around the world busking. I followed the Olympic torch around the world, and did a tour of America."
Phil also stood as a colourful Independent candidate in last May's general election for Lincoln and achieved 312 votes.
Phil is now hosting his own show on BBC Radio Lincolnshire, putting the spotlight on the Lincoln busking scene and its musicians.
"The radio show is a chance for me to get behind the decks and play the music that has inspired me throughout the years. We also get to interview some of the best street musicians that Lincoln has to offer.
"It's all about giving something back, and using music as a tool to do that."
Lincoln's most famous busker will be on BBC Radio Lincolnshire every Wednesday evening from 9pm-10pm.