Students and staff celebrate success at 2018 Lincoln College Awards
See the full gallery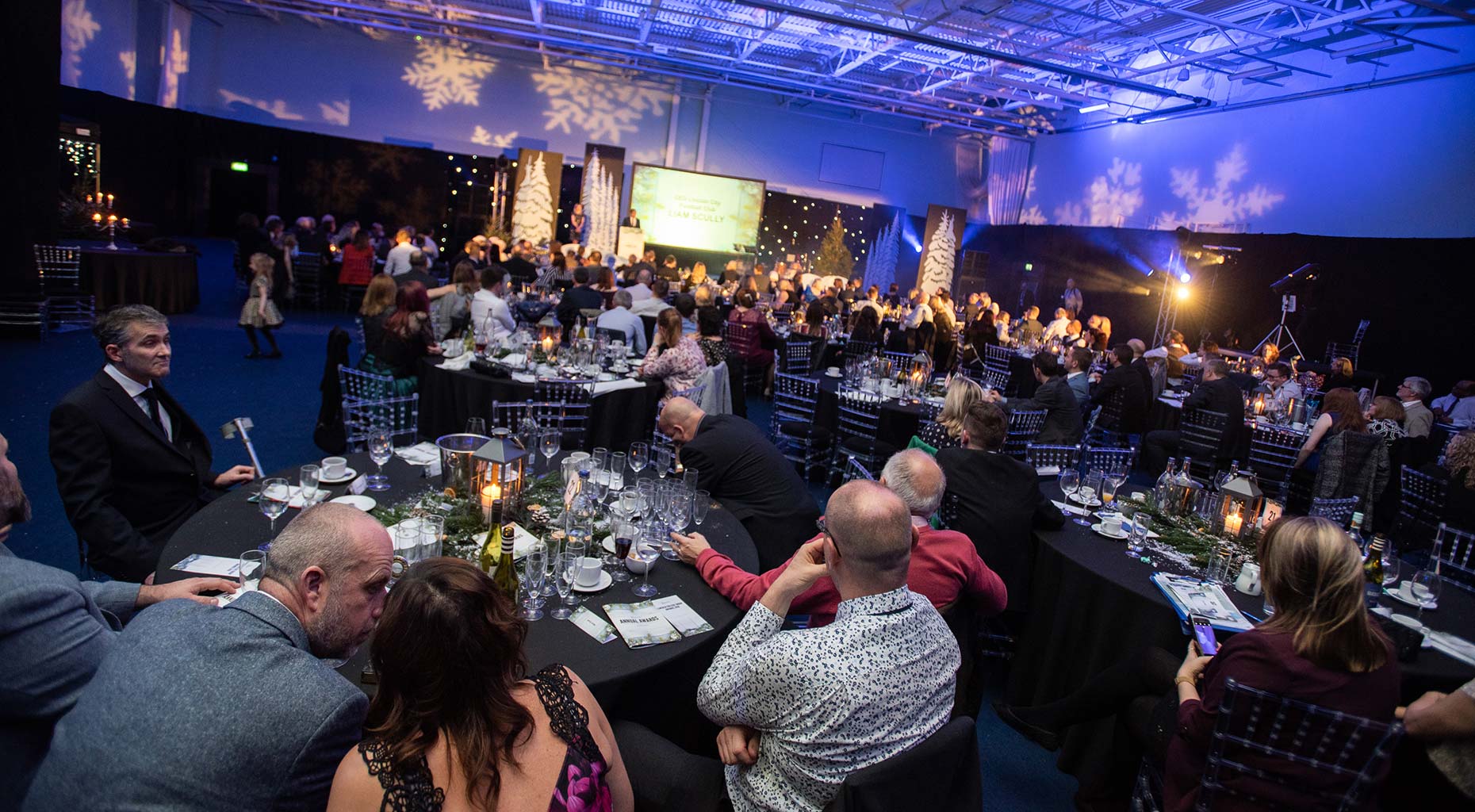 The achievements and extraordinary contributions of more than 20 Lincoln College students and staff were commended at a winter wonderland awards ceremony.
The awards on the evening of Thursday, November 29 welcomed guest of honour, Lincoln City Football Club Chief Executive Liam Scully along with sponsors, college leaders, award winners and their friends and families.
Hosted by BBC Radio Lincolnshire presenter Carla Greene, the annual event recognised the growth of the college in Lincolnshire and overseas and thanked hardworking team members.
Guest of honour Liam Scully said: "A huge congratulations to all the award winners – being sat in the audience and getting to hear all these stories is a real privilege and honour.
"Lincoln College pride themselves on being employer-led and at Lincoln City we feel the benefit of that through our partnership with them.
"My challenge to you as students, having been in your position, is around enhancing your tool box and skill set – there's nothing wrong with not knowing what you want to do now.
"You have a huge amount of time and opportunity ahead of you before you have to make those decisions – life is about taking your experiences and making the most of them and this happens through education."
Lincoln College Group CEO Gary Headland said: "Last night was all about celebrating our students and staff. I was immensely proud of their achievements.
"We heard some amazing stories of our staff nurturing students to boost their confidence and develop their skills.
"Many have already progressed to the next level of their studies, or secured really good jobs locally that will lead to extremely rewarding careers.
"Thank you to Liam Scully for attending as our guest of honour. His words advice to our students about having a 'laser-focus' on achieving their goals was really inspirational.
"Thank you also to all of the local businesses who sponsored our awards. Your continued support is really appreciated and spurs us on in our mission; to be employer-led, building a highly skilled and productive local workforce."
The winners:
Cole had very little experience of formal education when he arrived at college.
He found it very difficult to adapt at first, but with a little support and nurturing, developed into an apprentice with a thirst for knowledge.
His growth in confidence and self-motivation has been staggering and his dedication to his plumbing apprenticeship is to be admired.
Jamie is someone who struggled at school but has absolutely thrived at college. His has found his place in the world through performance.
Jamie's confidence has blossomed and his ability to cope with and overcome his personal difficulties is inspirational.
He has a very bright future ahead of him and if his talent continues to develop you may well see him again on screen or stage.
Ryan is one of the highest achievers our automotive department has seen in many years.
His blinkered focus on developing his skills, entering competitions and pushing himself to learn more and more has put him at the top of his game.
He has gone from being a level one learner right though to HNC with the college and then scooped one of the most enviable jobs in the trade, working for AMG Mercedes' Formula One Division.
Ryan represents what this college is about, giving people a chance and them supporting them to the best career they can get.
This award recognises students who have started their own business venture whilst still studying at college.
Being a student is not easy, being a student and needing a part-time job to support yourself is not easy, but to do all that and then deciding to set up your own business definitely deserves recognition.
Sophia has worked tirelessly to build up a client base as a self-employed hairdresser.
Hiring a chair at Village Hair and using social media to show off her skills and build a brand around her ability, she has grown a small business that has real potential.
She has displayed all of the attributes required for entrepreneurial success; drive, ambition, determination and lots of hard work.
Josh came to the College in September 2016 on a level 3 IT course, since when he has progressed steadily through 19 units of study over a diverse range of topics.
Last year he was amongst nine students who successfully interviewed for the college partnership scheme at Team Knowhow in Newark and saw a future with them; succeeding in gaining a full apprenticeship this year; one of only three offered such a place.
His journey shows how any student can develop skills for the workplace and move on to a fulfilling and promising career.
Staff awards